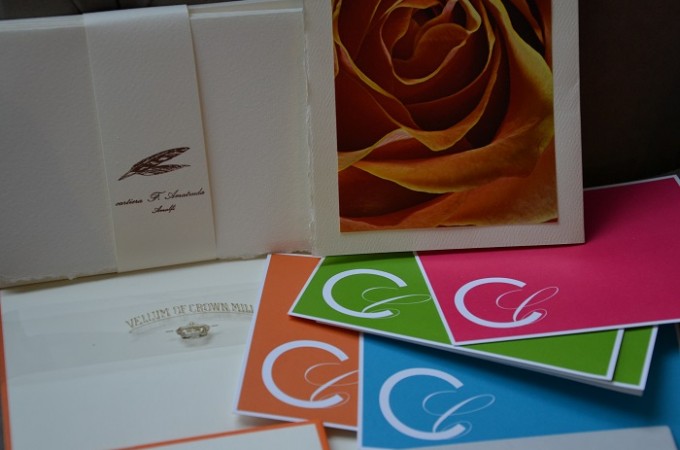 Stationery and Paper
Stationery and Paper
Stationery and paper. During the past few weeks I've been going through old boxes, cleaning out closets and generally streamlining my possessions. In my cleaning frenzy I discovered a box that reignited a whole wave of inspiration for me. While technology is a huge part of my life and I would probably spend my day bumping into walls if I didn't have my cell phone, ipad and laptop all filled with apps, I still love the feeling and smell of a fresh piece of paper.
Yes I occasionally still write letters the old fashioned way. Just look at this stationery, personalized and everything! It's like a wonderful and stylized piece of art waiting to be finished.
I have a whole pile of old notebooks, literally a box, full of old journals. The best part is that I don't even remember some of my own writing. Spent the whole morning reading poems, ideas for screenplays and little bits of prose. Some I may have to revisit, others… Well lets just say they'll remain in the dark.

For as long as I can remember I've always loved pens. I even asked for a fountain pen for my 16th birthday. I can't think of anything better than writing with real ink probably a clear visual, a memory of my grandfather spending hours at his desk writing letters. The beauty of a fountain pen is that the nib forms itself to the weight and angle of the writer's hand so they are to be used strictly by their owner. Of course it's not practical to carry a fountain pen around as they sometimes leak, so a few years ago I got myself a beautiful pen that I use whenever I get a creative thought.
There's just something I find so inspirational about writing in a fresh notebook. I'm pretty picky about what I buy and lately I've found myself coming back to the classic Moleskin. I love the history, the idea that I'm sharing a tradition with the classic authors of our times. A clean fresh notebook is just waiting to be filled with whatever amazing thoughts or images you may have.
As many of you know, I'm all about the accessories: hats, shoes, bags, jewelry you name it! For me a great notebook and a perfectly balanced pen are a part of that family. They compliment my style and I never leave home without them!
Do you love stationery and paper?
*For more on stationery and paper follow me on instagram and twitter*


Recommended