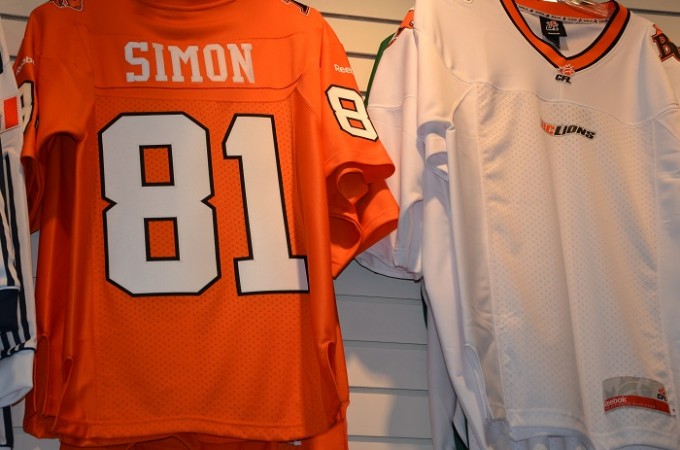 Sport Fashion: For the Love of the Game
Sport Fashion. I have to admit that while I'm not a huge sports fan myself, I love the fact that so many people are. Now don't get me wrong, I'm very active, a good run around the seawall or a hike in the mountains and I'm there but team sports? Well, I don't always get it.
That is until recently when I realized that that there's something so fantastically amazing about sports fans. I love the sheer energy they project, the crazy events they partake in and best of all, the fabulous sport fashion they wear!
Today I went on  a little walk to find some great colourful team fashions. I discovered that most teams don't have too many styles specific to women, yes I know the NFL is starting to get way ahead of the curve with this, but most women are still stuck wearing over sized, men's team jerseys. The best part is that somehow that doesn't seem to really matter. Women everywhere are pulling on huge, shapeless tops and having an absolute blast doing it!
In honour of all you fabulous football fans who are eagerly awaiting Superbowl Sunday, I was looking for some great NFL jerseys to feature here but since Vancouver is a crazy hockey town, this football was the best I could do. Actually while I was at Robson Sports today taking pictures, another girl came in looking for a cute NFL jersey, because she was going to a Superbowl party. How great is that?!
While I've got my winter sports team covered with my hometown Canucks, I'm still looking for a summer sports team to be a fan of (preferably one that has the letter C in their name).  So my thinking is that even if I can't get into the actual game I can definitely see myself sporting their gear! Here's to sport fashion!
Do you love sport fashion?
*For more on sport fashion join me on instagram and twitter*


Recommended
20 Comments