Best beauty for packing light. Whenever I travel, it's usually for short periods of time so I tend not to bring a lot of luggage. Plus, waiting for my luggage to come out of the shoot and then fighting people to actually pull my suitcase off of the baggage carousel is just not something I want to commit to each time. Packing light isn't that hard, but if you need some tips then this is for you.
I find that it's harder to bring the right amount of beauty products so that a. I'm not lacking in products and b. they fit airline regulations. I hate bringing things that I don't use and I like to leave some room in case I decide to make a purchase.
Funny story. Recently, I spent a few days in Paris and on the way home there was a product that the border agent didn't like. I think it was perfume. He started making a big deal, but I wan't about to leave without it. No way, no how was I going to throw it out. Without thinking it through, I slightly raised my voice and said, "non, non, non, ca va! Ca va". I have no idea what came over me and I think my reaction shocked him. Now I don't recommend this approach, but luckily for me it ended well. He simply repacked my items into one of their ziplock bags (everything fit with extra room) and off I went.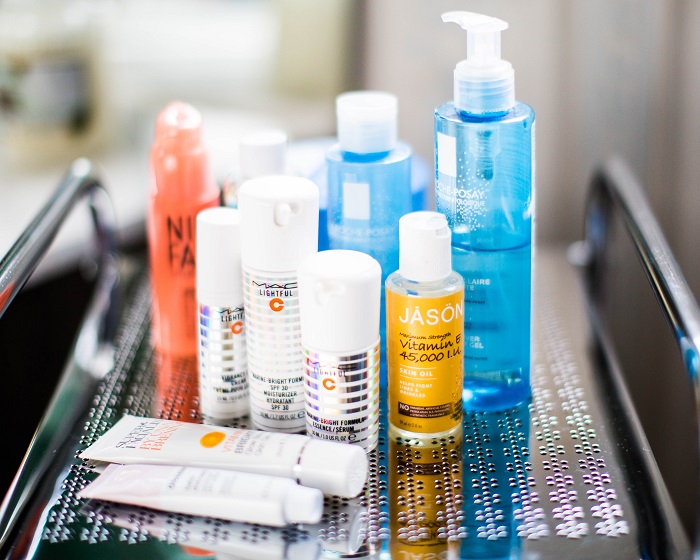 BEST BEAUTY FOR PACKING LIGHT
The first thing I check is to see what kind of products the hotel carries. Some creams are high quality and then there's no reason to bring my own body lotion when there's a great one waiting for me.
Creams. Since I never quite know what will happen with my skin and it does tend to dry out I always have a serum on hand. Lately I've been using Korres XXX which is very hydrating and makes my skin look plump and happy. I'm a big fan of Fresh products and chances are I'll have their XXX cream on me in a travel sized jar but lately I've been using some cream samples that I received from the drugstore. They are all from companies I know, like Lancome or Dior so I'm not particularly worried about breaking out but the fact that they take up almost no room in my clear beauty ziplock baggie is great.
Foundation. I don't like to wear a lot of foundation, but more importantly, I need it to be simple. I can layer it a bit or add some concealer and I'm not going to spend time contouring or performing elaborate applications. I recently wrote about Dior's Capture Totale Dreamskin which I still stand behind 100%. It's compact, easy to use, gives decent coverage (unless you need something heavy), layers easily and is very moisturizing. Recently, I purchased Erborian BB cream and I've been very pleasantly surprised. The coverage is really good and it's hydrating, erases some of the red spots I have and works very well with my concealer, which incidentally is the Maestro Dark circle concealer from Armani which I use wherever needed.
Eyes. Again it's all about simplicity. I've always been and always will be a fan of Diorshow mascara, but lately I've been using Better Than Sex mascara from Too Faced, which does amazing things to my lashes. As for shadow, it has to be Laura Mercier's Caviar Stick. It goes on smoothly, doesn't pull on my lids, blends easily and stays on all day. Right now I'm using Amethyst and Pink Gold for highlighting.
Lips. When I'm traveling I don't usually wear lipstick but I do use lip conditioners to keep them hydrated. My favourite is La Mer the Lip Balm. It's ultra hydrating, makes my lips very soft, lasts and smells very nice. I also like Smith's Rose Balm. I bought it for the packaging originally but in truth it makes my lips soft and isn't sticky so it's perfect in my books. If I need a lip balm with SPF then EOS makes a wonderful one. I tend to lose lip balms, so other than La Mer, I stick with ones on the less expensive side. I do, however, bring one red lipstick with me. I've tried so many but I keep coming back to the Armani sheer red lipstick in 400. It works for every skin tone and gives only a hint of colour.
HAIR. If I'm going away for only a few days then I generally won't wash my hair. I have to contend with different water and I'd rather be out sightseeing than in a bathroom styling my hair. What I do is wash my hair the morning of my trip (or the night before) and then I use dry shampoo. Right now I'm really loving Bumble and Bumble Pret-a-Powder dry shampoo. It has a very nice light scent, blends into my hair quickly and it also gives it a very nice texture.
IF YOU ENJOYED THIS ARTICLE PLEASE SHARE IT
AND SIGN UP FOR MY FREE LIBRARY