BEST RECIPES FOR FOOD SENSITIVITIES
Many of us suffer from different food sensitivities, whether it's an intolerance to lactose, gluten, nightshades or something more serious, it can be a frustrating experience finding appropriate recipes that not only taste good but keep us healthy. It's not just about avoiding foods, but also about finding the appropriate substitutions so that we can get the widest, most varied diet possible.
This is where I re-introduce you to my good friend Emily Levenson, an ex-food blogger and all round amazing person. Emily herself has struggled with food and has put together an extremely comprehensive cookbook with over 200 recipes that encompass breakfast, lunch and dinner!
What you will find inside:
217 recipes for breakfast, lunch, dinner, and everything inbetween.
An interactive index of recipes, complete with clickable links that take you directly to the recipes you want to read more about.
A treasure trove of recipes to fit your dietary needs. All recipes are dairy free with a large selection of recipes that are also nightshade free, gluten free, and plant-based.
Tips for substitutions to use what you have on hand or to make recipes safe for your dietary needs.
A printer-friendly format.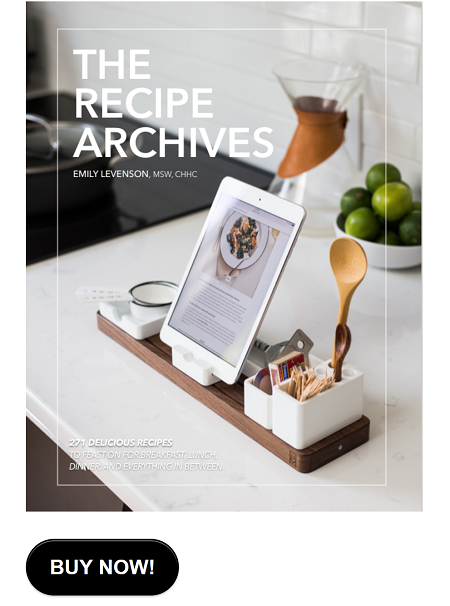 You can find a comprehensive list of recipes here: THE RECIPE ARCHIVES
Look, I know that we sometimes get freaked out by changing our diets.  You might be thinking that it's too much of a challenge, you'll miss all the foods that you love, your eating will be incredibly restricted. I'm here to tell you that it's simply not true. Sometimes making small substitutions can make a world of difference to how we feel. No one is saying that you need to eliminate everything immediately and in fact that's a sure fire way to fail. The key is to make small changes and to increase those changes gradually, so that you barely notice it's happening.
If you are looking to make changes in your diet, but you are constantly struggling to find yummy recipes then check out this book, I'm sure it will help!
*Full disclosure, Emily is a friend and is not paying me to write any of this*
IF YOU ENJOYED THIS ARTICLE PLEASE SHARE IT AND SIGN UP FOR REGULAR UPDATES

Caroline has been dancing ballet and modern for most of her life. She has worked as an indoor rock climbing instructor, personal trainer and most recently, a top level, fully certified Pilates instructor teaching high profile athletes and Hollywood celebrities.