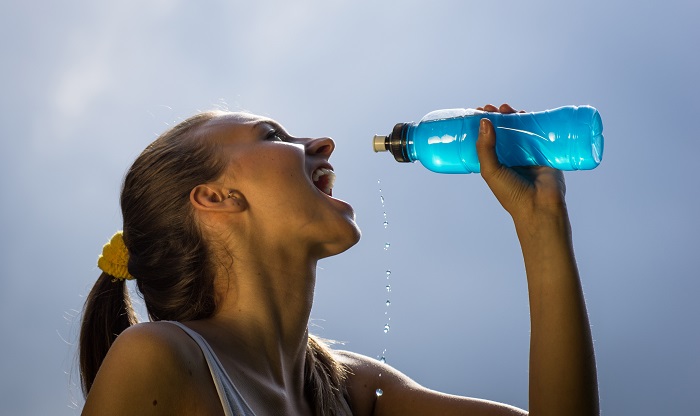 Sports drinks vs water. Personally, I've never been a huge fan of sports drinks (it's the taste), but I know that many swear by them. Go to any gym and you'll see them everywhere. Walk down the grocery isle and all you see are bottles with bright blue, green or yellow drinks. Then there are those super enticing commercials, showing amazing athletes flaunting their spectacular physiques, as they glamorously recharge on sports drinks. Who doesn't fall under that spell?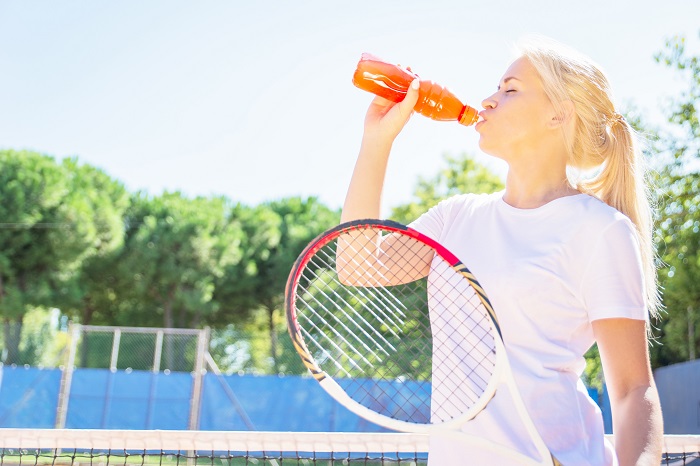 SPORTS DRINKS VS WATER
SPORTS DRINKS:
The claim. Sports drinks claim not only to hydrate, but also provide fuel and electrolytes and minerals that are lost during a major sweat session.
Who is it for? Sports drinks are designed for those completing very intense workouts (over an hour) or for people who are working out in very warm or humid conditions, when you will be sweating more profusely than normal. Or even for those who exercise in lots of gear, think hockey or football players. It's no wonder that Gatorade, the original sports drink, was developed for a Florida college football team.
What do they contain? Most sports drinks are made up of water, carbohydrates (sugar) and electrolytes/minerals. Carbs provide fuel for your muscles and brain function and they will give you the energy to complete a high intensity workout. The electrolytes are made up of sodium and potassium. They help keep muscle cramps at bay and balance out the fluids in your body, which allows your nerves to send signals to your muscles.
What will they not do? It is critical to not give in to the advertisements. Sports drinks will not make you run faster, train harder, build more muscle, lose fat or generally, become more of a professional athlete. All they can do is help to replenish some of what your body looses through sweating.
WATER:
Why you need it. When you exercise, you sweat out a certain amount of water from your body. To avoid dehydration, you need to replenish it.
How much do you need? There is no fast and hard rule because the amount you need will depend on your weight, activity and physiology. A general guideline is to consume 1 ounce for every ounce lost. The best way to determine this is to weigh yourself before and then immediately post workout.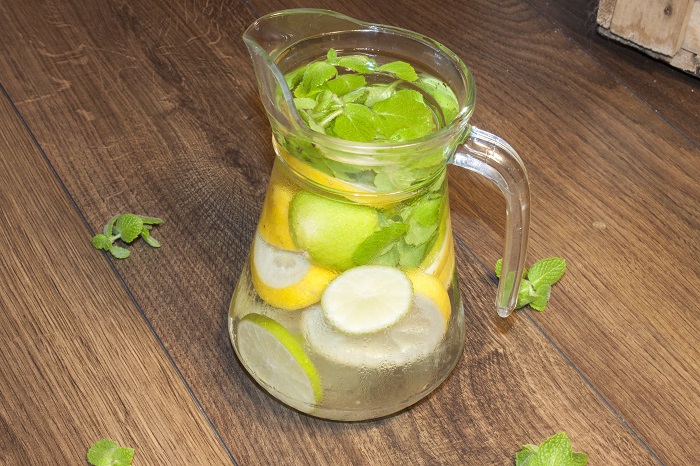 So, do you need a sports drink? Well, it depends. If you are working out hard and in hot weather then maybe you do, but for the casual jogger who jumps out for a 30 minute run or someone who is attending a class at their local gym, probably not. To put it another way, are you sweating as much as a football player in Florida's summer heat?  Sure, there are sugar free sports drinks on the market but even then you probably don't need all the other ingredients they contain and sugar free isn't necessarily better. Read those labels and make sure that you aren't ingesting ingredients you don't need. When in doubt, you are always safest to go with a cool, tall glass of H2O. If you are hungry after a workout, opt for a healthy snack.
Here's a tip, I know that sometimes water can get a little boring and it might be tempting to reach for sports drinks, even if you don't need them. A fun option is adding a few drops of mint to your H20. Not only will it be refreshing, but it will also keep your breath nice and fresh. Of course lemons, limes and cucumber are also a classic choice. If, however, your needs demand the benefits of a sports drink then make sure you read the labels and choose the one that it right for you.
Do you prefer sports drinks or water when working out?
*For more on sports drinks vs water follow me on instagram and pinterest*


*images courtesy of Dollar Photo Club