Why what you wear to the gym matters. On Fridays I usually cover a style 'how to' or I focus on accessories, so today I'm taking that concept and we're going to bring it into what we wear to the gym.
Now you might be thinking to yourself, why does this even matter? Why is what I wear important? It's an achievement that I even made it to the gym and now I'm supposed to worry about what I'm wearing? Well, hear me out. I'm not saying that you need to be dressed to the nines and that everything needs to be perfect, but psychologically you might actually have a better workout if you come prepared and that includes being dressed for it.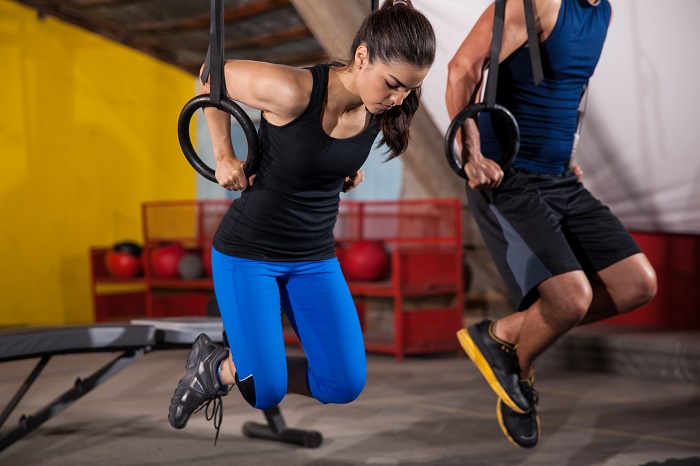 WHY WHAT YOU WERE TO THE GYM MATTERS
Shoes. Having the right gear can actually help you be better at your sport of choice.  Golfers, baseball players and soccer players all look for very specific treads on their shoes because each needs a specific type of traction. Also, the right shoe will give you the correct support.
Clothing. Same goes for avid yogis who need stretchy clothing that will move them and not inhibit their movements (on that note, wearing something that does not fit properly will mean that rather than focusing on your workout you'll be constantly adjusting the clothing). Need a little extra help with fit? Read: Cute Workout Gear For Every Body Shape
Fabric. It's amazing what you can find in the stores from clothing with reflective stripes if you are taking your workouts outdoors to compression garments that can help with recovery post workout. Many fabrics also help keep odors at bay which will increase their wearing time. Read more: How To Keep Gym Clothes Fresh
Avoid cotton. Cotton is a great fabric for your regular clothing, but it also absorbs your sweat which makes your clothing heavy and very wet. Wear an old tee for a long run and you might just find yourself getting cold and uncomfortable long before you are prepared to stop. Instead, look for moisture wicking pieces that will keep you dry. In this case synthetic is better.
Can keep injuries at bay. I dance and when it gets cold I always reach for my leg warmers and shorts to help me warm up my muscles as fast as possible so that I don't risk getting injured. Try running in a pair of old worn running shoes and you'll soon find yourself experiencing foot and even possibly knee pain, while a new pair will help control your gait and protect your feet. This doesn't just apply to protective gear like that what a hockey player would wear. Wearing bike shorts with some padding will make your long rides much more comfortable.
Avoid worn out clothing. I'm definitely guilty of not replacing my workout gear (probably because I have a penchant for the pricey stuff), but it's important to replace worn gear and not just your shoes. An old pair of shorts or a top can cause chaffing. An old bra won't give you the support you need and socks with holes can cause blisters. Clothing that doesn't fit anymore can impede movements and make your workout uncomfortable or even cause injury.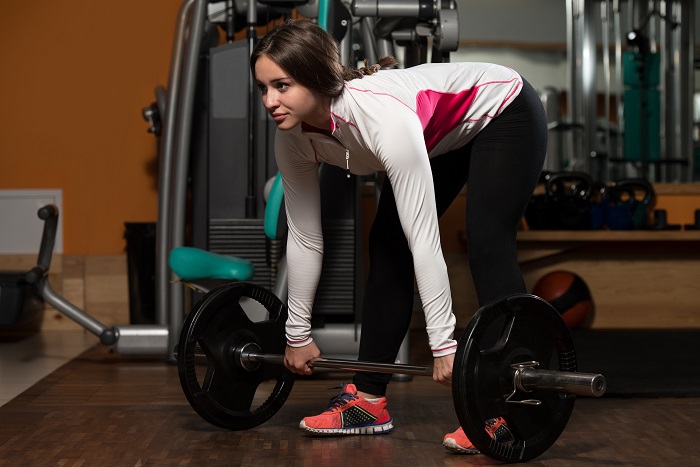 I know it's tempting to throw on your oldest, baggiest t-shirt an rattiest shorts, but you'll never feel good about yourself wearing that and you'll be less likely to want to workout. There's a reason why pretty much every single fitness company makes clothing that you can wear to the gym, but that also looks great when you are running errands. You know that saying, "dress for the job you want"? Well, in a roundabout way, it applies to this as well. Wear clothing that makes you feel healthy and sporty and chances are that it will help motivate you to get off the couch and lead a more active lifestyle.
Download your FREE guide: HOW TO SHOP FOR GYM CLOTHING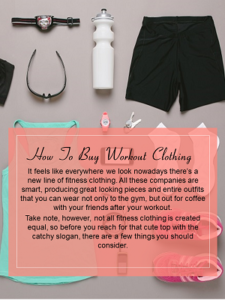 Check out this great fitness gear:

IF YOU ENJOYED THIS ARTICLE PLEASE SHARE IT AND SIGN UP FOR REGULAR UPDATES

images courtesy of PhotoDollarClub