How to be healthy without trying. I feel like I straddled two worlds growing up. There was our every day life in Canada, but there was also my parents' Eastern European background that would culturally seep into how they raised us. For example, we always ate home cooked meals. Going out to restaurants was a big treat and I can count the number of times we had fast food on one hand. Our fridge was always full of good food and we didn't have the option of eating junk because it wasn't available. Daily walks was something we just did without thinking about it. Other than our after school activities, we didn't plan to work out. Movement was just something that happened.
I'm a fan of going to the gym and generally working out but there's also something to be said for the pure act of being healthy without trying, without making a huge effort. The problem with changing your entire life around is that very few people can actually do it or maintain it. I bet no one ever said they didn't want to be healthy, but I think that we don't necessarily want it enough to make drastic changes. That kind of lifestyle is not necessarily a comfortable one. You are constantly fighting cravings and you are sore from painful workouts and before you know it, you are breaking out of the constraints you have created for yourself. And then to add insult to injury. You start to feel guilty, so you punish yourself and then suddenly you're in a vicious cycle that's nearly impossible to get out of.
Here's a radical idea. Instead of making resolutions (at any time of year) to start going to the gym more or to start eating salads every day, what if we just make the tiniest changes. Changes so small that we probably won't even notice them at first, or at least until we start seeing them and feeling better.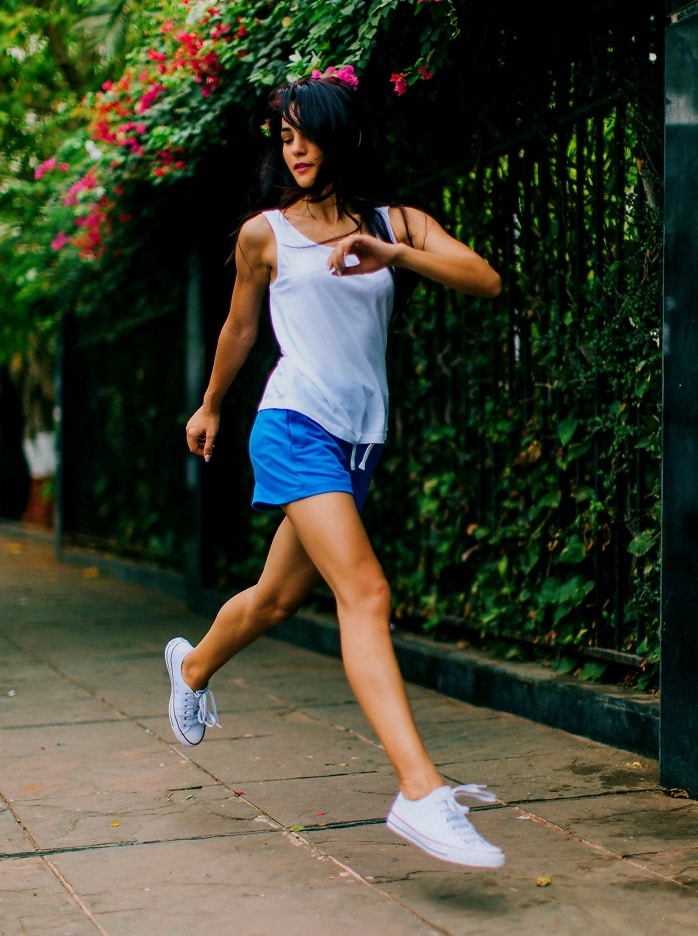 HOW TO BE HEALTHY WITHOUT TRYING
BREAK DOWN YOUR EXERCISE
Walk and Talk. Every time you pick up your phone, whether it's to talk to someone or simply scroll through social media, make sure that you are up and moving around.
Walk & Walk. Walk as much as possible everywhere. It will add up over time.
Morning and Night you will do the 6 minute workout which you can find in detail, right here: WHEN YOU DON'T HAVE TIME TO WORKOUT
Create new habits. By this, I mean do you have a weekly lunch date with a friend, partner or even your kids? Why not make it into a weekly bike ride or even a walk? There you go, another excuse to move without really needing to change your schedule. Just make sure that you are doing anything except sitting.
Start right now. Yup, that's right, put your phone down, step away from your computer, get off your butt and do something for the next 5 minutes.
BREAK DOWN EVERYTHING YOU ARE EATING
Pick A Prep Day. Admittedly this is hard for me because I hate food shopping almost more than anything else. It does, however, help and even though I am forcing myself, I do try to buy food for several days. Enough that I have food at home, but not so much that I'm able to overeat.
Stick To Portion Control. This is really hard especially when you go out with friends or when you are tired or bored or very hungry. I set up strategies that I (mostly) stick to. For one, I always check the menu before going to a restaurant. Eating out stresses me out, but this way I arrive already knowing what I'm going to have. I also mostly pre-plan my meals during the day. I know that I eat 2 eggs at 2:30 pm on Tuesday's before my dance class and I stick with that. All I do is eliminate the guess work.
Don't Force Yourself To Eat Salads (unless you love them). I feel like the first thing we do is reach for salads whenever we are trying to get healthy. Honestly, I don't like salads and I never have. A few leaves are okay, but an iceburg lettuce salad is just boring and is begging for a lot of dressing. Instead, I try to eat vegetables. There are some that I like more than others, but in general, a plate full of veggies never hurt anyone and in fact probably did a lot of good. On that note, you should be adding vegetables to everything you eat.
Lastly, stop looking at what everyone else is doing. I'm serious, put away the magazines, stop talking to everybody just stick with your micro adjustments, keep your head down and perhaps most importantly, be honest with yourself.
IF YOU ENJOYED THIS ARTICLE PLEASE SHARE IT
AND JOIN MY FREE LIBRARY

Caroline has been dancing ballet and modern for most of her life. She has worked as an indoor rock climbing instructor, personal trainer and most recently, a top level, fully certified Pilates instructor teaching high profile athletes and Hollywood celebrities.