Toning VS Bulking Up. As a trainer, one of the most common concerns you hear from women is that they don't want to lift weights for fear of bulking up. This is completely understandable because, unless you are training for body building, most women want definition and toned bodies not huge muscles. The fact of the matter is that lifting weights is an important component of training and one that should not be disregarded. No matter what I said there were always those that didn't believe me, so let's just dispel this myth here and now.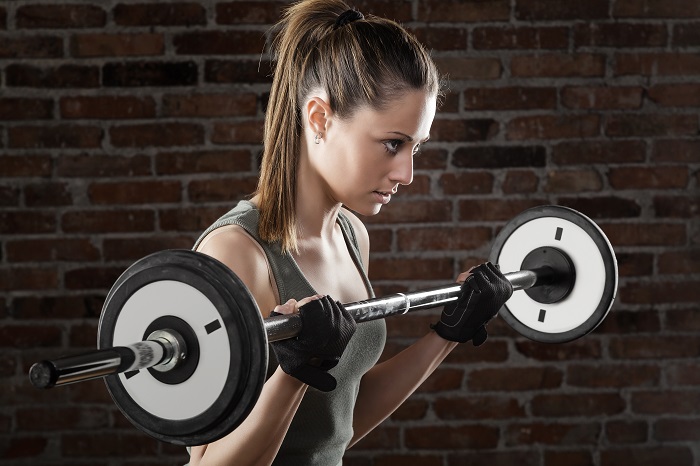 TONING VS BULKING UP
You are a woman. Yes it's that simple. It's very uncommon for women to bulk up. We just don't have the required amount of testosterone to build the same muscle mass as men.
Think toning. If it makes it easier to accept, then instead of calling it body building, use the term toning because that's essentially what you are doing. Rather than building big bulky muscles by lifting weights, you are building long lean muscles which will give you a healthy toned look.
Less weight, more reps. Generally if you are looking to tone up rather than bulk up, then you want to do more repetitions with a lighter weight.  This doesn't, however, mean that you can get away with reaching for the 2lbs weights (unless you are coming off an injury). Aim to use sufficient weight so that you can't do more reps than 12 to 14. Remember that you absolutely want to feel a burn. For most women, you'll initially be lifting between 8 to 25 lbs depending on the exercise. Let's put it this way, women are not that much weaker than men.
A workout is a workout. Your muscles type is predetermined by genetics. Although I love both Yoga and Pilates and I think they are an essential part of any exercise routine, they in themselves don't give you longer and leaner muscles. What they do, in fact, is give your muscles a great stretch in addition to some strength training. This means that your posture improves and when you are standing taller, your muscles appear leaner.
Don't overeat. As we all know, it all comes down to your diet. If you are overeating and lifting weights, then you will get bigger because you aren't burning enough calories. It comes back down to calories in calories out and this is not the kind of bulk that you want too be putting on.
When you lift weights you create small tears in your muscles. As they heal, your muscles become larger, more defined and stronger. This is a must for us all.  The next time you are at the gym, walk past the machines and pick up some weights. The results might just surprise you!
Do you lift weights at the gym?
*For more on toning vs bulking up follow me on instagram and pinterest*


*Images courtesy of Dollar Photo Club