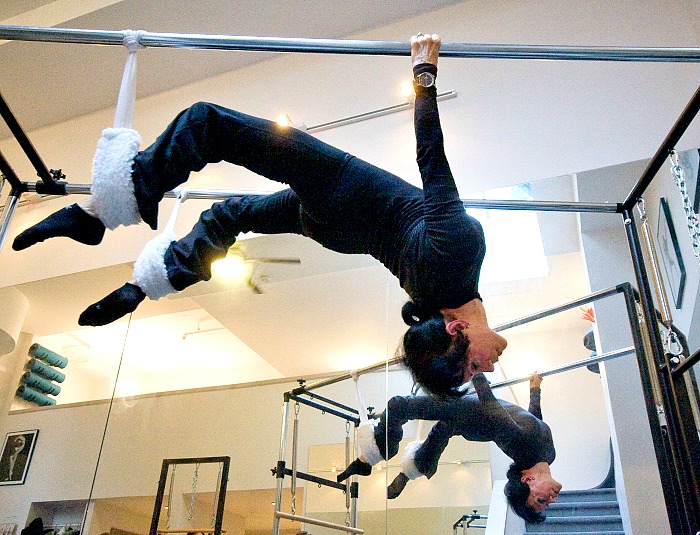 What is Pilates. I've now brought up Pilates in several posts and I have realized one important thing. Many people have only been introduced to it through their gyms, in the form of mat classes. Now, as an ex-Pilates instructor and someone who has been a practitioner for more than 15 years, I just cannot in good conscience let this slide.  Let me start by saying that there is absolutely nothing wrong with the mat classes that you will find in a gym, as long as you realize that it's only a tiny part of the practice. For all you Yoga devotees out there, it's as if I would make a decision about Yoga based on having done a downward dog, a child's pose and a warrior pose.
WHAT IS PILATES
A system of exercises using special apparatus, designed to improve physical strength, flexibility, and posture, and enhance mental awareness. -Google
Basic Principles. The original Pilates methodology, developed by Joseph Pilates as a series of rehabilitative exercises for his fellow prisoners during the war, is based on 6 principles: centering, control, flow, breath, precision and concentration. Many styles have evolved and adapted over time. For instance, I was a Stott Pilates instructor for many years and we had 5 principles: breathing, pelvic placement, rib cage placement, scapular movement and stabilization, head and cervical placement. If, however, you strip away all the fancy terms then you'll find that the end goal is the same.
Apparatus. A dedicated Pilates studio will have a number of different pieces of equipment or apparatus. These include: reformers, chairs, ladder barrels and cadillacs. You'll also find small equipment including: magic circles, spine correctors, balls, bands, foam rollers, Bosu-balls and even jumpboards. If all of this sounds confusing, don't worry.  The instructors are always present, leading classes to make sure that you're never lost.
Low impact. Your body is supported in most of the exercises. Whether you are working your legs, arms or even abs, there are many different modifications which can have you lying down or seated. This makes it perfect for those with previous injuries (post rehab), pre and post pregnancies, athletes looking to balance and strengthen their form and really, anyone else. I first got into Pilates after suffering a very painful hamstring tear during a dance performance.
Wake up those core muscles. Your core consists of your abdominal muscles, pelvis and shoulder girdle. Pretty much every single exercise that you will do in a Pilates class is based around the stability of your core muscles. The ideas is to keep them engaged while you perform functional movements. In the long term, this means that you are training your abdominal muscles and those closest to your spine to kick in when you are moving around in everyday life.
Create lean and flexible muscles. While I'm still an advocate of lifting weights, I believe that it's just as important to work your muscles in different ways and Pilates is the perfect compliment to every other activity or sport that you do. By learning to correctly use your breath while working the correct set of muscles in a given exercise, you'll find that other muscles release. Over time, you'll find an increase in flexibility as well as an improvement in your posture.
Create balance in your body. The beauty of Pilates is that you are constantly fine tuning all the little muscles that support your big muscles. An instructor will be looking at your body from head to toe and watching what every muscles is doing. They will also be paying attention to your muscles patterning. Try this: go lie down on the floor face down and lift one of your legs up a few inches. Now do it again, but this time pay attention to which muscles engage first. For many people it's their back but do you really need to engage your back to lift your leg a few inches? The answer is no. As an instructor this tells me that your muscles aren't working exactly the way they should be. By fixing this, you will become much stronger, more resilient and more efficient with your movements, allowing your muscles to do the work they were originally designed to do. Each class focuses on training your entire body and this is why many professional athletes have now included Pilates into their training regimes.
Break a sweat. If you aren't working hard in a Pilates class then something isn't right. Okay, while you probably won't be soaking wet after a class, your muscles should have that wonderful rubbery feeling. This goes for all participants from the oldest to the youngest and from the weakest to the toughest (with appropriate modifications of course). Although Pilates, in itself, is not a substitute for cardio, I used to love adding a jump board to the reformers to give my clients that extra kick. This was especially helpful for my runners, hockey players and dancers who could practice landing and transitioning their weight from foot to foot. Besides, there's nothing like seeing a tough NHL-er groaning and shaking his way through a workout.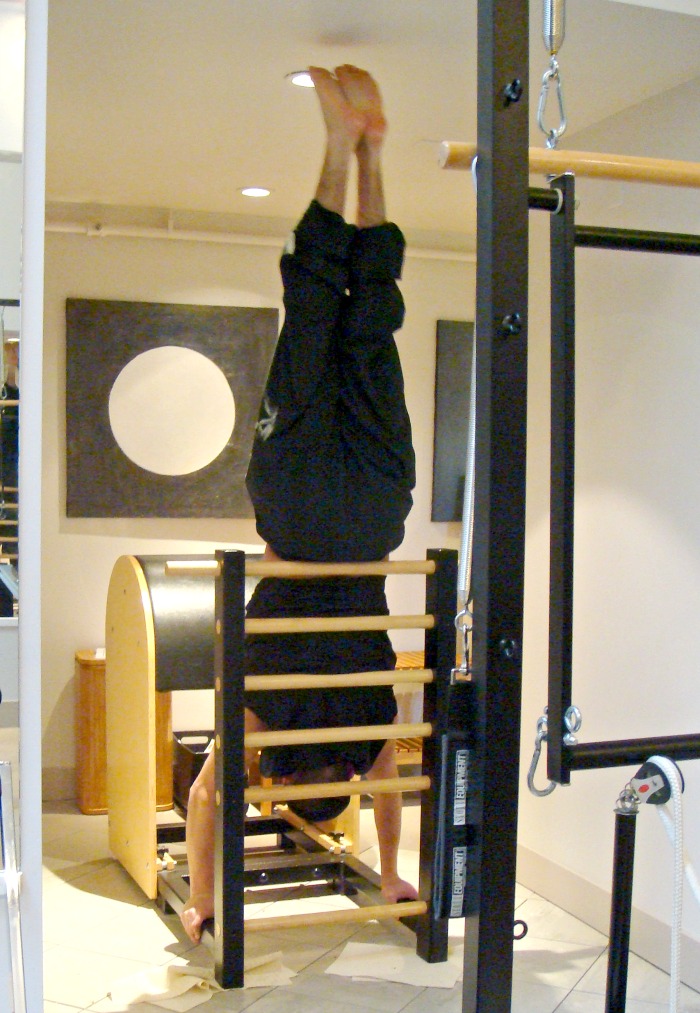 I've always been fascinated with human anatomy and how to improve my physical performance, especially when it came to dancing. Pilates forced me to take note of what my muscles where doing and how they were working. It allowed me to recover from a very painful and debilitating injury and push myself to that next level. So in order to reap all of these great benefits, you have to try a complete Pilates workout, off the mat.
Have you ever tried a Pilates equipment class?
*For more on what is Pilates follow me on instagram and pinterest*