Why is sitting too much so bad. So we already know that most diets fail and that people fall off the workout wagon all the time and we seem to be caught in this vicious cycle of sitting too much and then not moving enough. So, how bad is all this sitting anyway? Why are the experts so worried about it, why are we encouraged to move? Not everyone is overweight, right? Does this apply to them as well?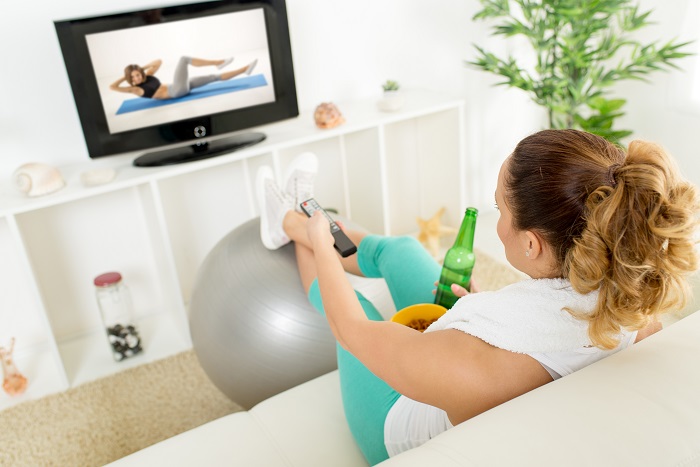 WHY IS SITTING TOO MUCH SO BAD
WHAT HAPPENS IF YOU ARE SEDENTARY ALL THE TIME
When you sit at a desk your shoulders hunch forward, your spine is compressed and your hips are rotated. Your body starts adapting to this position. This can lead to back pain, spinal injuries and general joint pain.
If that weren't scary enough, sitting too much increases your your risk of developing diabetes, heart disease and even cancer.
According to the Center For Disease Control And Prevention adults need 2 hours and 30 minutes (150 minutes) of moderate-intensity aerobic activity (i.e., brisk walking) every week and muscle-strengthening activities on 2 or more days a week that work all major muscle groups (legs, hips, back, abdomen, chest, shoulders, and arms).
WHAT IF YOUR JOB DEMANDS THAT YOU SIT AT A DESK ALL DAY
If you have a sedentary job then obviously you aren't going to suddenly quit, but there are some things you can do right away to make sure that you don't pile on the pounds.
No soda, diet or otherwise. Sure, the can might say diet or 0 calories, but don't be fooled. These drinks have nothing even remotely healthy in them and overtime can cause a lot of damage to your health, including increasing your risk for diabetes.
Only healthy snacks. When we are tired and run down, it's tempting to reach for the nearest snack. While some may imply they are healthy, it's best to stick with actual foods like: vegetables, fruit and nuts.
No energy drinks. While it might be tempting to use energy drinks for a quick afternoon jolt they really aren't necessary. Often packed with artificial ingredients and typically unregulated, they can cause jitters, nervousness and in some instances heart palpitations. If you need a boost during the day there are lots of other things you can try. Read. NATURAL ENERGY DRINKS
It's not just about exercising more, but rather about sitting less because you can't offset being sedentary for many hours by just doing a 1 hour workout. This means that you need to make a conscious effort to move throughout your day and spend no more than 2 hours actually sitting down. The optimal ratio would be to spend 5 minutes or so stretching or walking around for every 30-40 minutes that you spend sitting down.
Make time to do these stretches throughout the day:
Tip Over Tuck
Scissor Stretch
Deep Lunge
Straddle With Side Bend
Knees To Chest
Read the full article: Best Stretches If You Sit A Desk All Day
While there will, of course, be days when you spend more time in a seated position, don't let yourself get too comfortable with this lifestyle. Make sure that you are taking the time to stretch and move your muscles throughout the day because if your main moving time is the hour you spend at the gym, that just won't cut it.
IF YOU ENJOYED THIS ARTICLE PLEASE SHARE IT AND SIGN UP FOR REGULAR UPDATES


images courtesy of DollarPhotoClub
Caroline has been dancing ballet and modern for most of her life. She has worked as an indoor rock climbing instructor, personal trainer and most recently, a top level, fully certified Pilates instructor teaching high profile athletes and Hollywood celebrities.