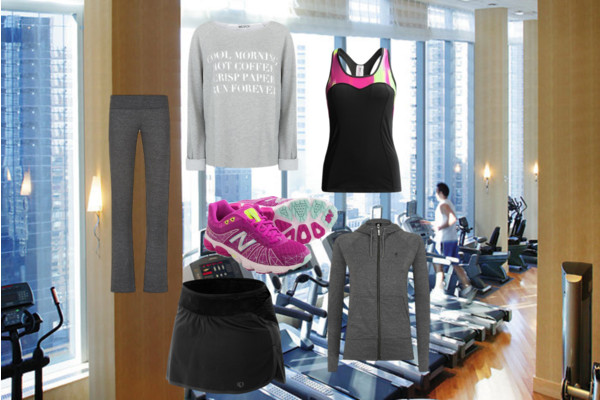 How to feel confident when working out. I spent many years attending ballet classes, Pilates classes, rock climbing and going to the gym and the one thing all of these activities had in common was that I had to spend a few days convincing myself to start. After I became a trainer, I noticed (surprise, surprise) that I was not the only one who felt this way. It wasn't that they didn't want to work out but they were just really good at chickening out. Lots of "great" reasons where presented but what it usually came down to was a lack of self confidence, the feeling that everyone would be staring at them and judging them.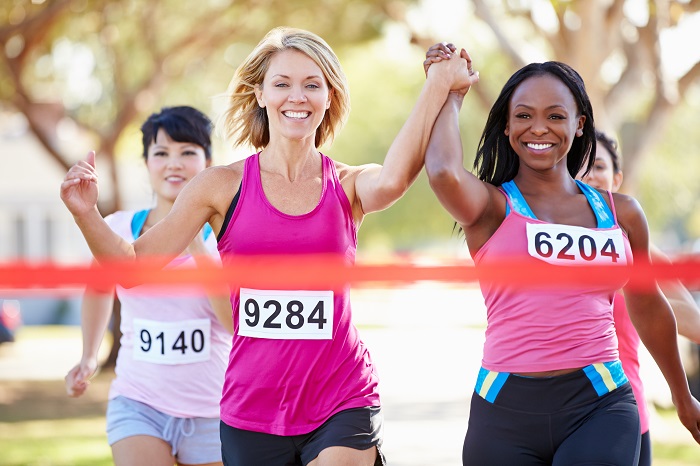 HOW TO FEEL CONFIDENT WHEN WORKING OUT
Wear cute clothes. You know that feeling of putting on a great pair of heels, when you stand taller, head held high and full of confidence? The same holds true with fitness clothes. Of course, it's not necessary to wear a skin tight outfit that shows off every curve if you are not ready for it, but when you wear an outfit you're happy with, you'll naturally feel better about yourself. So leave the raggedy old sweats at home and opt for some colour. Go ahead, don't be afraid to wear that running skirt! Read this to learn all about buying the right workout clothes.
Be prepared. When I worked at gyms I always felt kind of bad for people the first time they came across gym equipment. It can be really intimidating. So take some time to actually learn a few fitness routines. The best way to do this is to book yourself in with a trainer for the first few workouts. They'll walk you through the equipment and help set you up. Read this for more information about what equipment you can find at the gym.
Watch yourself. The mirrors at the gym are there for a reason, so use them. When you start really paying attention to your form, not only will you push yourself harder but you'll see how quickly everyone around you fades into the background.
Tune out.  My gym is big and the cardio equipment is in rows with the treadmills being at the very front. What this means is that every time I get on one I have the pleasure of knowing that everyone is staring at me and my back… Of course they are, right? No one has anything better to do than to stare at me run and if I run outside the whole world stops to watch. That doesn't stop me, however, because I simply put the ear buds in, listen to my music and it helps me ignore the world around me. And let's face it, no one really cares because they're too busy worrying about themselves.
Bring a buddy. There's power in numbers and sometimes it helps to bring a friend. You can figure out the equipment together without feeling self conscious and you have each other's backs.
Actually go. The best way to get over yourself and your insecurities is to go workout on a regular basis. If you only go to the gym once every few weeks then you'll never get over that newbie feeling. Become a regular and the staff and other gym goers will recognize you as you become a part of the community. You'll see yourself becoming more and more confident in no time.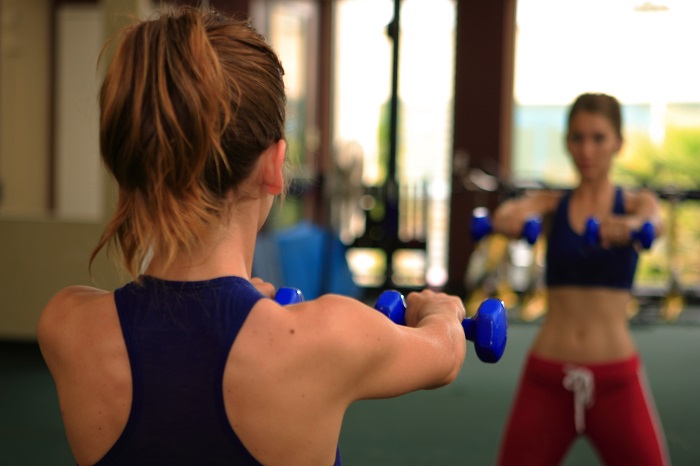 You know that saying "fake it 'till you make it", well that applies perfectly here. If you workout consistently then over time you'll feel more confident and comfortable with yourself and you'll stop wondering what everyone else is thinking.
Do you ever feel intimidated by the gym or workout studio?
For more don't forget to follow me on INSTAGRAM and PINTEREST
IF YOU ENJOYED THIS ARTICLE PLEASE SHARE IT AND SIGN UP FOR REGULAR UPDATES



images except clothing courtesy of DollarPhotoClub

Caroline has been dancing ballet and modern for most of her life. She has worked as an indoor rock climbing instructor, personal trainer and most recently, a top level, fully certified Pilates instructor teaching high profile athletes and Hollywood celebrities.