How to deal with a bad workout. Look it happens. We all have bad days, when nothing seems to go right and everything seems to go wrong. No matter how many times I check my gym bag, on occasion, I forget my music and for me that's enough to give me a grumpy, half-assed workout. I'm sure it's a placebo effect, but I can't do cardio without music. It just does not work. Maybe thanks to most of the major exercise in my life being dance with musical accompaniment, if I can't hear a beat then it ain't gonna happen. Of course, I don't really give up completely,  but it's just not the same.

HOW TO DEAL WITH A BAD WORKOUT
What you need to remember. Good and bad days can come at the drop of a hat and they don't always have to have a great reason. Every time I think that I've finally figured out my diet, something changes and suddenly I'm trying to figure it out all over again. The only constant is that I usually have a great workout after I've taken a week off. The main reason I don't freak out is because getting better at something is not a linear progression upwards. There are many ups and downs, but as long as you are continuously improving over the long term, you will reach your goal. There are so many factors involved that you can't control and sometimes you just have to roll with it.
Remember, something so simple as weather changes can affect your performance as well as something so complicated as hormonal fluctuations. The key is to not let them take over and run your life.
Be in the present. Even if you are having a "bad" workout be in the moment. Accept the fact that you can't seem to run as fast or that your usual weights feel unusually heavy or that you can't quite find your balance. Understand what is going on and work through it. Even if you don't have a great day, you are still getting stronger.
Focus on the journey. Sure, it's easy to picture ourselves running across that finish line or winning a fitness competition or performing on a world stage, but those are huge goals which don't always come to pass. Each day tell yourself that you will do your best and that you will concentrate on all the small steps.
Focus on the positive. Unless something really tragic happens during a workout, it's never all bad. While it's easy to just want to throw in the towel and think that the world is over and you'll never get anything right ever again, instead of having a total meltdown sit down and think about the good things that happened. Maybe you were on the treadmill and you thought you were "literally" going to die, but then you managed an extra 10 minutes. Or maybe you collapsed as you did that last push up. Well, at least you were there and you did it. After all, it's better than having spent the night on your couch.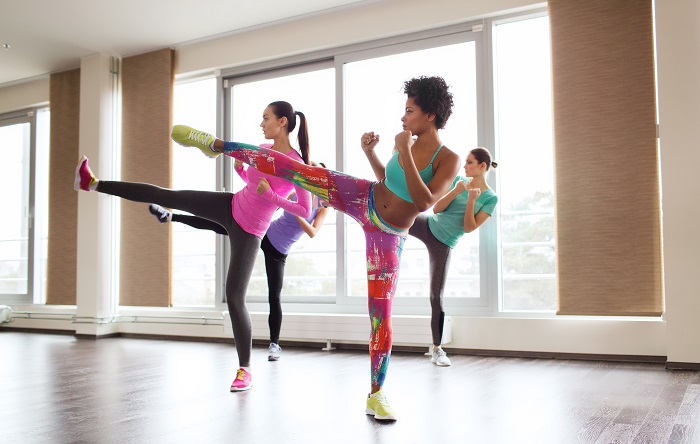 It does suck when a workout isn't everything you hoped, but just try to remember that even professional athletes have bad days (and sometimes they happen in front of an audience of hundreds or even thousands of people) and yet they somehow manage to keep putting one foot in front of the other. Ever see an Olympic hopeful crash and burn during an event? Or an elegant ballerina fall flat on her butt during a performance? It happens and it's normal and yet they somehow always  make it back for another day.
How do you deal with a bad workout?
For more don't forget to follow me on INSTAGRAM and BLOGLOVIN
IF YOU ENJOYED THIS ARTICLE PLEASE SHARE IT AND SIGN UP FOR REGULAR UPDATES


images courtesy of DollarPhotoClub

Caroline has been dancing ballet and modern for most of her life. She has worked as an indoor rock climbing instructor, personal trainer and most recently, a top level, fully certified Pilates instructor teaching high profile athletes and Hollywood celebrities.