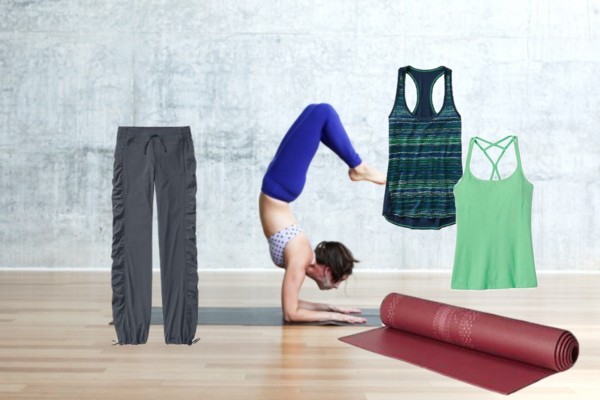 How to buy workout clothes. We're into our first week of January and recovering from the shock of going back to work after a break. Resolutions have been made, gym memberships renewed or purchased and upbeat music download on phones and iPods. Now comes the question, what do I wear? After years of wearing super cute (and very expensive) fitness clothing when I had my Pilates studio, I'm at a point where I'm happy to throw on a soft tee and a pair of  black yoga pants. When I was in Vancouver, so many of us were spoiled by having decent gyms located in our apartment buildings. Now that I actually have to, gulp, walk to a big chain gym or go for a run outside, I'm starting to re-think my hang-my-head-in-shame (you are a blogger after all) outfit.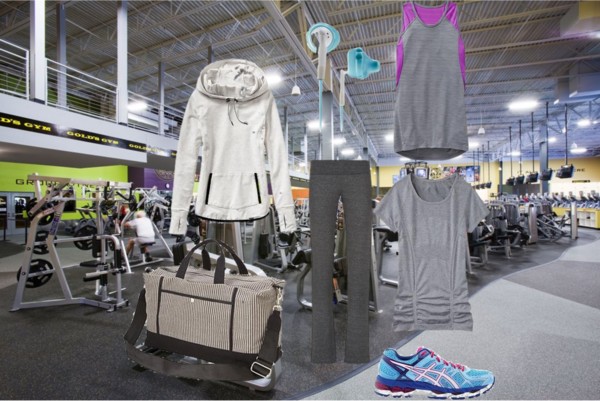 HOW TO BUY WORKOUT CLOTHES
Consider the fabrics. Frankly, there's nothing better than a slightly worn, every so comfy cotton t-shirt.  Now try going for a major sweat session in that same tee. Pretty soon it will be shapeless and stretched out and worst of all, you will be soaking wet and freezing and possibly dealing with chapped skin. It seems that every company has its own "signature secret blend" of performance fabric, but most of them are a combination of lycra and polyester blends (or wool and bamboo for those that prefer natural fibers). What they do, is help whisk moisture away from the body. This goes for a good sports bra and socks as well, as they are just as important. Are they worth the extra cost? Absolutely!
Consider the activity. Are you going for a run, lifting weights, bike riding (or spinning) or perhaps today is yoga or Pilates day?  It doesn't really make sense to wear the same thing.  A loose fitting top probably isn't the best idea when practicing head stands, just like a running skirt might look a little odd for a weight lifting session.  It's wise to consider the activity you do most and dress appropriately. Oh and always try some moves in the fitting room in front of a mirror or friends, because wardrobe malfunctions are never a welcome event.
Consider the fit. This point seems to always come up when we are discussing clothing, but there are good reasons why it's so important when it comes to fitness gear. If your clothing doesn't fit right, it will rub against your skin. You may not feel it for the first little bit, but try going for a long run or a heart pumping class and pretty soon, all of that rubbing will result in major painful chaffing. Not fun and you probably don't need another excuse not to go to the gym.
The fit part 2. Another reason to consider the fit is that you'll feel better about yourself, which in turn is a motivational push to keep working out. I know, I know I'm definitely guilty of hiding my body under big baggy clothing, but as we all know, looking like a shapeless lump isn't going to make anyone feel better about themselves. Simply look for well cut tops and bottoms that make you feel good about yourself.
Consider the season. In the summer, you can usually get away with a simple top, your favourite bottoms and a moisture wicking pair of socks, but in the winter it's time to layer. Yes, just like with your everyday wardrobe, layering is very important. I like to wear a thin performance tank under a long sleeve top when I'm going for an outdoor run in the winter.  Then I top it all off with my favourite hi-tech jacket, complete with enough pockets for my id and phone.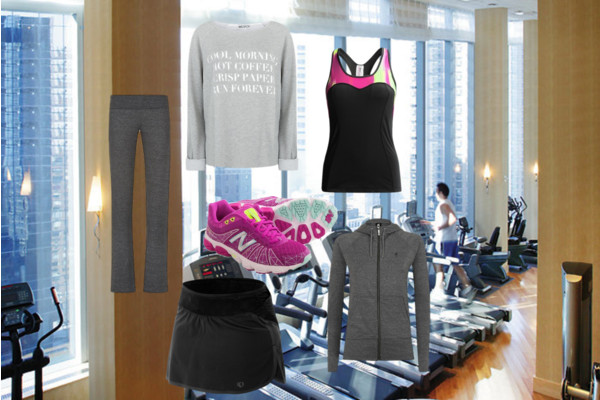 Don't be afraid to invest a few extra dollars for high-tech materials, as they will allow you to workout longer and harder and will outlast your old ratty clothes.  Just like with your everyday wardrobe, take some time to consider what you are wearing for a workout. You should feel good about yourself, it will help you stay motivated to stay on your healthy journey.
What's your favourite gym outfit?
*For more on how to buy workout clothes follow me on instagram and pinterest*