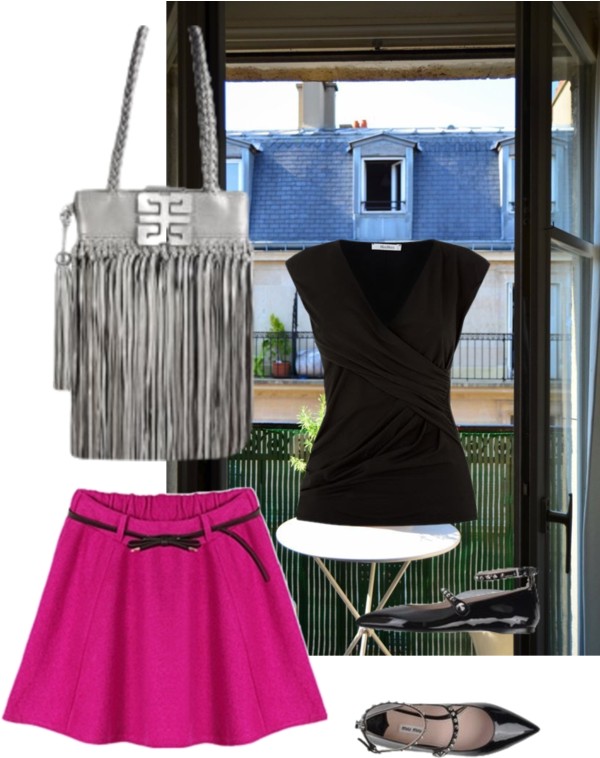 Dance inspired wardrobe. As the weather gets warm, my winter clothes start to feel too heavy and bulky and although I've always had a more tomboy style, I seem to want to pull out all of my pretty girly pieces. In addition, because of my small obsession with ballet, I'm tempted to wear my pointe shoes on a daily basis (pain notwithstanding). So this time of year, I start to search out soft feminine pieces that just make me feel pretty.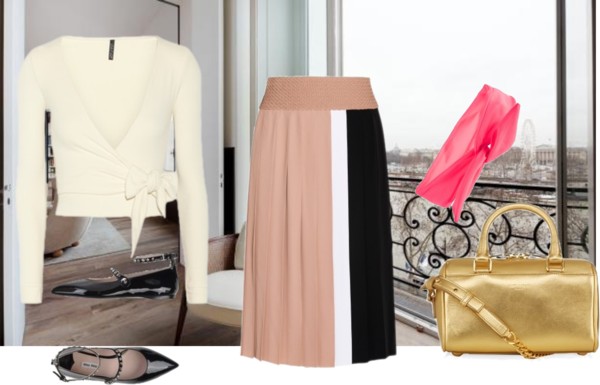 DANCE INSPIRED WARDROBE
Pretty ballet flats. These are a classic and a must have shoe in every woman's wardrobe, but as we all know, one pair is never really enough. How about finding a pair with pretty ribbons or bows? They will add a feminine slant to an edgy outfit or look pretty and dainty with a skirt for day.
Ribbon/hair scarf. I can't get enough of summer scarves and am always tempted to wear a bow in my hair. I've never felt that I could get away with it, but this just might be the year to pull out a fun pattern and incorporate it into my look. Or I may just tie a pretty scarf on my bag.
Wrap top. I don't know of anything that says ballerina more than a wrap top. As a plus, this style looks great on pretty much every body type and depending on the fabric, can be be either quite dressy or very casual. This is a must have item for your wardrobe.
Pleated a-line skirt. So I won't go so far as to say that we all need a tulle skirt (although I personally have a not so secret love for them), but a nice pleated skirt can be paired with a tailored blazer for a business meeting, or a pretty blouse for dinner. If the style is chosen correctly then it can be quite the versatile piece. If you are looking to de-emphasize your hips then simply opt for a wider pleat and a thicker waist band. Really, if you stick to classic cuts there is a pleat for everyone. If a skirt is absolutely not for you then try a wide leg pant in a flow-y fabric, or better yet choose a pair of culottes which are so on trend at the moment.
Metallic and anything pink. While shimmer may not be for everyone, especially during the day, a touch of metallic can give you that extra bit of glam. Just remember that a little goes a long way and only opt for one item. I personally like to make it an accessory. Remember those shoes we just spoke about? Well, how about choosing a pair in silver or gold? Or perhaps a great bag in a bright metallic.
For me, this is about adding the most beautiful and elegant elements of a dancer's wardrobe. I know first hand what it's like to be sweating and straining only to make a fleeting movement look effortless. This isn't about reality, but about re-creating some of that magic in my every day wardrobe, which makes me walk a little bit taller, almost like I'm floating on the sidewalk.
Do you include any sports inspired elements in your wardrobe?
Shop dance inspirations now:


*For more photos don't forget to follow me on INSTAGRAM and PINTEREST