How to make your hair look thicker. I think we can safely say that summer is officially behind us and when it's colder out, I start wearing my hair down more often. This is also the time when I notice just how good or how not so good my haircut really is. You see, while I have a lot of hair, it's actually quite fine. This means that with the wrong cut it looks flat and lifeless. It has taken me a long time to figure this out, but now that I have I'm able to have a more productive conversation with my stylist.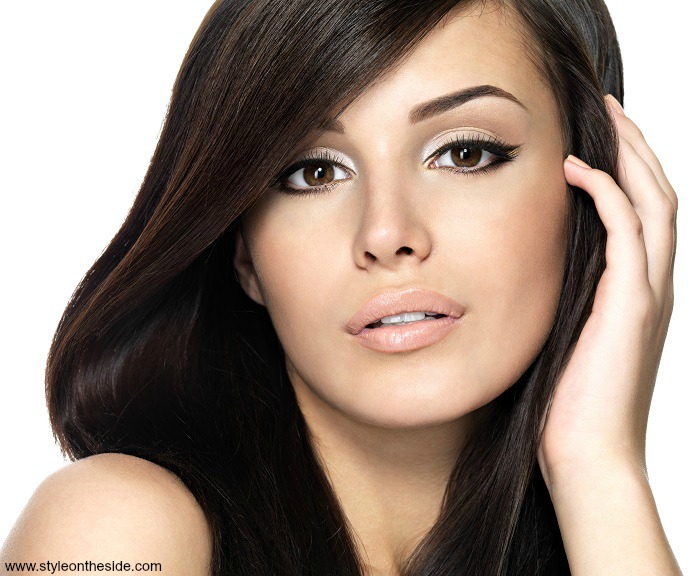 HOW TO MAKE YOUR HAIR LOOK THICKER
Keep it simple. As much as possible, don't damage it with curling irons and heating tools, but that's a given and we can't really justify air drying our hair in the middle of winter. So instead, use minimal products. Gels and creams will only weigh your hair down, but a mousse will give it more lift. When you blow dry your hair, either use a round brush or flip you hair upside down and then part it only after it's dry. This way you'll have minimal flattening or better yet, don't give yourself a defined part.
Get highlights. Not only will the peroxide actually thicken your strands, but when your hair has highlights it will also appear fuller. The more dimensions, the bigger illusion that you have thicker hair.
Layer. I've had layers for a long time now and sometimes they are great and my hair does exactly what I want it to do and other times my hair is flat and frizzy, all at the same time. I finally asked my newest stylist what is going on and she explained that the trick to layering (and especially when you want your hair to appear thicker) is to create an under-layer (think crinoline).
Cut strategically. Long strands are great, but if your hair is really fine then maybe a choppy shorter cut is the way to go. It can still be long without being long, if that makes sense. Take a breath and cut it up to your shoulders (or just a tiny bit above), sit back and just see how much fuller your hair looks.
Tease the roots. This isn't the hairstyles of old, but just a little bit of teasing at the roots will do wonders for the illusion of making your hair look thicker.
Use dry shampoo. You don't have to wait until you actually need dry shampoo. Instead, spray some on to your roots, wait 5 minutes and then rub it in for more volume (this also works great with a texturizing spray). You can also try using a tinted dry shampoo which will make each strand look thicker and mask any parts of your scalp that might be showing through. Read: BEST DRY SHAMPOO AND HOW TO USE IT.
Additionally, when you are buying shampoos and conditioners, look for words like volume rather than smoothing or hydrating. Some of us have more hair and some of us have less, but there's no reason why we shouldn't all feel fabulous every time we leave the house.

IF YOU ENJOYED THIS ARTICLE PLEASE SHARE IT AND SIGN UP FOR REGULAR UPDATES