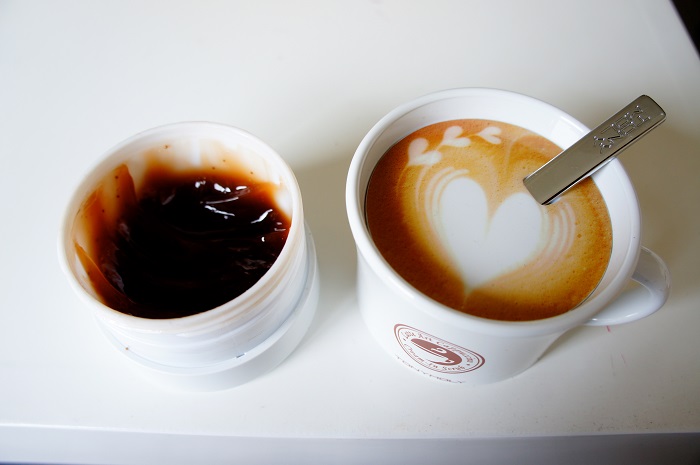 Please welcome Prerna from Viva La Highstreet! She is currently living in Japan and has introduced me to a number of really great beauty products that I can only dream about for now. Take a moment to visit her site and in the mean time I hope you enjoy this amazing review!
Tony Moly Latte Art Cappuccino Cream-in-Scrub
Tony Moly is a Korean company famous for its cute cosmetics and skin-care range. 
Tony Moly Latte Art Cappuccino Cream-in-Scrub
 has the most creative and original packaging ever. Isn't it obvious that I bought it solely because of its adorable packaging! It comes in a cute plastic cup that looks like a cup of coffee. The top part can be twisted off and the actual product is in the bottom half that has an extra lid.There is a spoon-like spatula that actually makes it look so real. There is 80gm of product and it cost me around 6$.
It is a color changing hypoallergenic cream scrub that has a massaging and exfoliating effect. It has coffee and milk to remove dry and dead skin cells. The AHA ingredient in the milk and the scrub grains keep skin smooth, healthy and moisturized. It supplies nutrients and elasticity, removes keratin and detoxes the skin. It has an instant heating and colour changing effect. It is suitable for all skin types. It is paraben free. It has a lot of natural ingredients such as cocoa, dry lilies, thyme, water lilies and plant cellulose.
It smells amazing, of sweet coffee. The scent is strong but I am sure all the coffee lovers will love it!!
The scrub is dark brown in colour, more gel-ish than cream-ish. It is soft and sticky but very easy to scrub and spread on the face. It has really tiny beads (Most Japanese and Korean scrubs have small beads and are really mild and gentle on the skin). I apply it on my dry face, rub it on for 5 minutes and then let it stay for 10 minutes more before washing it off.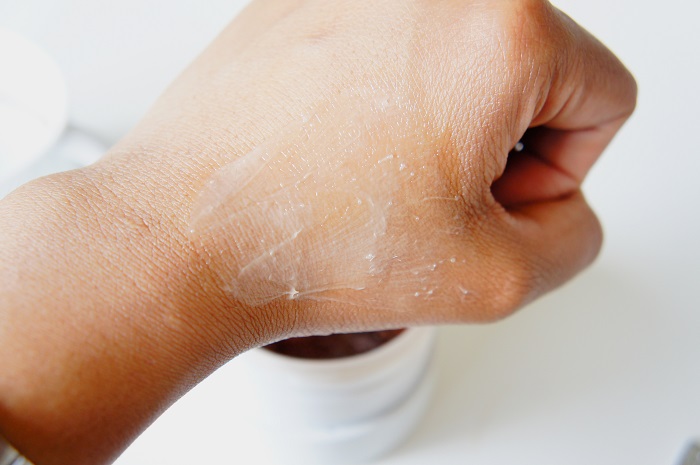 The scrub changes its color to a more milky white and becomes foamy in texture. The scrub becomes hot after rubbing, which opens the pores to remove the dust and waste from the skin.
My skin feels squeaky clean and smooth after I use it. The scrub is very fine so it does not irritate the skin. It does not cause me to break out.  And like some other scrubs it does not dry out the skin at all. I can easily skip the moisturizer after I have used it. And to top it all off, the sweet aroma of coffee is really relaxing and soothing.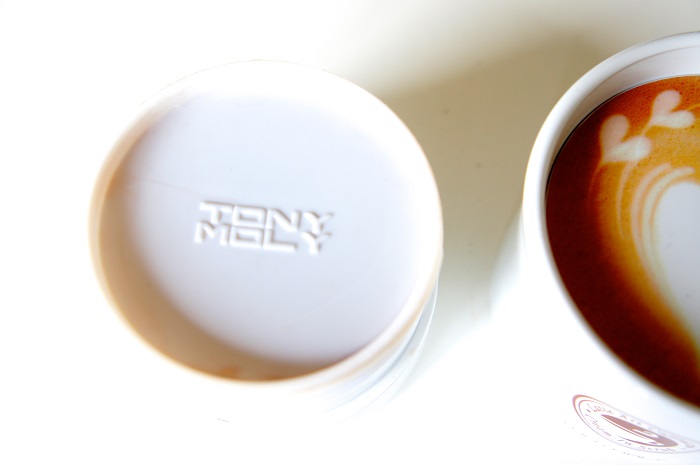 I have been using it for almost 2 months now. My skin feels really moisturized after I use it, but I haven't seen any improvement in the texture just yet.
Personally I prefer a stronger scrubbing action. The granules are too soft for me. It is  more like a moisturizing mask for me, ideal for those days when I feel like a de-stressing coffee massage!!