How to find the perfect foundation. I think that I like shopping for new foundation as much as I like shopping for new makeup. A fresh bottle of foundation always carries the promise of a flawless complexion and a seemingly magical power to make me look at least 10 years younger.  Standing at a makeup counter, however, is another story. All of a sudden, I can't remember what skin type I have and I don't know if I want full coverage or a lighter formulation (no one looks good under those horrible lighting conditions at the mall, right?). I like the idea of a powder, but that's always too thick and a tinted moisturizer isn't always enough, so as a way to not get distracted when I go to the store, I wind up sitting at my computer for what feels like hours on end to narrow down my search.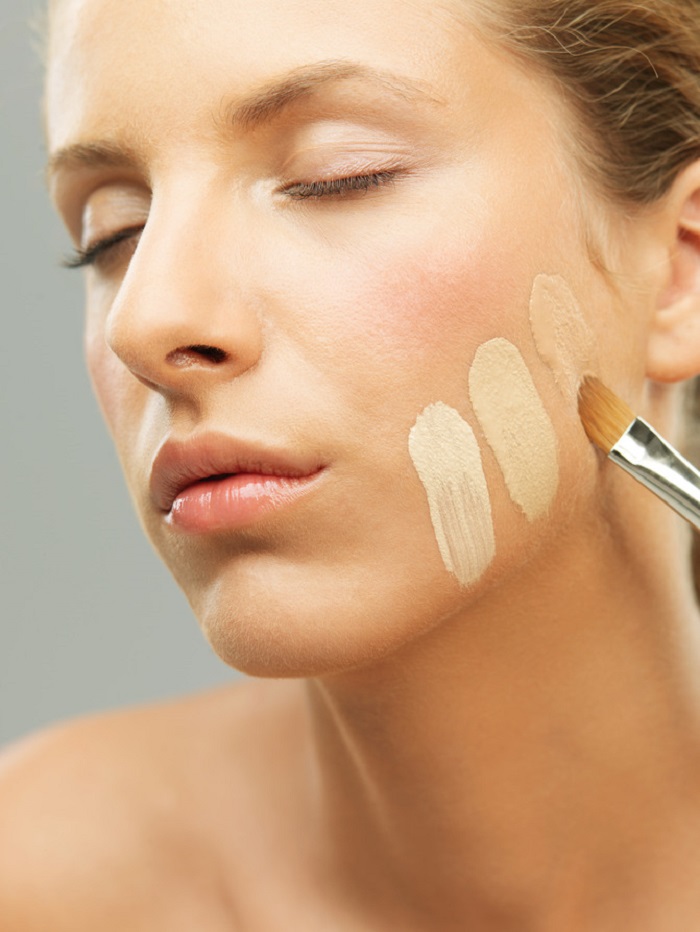 HOW TO FIND THE PERFECT FOUNDATION
DRY SKIN
If your skin is on the dry side and you find that foundations often look flaky and maybe even a bit dull on you and you just want to have a fresh illuminated look then the formulations which will probably suit you best are hydrating creams/powders, liquids and creamy sticks. Any foundation that contains moisturizing ingredients is at least worth a try.
Discover these foundations for dry skin now:


OILY SKIN
For those of you who have oily complexions, large pores or even suffer from acne prone skin and you are craving a more matte look then oil-free liquids or powder foundations will be your best bet. In an effort to not let your makeup break down and slide off your face, anything which contains oil absorbing powders will leave your skin with a smooth, clean finish. Another option is to try mineral makeup and if you have acne prone skin then look for words like "salicylic acid."
Discover these foundations for oily skin now:


COMBINATION SKIN
Combination skin can be tricky since you might find your foundation flaking on one part  of your face and sliding off another. Your major complaint for foundations is probably that they feel heavy and while you want a natural finish, you probably just want to smooth out some minor imperfections. While you can usually wear most formulations, look for ones that are easier to layer so that you can apply them more or less where you need them.  Light powders, sheer liquids and even tinted moisturizers are a good bet.
Discover these foundations for combination skin:


SENSITIVE SKIN
If you find that your skin has uneven patches and reacts with many of the formulations that are on the market then try looking for a mineral based makeup, as well as ones that are fragrance and preservative free.
Discover these foundations for sensitive skin:


So which one should you choose? Here's my guide on high end vs drugstore foundation:

FIND YOUR SHADE
When you find your formulation, choose three shades that fit your skin tone (fair, light, medium light, medium dark, dark and very dark) and undertone (yellow, pink, neutral, olive). Apply them side by side and pick the one that best disappears into your skin. Another way to find your perfect shade is to match the colours to the skin on your chest and neck as this will help prevent getting that mask-like look. Whichever way you choose, make sure that you leave the foundation on for a few minutes. Take note of how it absorbs into your skin and whether it subtly changes its shade. Like most of you, I use a lighter shade in the winter months and a slightly darker one in the summer. For the in between months, however, I might mix two foundations to help ease my skin through the transition.
YOUR SKIN UNDERTONE
Is it neutral or does it lean to yellow and warm or pink and cool? An easy way to figure out your skin tone is to take a close look at the jewelry you wear. If you find that gold makes your skin pop then it's likely that you have warm undertones. If silver makes your skin glow then opt for cooler shades. Another way to pick a blush is to see what your natural flush looks like and then choose a similar shade which will enhance it.
HOW TO APPLY
Now that you've found your ideal foundation, make sure that you are moisturizing properly and thoroughly and  exfoliating on a regular basis.  Read, Brushes VS Fingers Makeup Application for more on how to apply your foundation.
THE FINISHING TOUCH
So now that you are almost ready to go, you naturally want to apply some powder, right? Just like with foundations, there are a number of different types of powders to choose from. I'll have a longer post coming out about powders in the near future, but for now, know that loose translucent powders will feel much lighter than their compact counterparts. I'm a big fan of a loose translucent powder since I find that tinted ones tend to change the colour of my foundation and also, if I have to reapply it during the day (and don't have blotting papers on hand), it doesn't build up on my face. Also, remember that the purpose of a powder is to get rid of any shine, so use it sparingly and only where you need it. Don't forget to blend, blend and then blend again. The key is to have a radiant complexion and not a dull cakey one.
What is your absolute favourite foundation?
For more don't forget to follow me on INSTAGRAM and BLOGLOVIN
IF YOU ENJOYED THIS ARTICLE PLEASE SHARE IT AND SIGN UP FOR REGULAR UPDATES

Caroline has worked with international designers in fashion retail and completed professional makeup courses when working in the beauty industry. Her love of writing, photography and film inspired her to work at the Canadian Film Center and then to earn a BFA in Screenwriting. In addition to her blog, Style On The Side, you can see her work in Huffington Post Canada and other international websites.