Everything you wanted to know about brows. I don't often talk about brows, mainly (okay please don't hate me) it's because I've never really had a problem with mine. They are fairly thick, so I don't think about them a whole lot. Several years ago, back in Vancouver, I went to see a brow specialist who probably changed my "brow life". She shaped my brows and cleaned them up and I've pretty much been able to maintain them since.
I do, however, completely understand that great brows complete a face, they frame your eyes and add an individual touch to your look. When brows are non existent then it's as if something is missing and your look isn't quite complete. This is quite a big topic, so I'm going to tackle it step by step.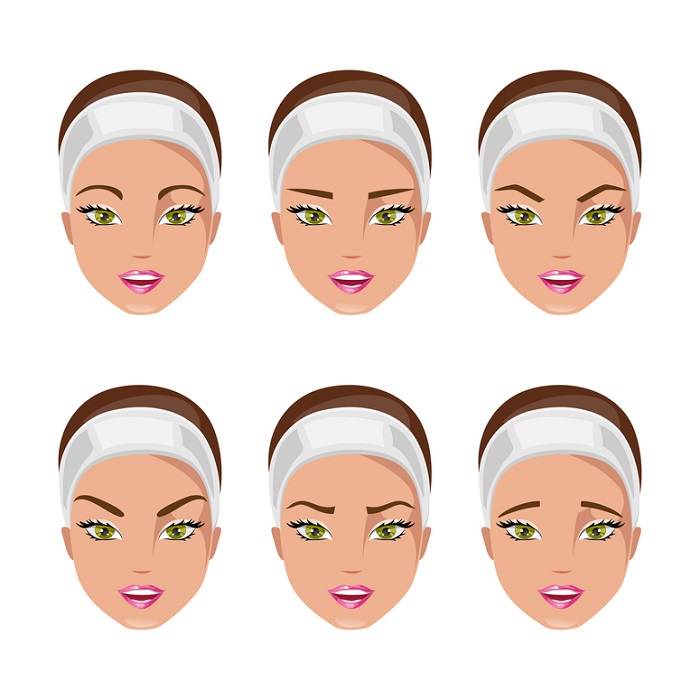 EVERYTHING YOU WANTED TO KNOW ABOUT BROWS
BEST BROWS FOR YOUR FACE SHAPE
While it's best to stick to your natural shape (as in don't over pluck because you won't/can't totally change the shape of your brows) you can slightly tweak the shape to give yourself a more balanced look.
LONG. If you have a long face then your temples, cheek bones and jawline are basically the same width. Your Shape: A straighter brow shape will help cut the length of your face while drawing attention to your eyes.
OVAL. Your face is wider at the temples and tapers toward your chin. Your Shape: Since you can't really give the illusion of changing your face shape it's best to stick with a soft angle.
ROUND. Generally your face will be at its widest at your cheekbones, but overall it's pretty much as wide as it is long. Your Shape: The goal for you is to lengthen the appearance of your face so aim for as much of an arch as you can.
SQUARE. While your temples, cheekbones and jawline will be fairly close in width, you'll also have a very distinguished jawline. Your Shape: To soften a strong jawline, aim to create a strong brow with a defined peak or aim for a soft curve like you would create for a heart shaped face.
DIAMOND.You'll have a fairly angular face with a smaller forehead and wider cheekbones. Your Shape: To soften an angular face, keep your brow shape soft and rounded, much like you would with a heart shaped face.
HEART. Your face shape is similar to that of an oval, but you have a pointier chin. Your Shape: If you are looking to soften your look then aim for a soft curve or even a rounded one, for the most natural and complimentary look.
BEST BROW COLOUR FOR YOU
As a rule, you don't really want to go more than one or two shades lighter or darker than your hair colour. If, however, you already have thick brows then try to keep the colour as close to your current hair colour as possible. When I was still dying my hair black, my stylist would also colour my brows. At first I freaked out, but as soon as I saw the results I realized that he was absolutely right. They looked natural and were the perfect finishing touch to my look.
If, however, you don't have very thick brows
and have dark hair: go one to two shades lighter than your hair colour
and have light hair: go one or two shades darker than your hair colour
Note. a darker shade will look more intense and striking, whereas a lighter one will soften your overall look.

BROW FILLERS AND ENHANCERS
Whether it be a brow pencil, gel or powder, realistically this will take a bit of trial and error. I've only ever used a brow powder which gives me just that little bit more thickness or intensity.
PENCIL. A pencil is great if you are looking to alter the shape of your brows or enhancing them if you've been too eager with the tweezers and need to fill in any bald spots. A thin pencil will be great for details and a soft one will be perfect for smudging. Either way, look for a pencil that has a brush on the end so that you can brush your brows and give them a natural look.

GEL. The great thing about a gel is how easy it is to use and for anyone who is starting out, this just might be your best bet. Gels are great if you need a little more colour or are trying to tame some unruly hairs. Look for water resistant formulas and ones that won't undo a powder or pencil application. When applying, make sure to sweep your hairs up to show off your arches and to make your brows look fuller.

POWDERS. Look for a powder if you just want to add a bit of thickness to your brows. Where a pencil is ideal for specific touch ups, a powder will be an all over application. Powders are also fairly easy to use as you don't need to do a lot of precision work. For a bolder look, simply wet your brush.

TIPS ON SHAPING YOUR BROWS
There are a few things to remember when tackling your brows at home.
Find the head of your brows by placing your tweezers or a pencil in a vertical line next to the outer edge of your nose. Your brows should start roughly there.
To find the tail of where your brow should be, angle the tweezers or pencil out from the outer edge of your nose drawing a line to the outside of your eye. That's where your brow should end. Watch that you don't cut your brows too short.
The arch of your brow should be about 2/3 of the way to the tail.
Go slow and don't touch them if you are rushing out the door because that's when mistakes happen.
Chances are your bone structure is already defining the shape your brows  should be so follow your natural line and if you aren't sure then don't pluck that extra hair. You can always use a little bit of concealer to outline your brows and to give you a more polished look.
When filling in your brows, use straight lines and blend well for the most natural look possible.
Do you prefer thin or thick brows?
More great brow products:
IF YOU ENJOYED THIS ARTICLE PLEASE SHARE IT AND SIGN UP FOR REGULAR UPDATES