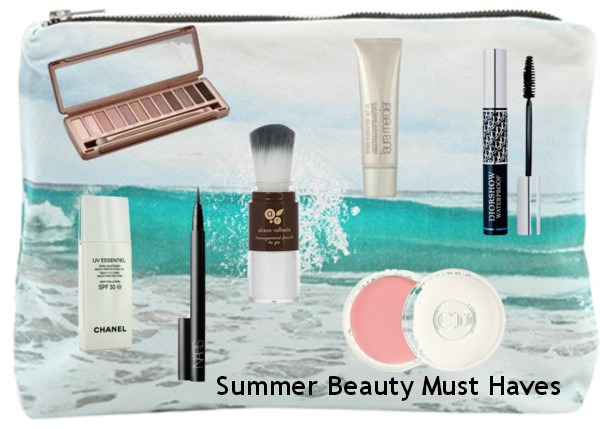 Summer beauty must haves. Products may come and go and trust me, a lot of them come through my makeup bag, but there are a few key essentials that I always have on hand.  In the summer I don't like to wear a lot of makeup, but there are some products that I don't go without. While going makeup free really isn't an option, keeping it light and natural is. The following products have served me well.  I have used most of them for many years, but some are new additions.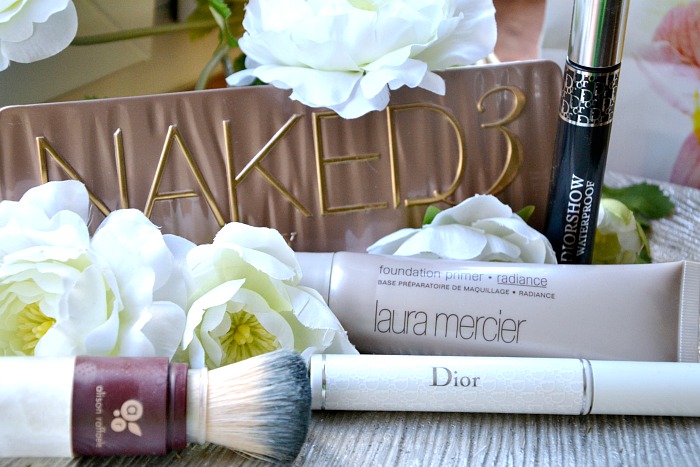 Summer Beauty Must Haves
Light foundation. This could also be a tinted moisturizer. When the heat really turns up and most products melt off my face no matter how many precautions I take, Laura Mercier's Tinted Moisturizer is the perfect option. When the occasion dictates, I use her foundation primer and the two have been an ideal combination. I can layer the moisturizer as needed (think unfortunate blemishes) and it gives me an ultra-lightweight, clean coverage.
Powder. This is a necessity to keep shine at bay and to help set my makeup. I usually reapply this throughout the day. My biggest challenge is the bulky packaging. Also, since I prefer a loose powder, there's always the mess factor to consider. I've finally found the ideal solution with Alison Raffaele's transparent finish powder. Is very light and I can simply throw the 2-in-1 brush into my bag and go.
Eye Shadow. Of the many eye shadows that I've used, I keep coming back to Urban Decay. Their palette was a stroke of genius and the colours work for everyone, even though we all have our favourites. I find that the shadow stays on all day with little to no re-touches needed.
Mascara and base. There are more mascaras on the market than I can count, but my go to (as in I can blindly walk up to the makeup counter and pick it out without a second thought) is Diorshow in black. The formula is consistent, it lasts forever and always makes my lashes look long and full. I've recently added Diorshow Maximizer, a lash plumping serum, to the mix and I love that I'm also protecting my lashes, it's an added bonus.
Eye liner. This isn't always an everyday, but lately I've been reaching for Nars' something liner. It's super easy to use, one stroke above the lash line and I'm done.  If I want a more dramatic eye, that's also easy to do. If you can hold a pen then you can use this liner.
Lip conditioner. As many of you know, I love a bold lip. A beautiful red is always acceptable in my books, but it only looks good when your lips are conditioned and at their best. Dior's Rose is a wonderful option. The packaging and colour are fun and girlie and the magic inside is even better. The rose conditioner keeps my lips at their very best.
Blush. I've only recently started wearing blush on a daily basis and Laura Mercier's Oleander is the perfect colour for me. The cream formula is easy to apply and it blends seamlessly into my cheeks. The bright pink gives my otherwise pale cheeks a nice fresh flush.
Sunscreen. This is a staple that should be in everyone's makeup bag. As many of the formulas are quite heavy, I've finally turned to Chanel's daily UV care multi-protection sunscreen in either SPF 30 or 50. What I like best about it, is that it has been specifically designed for everyday wear under your makeup. This means that it doesn't clog my pores. Clarins has a similar product that's also a great option.
These are the products you can always find in my makeup bag.
What are your summer beauty must haves for 2014?
My summer beauty must haves for 2014:


*For more on summer beauty must haves follow me on instagram and twitter*