Best Makeup for an even complexion. I recently went shopping for a new foundation (Armani Maestro Fusion, it's my new fave) because I needed a new one and also because I was sold on the photographs all over the department store. That flawless skin, so perfect. Of course, my brain is screaming good lighting and the model is probably still in her teens, but my heart is screaming "I believe everything I see in a magazine and advertising doesn't lie."
Usually foundation is enough for everyday, but there are those times when a colour concealer is required. Recently I went to buy a colour corrector and was faced with beige, violet, green, rose and slew of other colours. The thing is, i was convinced that I needed every one. So how do you know which concealer to choose? What are you even looking for?
Also read: HOW TO FIND THE PERFECT FOUNDATION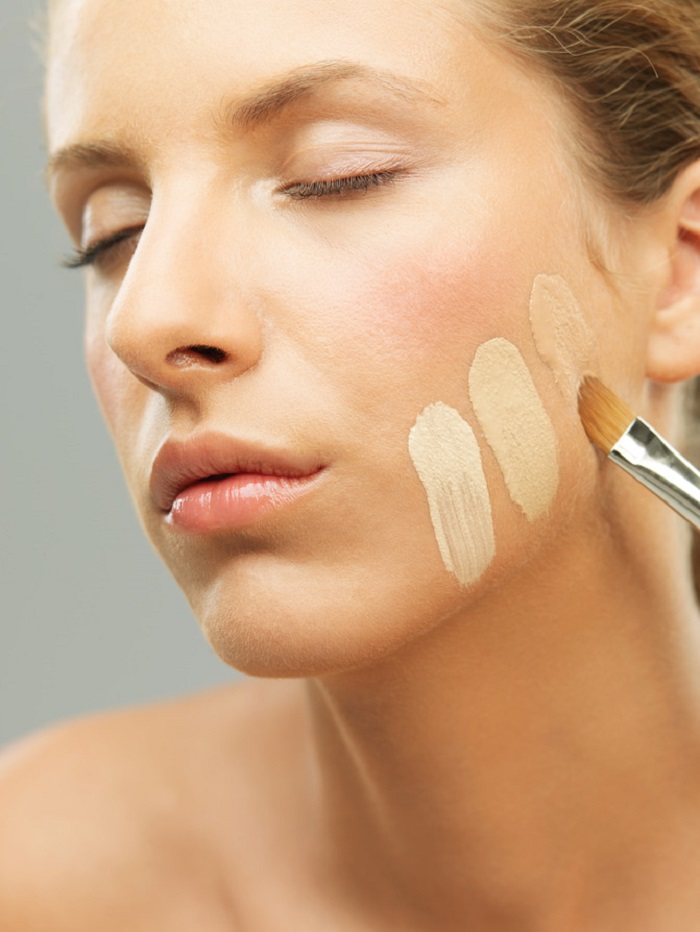 BEST MAKEUP FOR AN EVEN COMPLEXION
IF YOU ARE WORRIED ABOUT
Redness. While a natural flush is fresh and youthful, no one wants red blotches on their face and the reality is that sometimes they do happen. I know that especially in winter, when my skin gets really pale, I can't seem to get rid of the unnatural redness in my cheeks and around my nose.
Your colour of choice is green since it lies directly across from red, which is your "problem" colour on the colour wheel.
What to choose.  If you are just covering a blemish or a spot of redness, you can choose a spot concealer. If you have a lot of redness or suffer from rosacea then look for a colour correcting primer.
If you have a darker skin tone, opt for a deeper green and one that has less white in it as it will be too contrasting.
IF YOU ARE WORRIED ABOUT
Dark Circles. In real life I'm not totally against some shadow beneath my eyes (hey, it's honest and adds character), but too much is never that attractive and they do make you look tired and old.
If you have a lighter skin tone, your colour of choice is yellow since the seemingly black shadows beneath your eyes are actually a blue purple. The best way to apply your concealer is by drawing a deep 'v' beneath your eyes so that you can blend the concealer down toward your cheekbones.
If you have a darker skin tone, a yellow shade might be too light and your skin will take on a more ashy tone, so look for more of a salmon or peachy shade. The orange undertones of these colours are complimentary to yellow (the shade you are using if you have lighter skin).
IF YOU ARE WORRIED ABOUT
Yellow or Dull Skin. A tired complexion definitely won't make you feel fabulous in the morning and that's always the ultimate goal, right? If you need to give your skin a little more pep, reach for lavenders, lilacs or purples (depending on your skin tone).
Sallow Skin. Those who have an olive toned complexion might find that their skin looks more sallow than dull. Instead of lilacs or lavenders, try using more of a pinky-salmon shade.
How to apply it. Since you are using this to brighten your overall complexion you need to think of it like a primer, rather than just a spot treatment . First, apply it in long strokes (although you can make a small 'x' over any dark spots you need to cover) and then blend well.
ADDITIONAL TIPS:
Take some time to look for the right shade. Those of you with darker skin will need to reach for darker shades and the opposite holds true for those with a fairer complexion.
If you don't have any real skin issues then a regular concealer should be enough, the occasional blemish doesn't necessarily warrant a whole separate concealer.
It's okay to use several colour correctors as needed, just blend and then blend again.
Remember that these colour correcting concealers are meant to be worn under your makeup, so blend well and use sparingly.
While in reality I don't have any illusions that I'm suddenly going to look completely airbrushed, natural  and half my age, I do believe that I can always look polished and sophisticated and that there's no reason not to at least try and put my best foot forward at all times.
Let's continue the conversation. Join me on BLOGLOVIN and INSTAGRAM
IF YOU ENJOYED THIS ARTICLE PLEASE SHARE IT AND SIGN UP FOR REGULAR UPDATES
images courtesy of Photodune.net