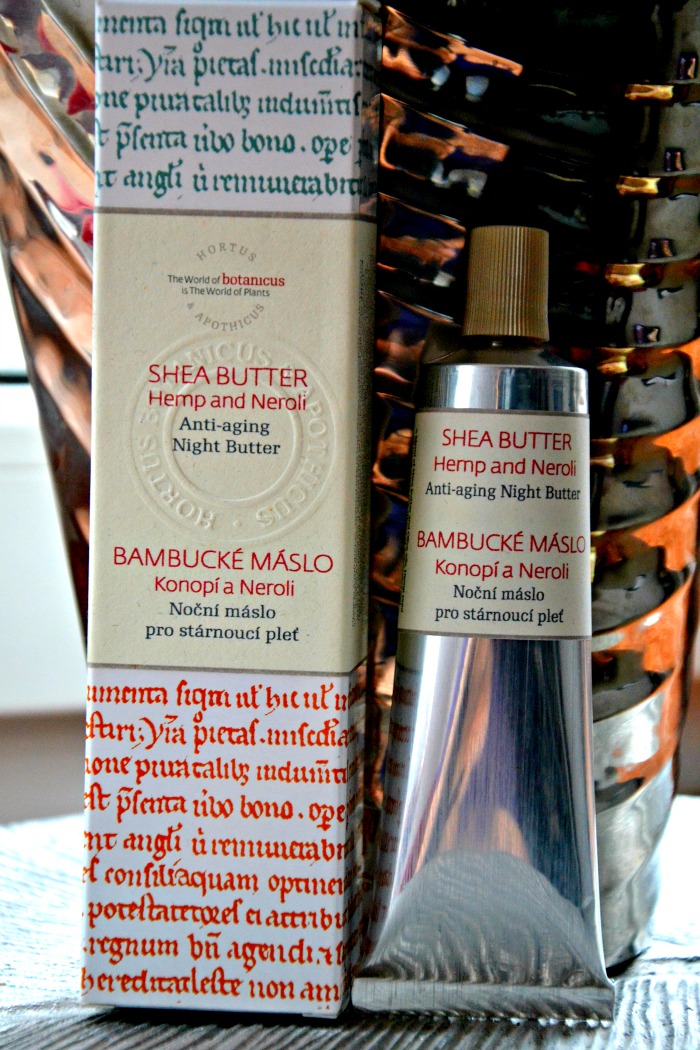 Beauty Sunday anti aging night butter.  Whenever I travel, I like to pick up a few beauty products that I can't always find near me. This past week in Prague, I stumbled upon Botanicus. The store was quite amazing and filled with every possible beauty product you can imagine.  I didn't know where to turn or what to pick up first. From essential oils to soaps to creams, if you are looking for it, they have it.  I could only take so much with me, so I made two purchases: the Shea Butter Hemp and Neroli Anti Aging Night Butter and the Speciality Soap Dead Sea Mud.
BEAUTY SUNDAY ANTI AGING NIGHT BUTTER

Shea Butter Hemp and Neroli Anti Aging Night Butter.
This cream is a mouthful, but a delightful one. I love this cream because it acts as a nighttime face mask in addition to being a cream. I find that natural products can sometimes have harsh or strong scents, but this one is nice, delicate and very soothing. The combination of Shea Butter and oil just can't be beat. The texture of this cream is thick and rich and is perfect for any skin type, even oily complexions. It absorbs quickly, but I wouldn't wear it for day. Although it's designed as a face cream, I think it would be wonderful for dry chapped hands and feet.
The hemp seed oil helps to reduce the size of pores, while protecting my skin from free radicals. In addition, it keeps skin soft and elastic.
The neroli oil, which is often used in perfumes, stimulates new cell growth and is an anti-microbial. Shea Butter protects your skin from the harsh effects of the environment as well as renewing, repairing and protecting your skin against aging.
This trio of ingredients work seamlessly together to keep my skin looking healthy and refreshed, when I wake up in the morning.
Speciality Soap Dead Sea Mud
This soap smells like I'm sitting on a beach staring at the ocean. It is absolute relaxation in a bar. The combination of Zanthoxylum essential oils and dead sea mud act like a mini spa wrap every time I shower. My skin is left feeling silky smooth and energized for the day ahead.
What are your favourite beauty products this Sunday?
*For more on beauty Sunday anti aging night butter follow me on instagram and pinterest*