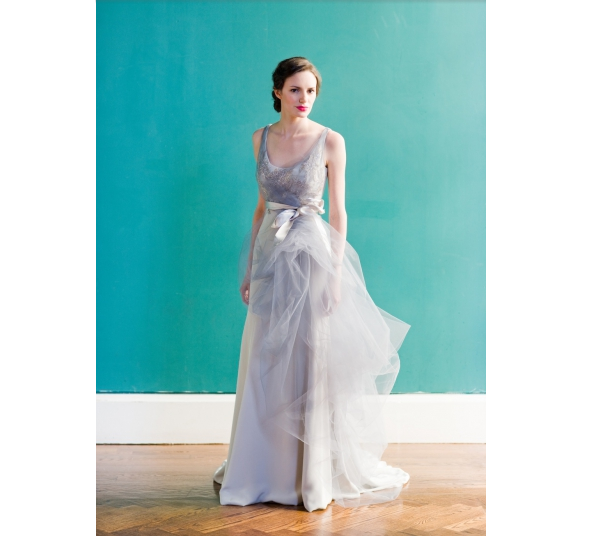 Bridal beauty style. Now I may have had my wedding some time ago, but I still can't help to get excited whenever I pass a bridal store or see beautiful bridal images on pinterest. Weddings seem to bring out all the girly things I love best and besides, who doesn't love getting dressed up for a great party that's all about you! I think, however, what I love most about weddings is that it's one of the most memorable moments of your life. It's personal, extremely special and everything which encompasses that day should reflect how you feel.
When Loverly contacted me to create a look for their wedding dresses, I was thrilled. In all honesty, I had a hard time deciding which dress to feature as they are all so beautiful! Then I saw this gorgeous 1920's inspired dress that's both ethereal and structured and my heart did a little flutter.  Although it comes in white and ivory the silver shade catches my imagination. I love the airy tulle which will float effortlessly around the crepe silhouette,  in an evening breeze. The crystals will catch the moonlight creating a soft shimmer around the bride as she walks into the room.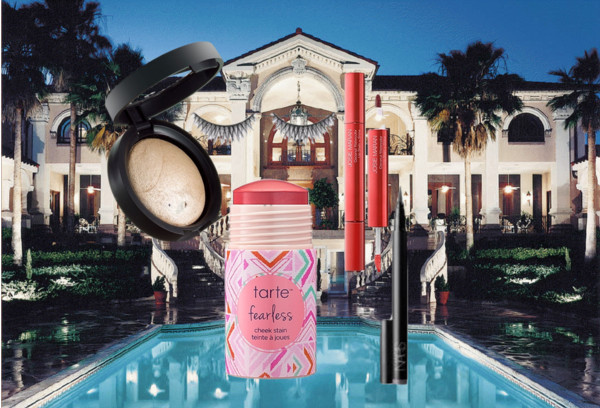 BRIDAL BEAUTY STYLE
The bride who chooses this dress loves everything pretty. Her style contemporary and sophisticated but she also appreciates everything vintage and has a soft spot for art deco.  Her wedding is a sparkling nighttime affair, complete with twinkle lights and clinking champagne glasses.  This is a late spring or early summer wedding and the air is filled with the scent of flowers. The bride steps lightly out onto the adorned balcony of a classically elegant hall, with her friends and family watching from below.
Of course her makeup has to match the ethereal and romantic feel of this stunning dress. Soft flowing fabrics and crystals call for unforgettable eyes. The vintage feel of the dress calls for a lovely red pout, reminiscent of the Hollywood Golden Age.  Her face is glowing with happiness, her makeup the perfect supporting character in this night filled with magic. The focus is on her eyes, which  are accentuated with a gentle flick of a cat's eye and sultry false lashes.  Pearl eyeshadow emphasizes the sparkle in her gaze, bringing out a glow from within.  She has a gentle flush to her cheeks and that subtle, just bitten look on her lips draws attention to her radiant smile.
What is your favourite bridal makeup style?
*For more on bridal beauty style follow me on instagram and pinterest*