Premium Hydration Hyaluronic Acid Serum review
Found in a number of different cosmetic products, as well as some injectables, hyaluronic acid naturally occurs in the body. It's actually a humectant (think moisture binding ingredient) and a main reason why your skin is plump and hydrated. It is also an anti inflammatory, anti irritant and carries several hundred times its weight in water. So as you can imagine, I was thrilled to receive a bottle of Premium Hydration Hyaluronic Acid Serum from InstaNaturals.
What they say:
Anti-aging benefits: Diminishes appearance of wrinkles and fine lines.
Reduces hyperpigmentation. Plumps up the skin to fill in fine lines and wrinkles, reduces the appearance of dark circles, decreases puffiness under the eyes and more.
Helps you achieve soft, supple, firmer skin. NO parabens, fragrances, additives or alcohol. Nourish skin with gentle ingredients, not harsh chemicals. Each bottle is made in the USA in our FDA Registered Facility.
InstaNatural Hyaluronic Acid Serum delivers immediate moisture and nourishment to the skin, creating a more youthful and vibrant look with a softer feel. Gives skin a glowing and radiant complexion.
In addition, the serum also contains Vitamin C & E as well as green tea. It amazes me how many ingredients they've managed to pack into this gel.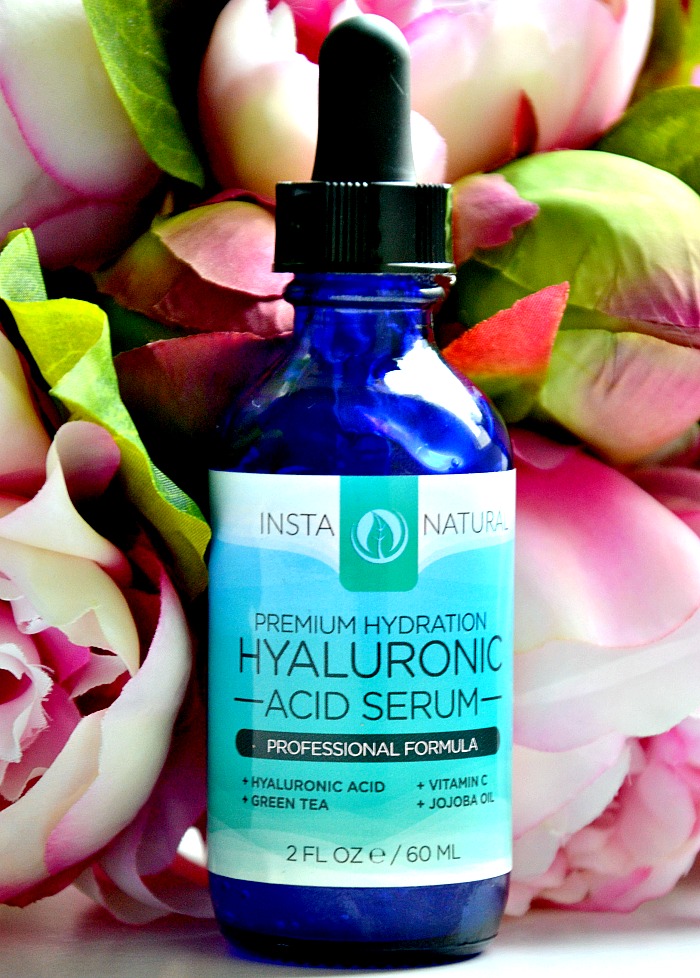 What I say:
Anything that makes my skin look smoother and protects it from the damaging effects of the environment is good in my books. Upon receiving the bottle, I was surprised to find a luxuriously rich gel. Not sure what I was expecting, but it was a pleasant change to the usual serum consistency that I'm used to. I love the cooling sensation of the gel, which I've been applying day and night for several weeks now. The clean, fresh scent takes me back to summer holidays with my family. Immediately upon application, I noticed that my skin looked somehow plumper, smoother and fresh. I have been dabbing it around my eye area and in the past few weeks, the fine lines surrounding my eyes are less noticeable. Not only that, but because my skin feels smoother, I've noticed that my makeup goes on better.
I've been trying to avoid chemicals as much as possible, so I'm really pleased with the natural ingredients and the 100% Lifetime Satisfaction Money Back Guarantee is a huge bonus. I truly believe that companies need to stand behind their products. If you are looking for a great moisturizing serum then I can definitely recommend this one.  The bottle is quite large and after several weeks of consistent use, I've barely made a dent in the gel, so I can confidently say that there is lots of value for your money (bonus, they are having a huge sale on Amazon at the moment).   After having used the gel, I'm very excited to discover other products in their line.
Have you ever used Hyaluronic Acid and what were your impressions?
For more great photos follow me on Instagram and Pinterest
 


*Featured image courtesy of Dollar Photo Club