Best dry shampoo and how to use it. In the summer months, my obsession with dry shampoos ramps up. I don't want to have to wash my hair every single day, but since I workout almost every day it sometimes becomes a necessity. This is where dry shampoos come in to play. I've tried so many different ones and read so many different opinions that my head started to spin and I was back to my old stable of rubbing a sprinkle of baby powder between my palms and then rubbing it into my scalp. So I embarked on a mission to start trying out dry shampoos, one by one. There are still a number of them on my wish list, but so far I've made a solid dent in both my wallet and the options list.
BEST DRY SHAMPOO AND HOW TO USE IT
Oribe Dry Texturizing Spray. This one is probably my favourite of the bunch because of its intensity and hold. I have shorter hair now and 2-3 long sprays are enough. The hold was incredible yet without the awful sticky feeling that some sprays have. Also, even after I brushed it out, my hair was still pliable and textured with minimal styling on my part. The scent is light and without that chemical after-scent that some other sprays have. Also, no white powder residue, which is something I struggle with since I have dark hair. I find that even if the powder comes out, somehow my hair looks dull. Using Oribe I was able to extend my wash by about 3 days even with my scalp being on the oilier side.
Tresemme Waterless Foam Shampoo. This one was given to me by a friend. I admit I never would have picked it up off the shelf, but I was very pleasantly surprised when I tried it. It's a foam that has a subtle citrus scent (it also contains aloe vera and witch hazel) and feels really strange on application. I'm used to texturizing sprays, so this was very counter intuitive to apply. It feels like nothing when you apply it and it's probably the lightest formula I've tried. If you are looking for more texture then this isn't the right product for you, but if you are just looking for a clean feeling scalp and some soft movement then it's perfect. I would absolutely buy it again.
Collister Magic Dry Shampoo. The scent is very light, but a bit too powdery for me, although I think some might really like it. Overall, it works really well and left my hair feeling soft and manageable, not sticky. For me, it's the scent that I couldn't get past as I kept choking on it for a quite a while after I applied it.
Living Proof Perfect Hair Day. So, this dry shampoo seems to constantly be winning awards and I understand why. Living Proof does pretty much what it says it will do and that is "actually cleans hair, eliminates oil, sweat and odor". I found, however, that I wasn't crazy about the white powder residue, as I had to spend quite some time getting it out of my hair. Also, it says so right on the bottle, but make sure that you shake it really well before using. The scent is nice and fresh, maybe a tiny bit chemical-y but not enough to turn me off it. What I had an issue with was the amount of white powder residue. I brushed and brushed my hair and it still looked lackluster, even after the white was gone.
Bamboo Style Cleanse Extend. I've used this dry shampoo for years, primarily because of its fresh scent and that it's translucent. I also really like that it doesn't contain: talc, parabens, gluten, sodium chloride, phthalates & synthetic colour. I worry about what I put on my hair and body. As for how it works, well, it's okay but I always got the impression that I was just applying more stuff on an already dirty head of hair. It could get me through a few hours if I needed it, but not through a long day or two. I've since found much better formulas.
Batiste. I know this is a huge blogger favourite, but I can't jump on that bandwagon. I couldn't get past the sweet, overdone scent to use it very much.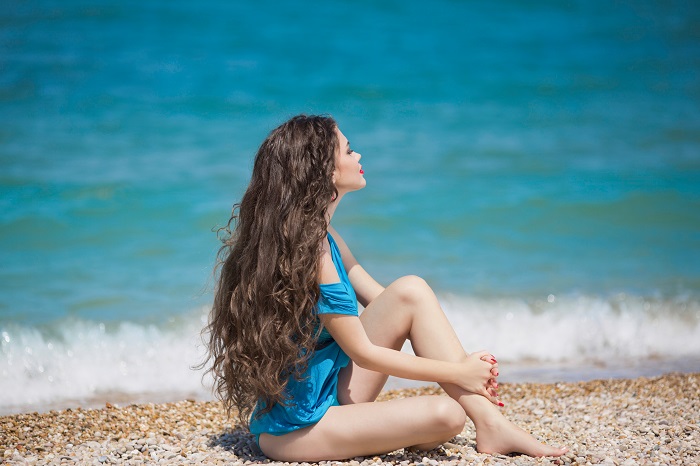 HOW TO USE A DRY SHAMPOO
I love the idea of a dry shampoo. I'm completely sold on the tousled, "I just got out of bed but I look fabulous look" and I've been desperately trying to achieve it for years. My beauty cabinet can attest to that. I probably have as many hair products as I do lipsticks or bags. My biggest problem is that I don't always know how to use the products to my best advantage because I don't care how good or expensive your dry shampoo is, if you aren't applying it correctly then it doesn't stand a chance of doing its job.
Apply at the roots. Since you are targeting your roots, it's useless to leave the shampoo sitting on top of your head. Make sure to lift your hair and separate it into sections so that the shampoo can get to where it needs to be.
Wait for a few minutes. Even if your hair turns white, wait for a few minutes so that the product can absorb any excess oil.
Rub it in. After you've given the shampoo time to settle, give yourself a bit of a head massage by rubbing it into your scalp.
Brush it out. Use either your fingers or a bristle brush. I like to flip my hair upside down so that I can distribute it evenly all over my head.
Stop touching your hair. I'm absolutely guilty of this. After I've applied a dry shampoo, I have such a hard time not playing with my hair. The trouble is, if you do that then the oils from your hands will just make your hair greasy again. It's best to style and go.
Which dry shampoo should I try next? Do you have a favourite?
Don't forget to sign up for my FREE SUMMER SKINCARE CHALLENGE and join me for a 4 week SUMMER SKIN SHAKEUP to get a radiant complexion for the upcoming summer months! Starts June 27th!

IF YOU ENJOYED THIS ARTICLE PLEASE SHARE IT AND SIGN UP FOR REGULAR UPDATES

feature image and image of model on the beach courtesy of dollarphotoclub
[starbox]