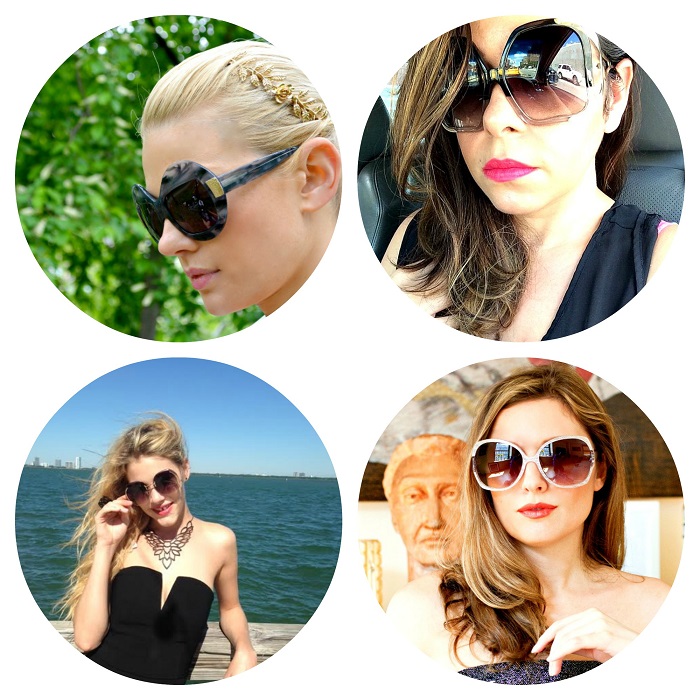 What your sunglasses say about you. Sunglasses are one of those fabulous accessories that I can never get enough of. A new pair can completely change my look. We've already discussed the best sunglasses for your face shape, but what do your favourite ones say about you?  I love a square pair for that 70s vibe or an oversized pair to make me feel like a movie star. Then, of course, there are the rimless ones that are ultra modern and a little bit edgy. In actual fact, they are like a great piece of jewelry that will elevate your style. Whichever ones you choose, a fabulous pair of sunnies is always a chic choice!
WHAT YOUR SUNGLASSES SAY ABOUT YOU + A GIVEAWAY
Round frames. If you reach for round frames, you love everything boho-chic. Flowers in your hair, florals and flowy fabrics are what you gravitate to. Late night campfires, beach parties and being surrounded by friends is how you love to live. Reminiscent of the 60s, try wearing these sunnies with a pretty floral dress and your favourite denim jacket or a military inspired coat for winter. This style will look best on those with a strong jaw line and a square face.
Sporty wraparound frames. If you reach for sporty wraparound frames, you crave adventure and cannot sit still for more than a few minutes. Sporty chic best describes your style. A pair of heels and sweats is something you wouldn't think twice about throwing on. Hi-tech fabrics, modern fabrics and the great outdoors get your juices flowing.
Classic shapes. If you reach for classic shapes, you love old movies and timeless styles. A pair of black wayfarer's, a sophisticated little black dress and an afternoon spent shopping with girlfriends constitutes a perfect day. Those who prefer a tortoise shell cats-eye paired with an elegant silk scarf, can't think of a better afternoon than one spent people watching at their favourite cafe. There are many variants on this style, so any face shape can find their most flattering pair.
Aviators. If you reach for aviators, the jet set lifestyle is for you, complete with boarding a plane to unknown places. You are rarely without your beloved pencil skirts, white blouses and structured bags. Always elegantly coiffed, you ooze effortless style.
Oversized frames. If you can't live without oversized frames, glamorous and mysterious are words that describe you best. You belong on the streets of Paris and the beaches of LA. You cannot live without a great hat, but your style can't be pinned down because you love to keep people guessing about who you really are.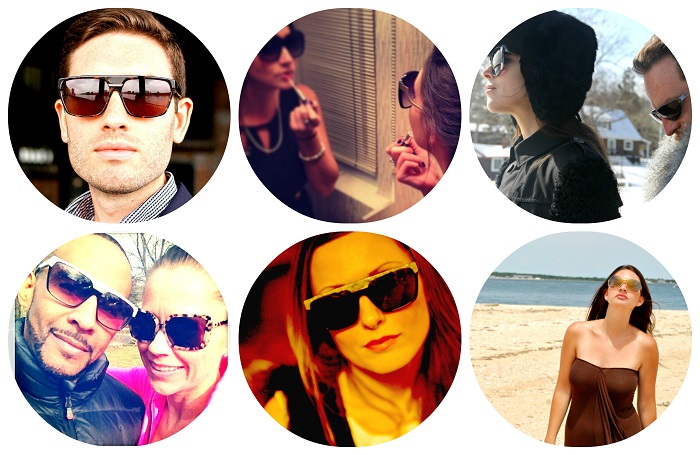 Now for the fun part!  I've teamed up with Darylynn Eyewear to bring you one amazing international giveaway. Here's your chance to own a pair of Darylynn's stunning sunnies (seriously check out her pinterest account to see which ones the celebs are wearing). Pick your social media channel of choice and upload a photo of you wearing your favourite sunnies. Then leave a link with your image so that we can easily find it!

To make it super easy to find us, here are our social media accounts again:
Style On The Side on Instagram
You have 2 weeks to send us your links. The contest closes on December 26th 2014 at 12am. EST
We can't wait to see your photos!
*For more on what your sunglasses say about you follow me on instagram and pinterest*



*A huge thank you for all of Darylynn's beautiful customers for providing their amazing photographs!