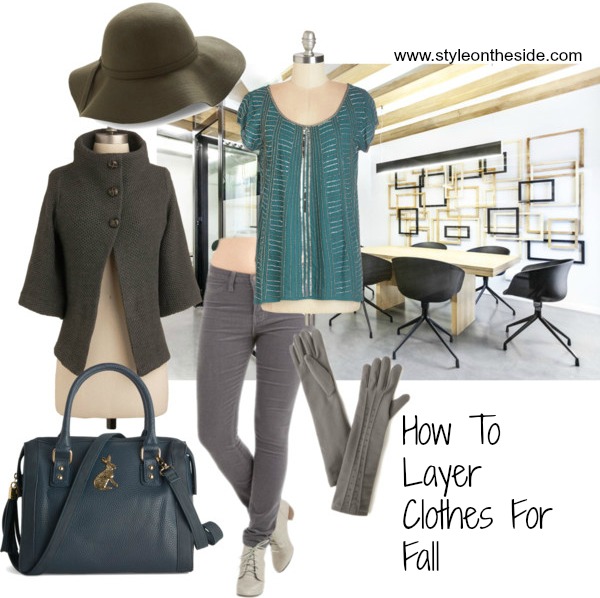 How To Layer clothes for fall. For many of us, fall is their favourite time of year. There is a crispness to the air and the leaves are turning beautiful shades of red, yellow and orange. For me, there is nothing better than the scent of a crackling fire accompanied by hot tea. This time of year there are lots of great excuses to meet and reconnect with family and friends. Of course, this is also one of the best seasons for fabulous clothing and because the weather changes from one moment to the next, this is the best time to play with layering. The exciting part about layering is that you can mix textures to give your outfit more depth and interest. The tough part about layering are the proportions, as you want to keep your look sleek and streamlined, instead of frumpy and bulky.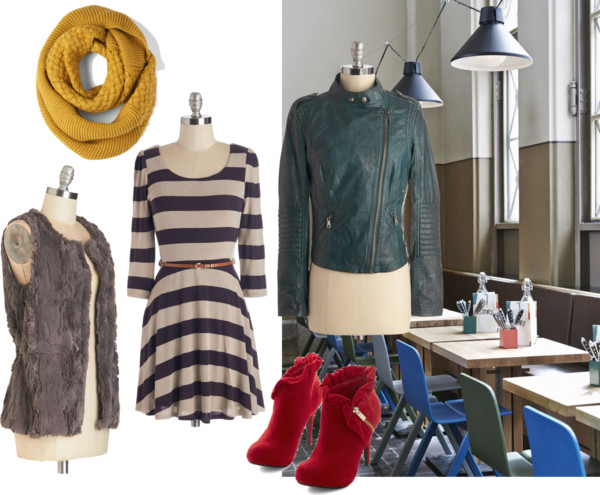 HOW TO LAYER CLOTHES FOR FALL
In collaboration with ModCloth, I've put together three different layering options for you.
For the office. If you have a creative job, you can opt for a part cardigan, part jacket topper that has the same structured benefits of a blazer, but is more more fun with softer lines. Since black can sometimes be harsh, why not soften the overall look by choosing grays and combining them with jewel tones, such as bright turquoise, which perfectly reflect the season. A sliver of shimmery silver adds the necessary pop of holiday spirit. Finish the look off with a floppy hat and stylish work bag. Remember, when choosing a looser top, pair it with a pair of slim pants or a pencil skirt to balance out the look.
Casual lunch with friends. This is the time to have some fun with your look. A striped dress and moto jacket with a faux fur vest layered over top will keeps you cozy. Pair this with a mustard scarf and red booties which are the perfect autumnal colours and will really standout against neutrals.  The red ankle boots paired with a flirty dress will draw attention to your legs, making them look lean and long.
Saturday shopping day. Saturdays are meant for running errands, catching up on weekday chores and of course, window shopping! Comfortable shoes are a must, as are easy versatile pieces, just in case you have to try something on! So how about a stylish and chic plaid dress, paired with a knee high boots and over the knee socks peeking out? This is such a great on trend look for the season. Of course, no outfit is complete without a belted cardigan in a rich burgundy which is both beautiful and flattering on all skin tones. Top this look off with a beret and your look is infused with that Parisian style we all love.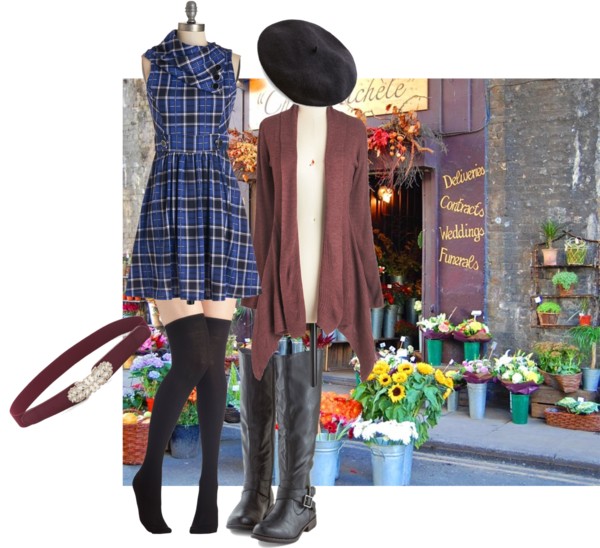 Fall is the season when I go back to  grays and blacks. I lean toward them whenever the days get shorter and colder, as they are a great base for any outfit, but this is also the time that I start to crave oranges and mustards and deep reds. They mirror the colours of the season and are a great reminder of the warmth of the sun. When the first flurries appear in the sky, I like to reach for jewel tones, such as navy's and rich emerald greens as they really pop against chic crisp whites. As with all great style, when layering, remember the fit of the clothing.  Chunky sweaters look best of over thinner fabrics and proportions matter. So get out there, enjoy the season and look fabulous!
What are your favourite layering techniques?
*For more on how to layer clothes for fall follow me on instagram and twitter*