Today I'd like to Welcome Dana Hughes, a fashion student, who is guest posting on Style On The Side
10 CREATIVE WAYS TO STYLE UP YOUR OFFICE OUTFIT
Taking style to work is not always easy. You want to dress appropriate for the occasion and yet, somehow, not be boring about it. It can actually get so taxing sometimes to find the perfect balance between office and being stylish that it can literally bring out the fashion-zilla in you. But don't worry, here are some amazing 10 ways in which you can dust off your office combos and put some shine on them.
When it comes to office wear, high heels are heaven sent, which is why you need to invest in some truly killer high heels. Don't go for the classic black or brown. Instead, try some red, purple, glitter and ribbon appliques.
Whether on the top or on the bottom, stripes really give you an entrance and are amazing at creating a very easy and stylish outfit. They symbolize elegance and grace and paired off with the right colors and accessories, they make a killer outfit. They can be simple black and white or even oversized ones.
What an office must have is the A line skirt. Most ladies out there have many of these particularly feminine pieces in their closet, as a go-to solution when they simply don't know what else to put on when going to the office. But they needn't be boring. The trick is to choose an A line skirt in a bold pattern or color.
Another easy pick when it comes to office outfits is high-wasted pants. You see them a lot in formal wear because they are classic and elegant. But, just like with the A line skirt, make sure to choose a rather flamboyant pair, which will help style your ensemble.
Great for wearing in any season, even in summer when you can use them to protect your shoulders from the hot sun, scarves can be a marvelous addition to an otherwise dull outfit. For the office, pick silk paisley scarves to bring life to your clothes.
Women carry their bag with them everywhere, but even more so when they go to the office. All your nicks and knacks are in there, from your lipstick to your laptop. So get stylish with a great women's laptop or satchel bag, that it sure to mesmerize everyone.
One statement piece is enough to make any office outfit great. For example, try a big golden watch, statement earrings, because they are very much on trend right now, dangly bracelets or even layered on rings.
There is absolutely no way you can forget about your hair. When your outfit just cannot be styled up in any way, for different reasons, try adding some beautiful hair accessories, to complement your face and bring forward your wonderful sense of style.
Hosiery should always be your friend when it comes to office attire. Black matte pantyhose mean class, timeless elegance and they surely comply with the office dress code. But that doesn't mean you shouldn't go for some spectacular ones, with different models, embroidered or embellished.
Yes, you read it correctly. Ties can be a perfect ally for styling your office outfit. They are viewed as manly accessories and can be a lot of fun to play with as far as fabric, color and patterns go. You can wear them against a classic white shirt or a cream colored silk blouse and they go perfectly well with both pants and skirts. Moreover, if you happen to wear jeans to work one day, but have a tie on, no one will complain your outfit is not office enough.
Here are the top 10 ways in which you can easily style up your office ensemble, quick, easy and in a professional manner.
Author Bio: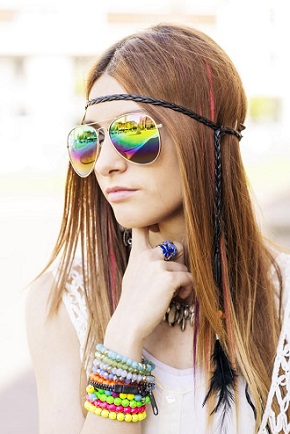 When she's not working on her fashion degree, Dana Hughes is going on long walks, taking photos of any small and beautiful detail that captures city life. She's a complete science-fiction addict and has a Chihuahua named Red and a superbly indifferent cat called, ironically, Kiss. You can some of Dana's contributions on other fashion blogs, and on Pinterest and Twitter .
If you would like to contribute to Style On The Side please read the Guest Post Submission Guidelines here.
IF YOU ENJOYED THIS ARTICLE PLEASE SHARE IT AND SIGN UP FOR REGULAR UPDATES

Image Sources: 1, 2, 3, 4 – Photo credit: fervent-adepte-de-la-mode via Foter.com / CC BY, 5 – Photo credit: LollyKnit via Foter.com / CC BY-NC, 6, 7, 8, 9 – Photo credit: thevelvetbird via Foter.com / CC BY, 10.
feature image courtesy of DollarPhotoClub