Packing for two weeks in Europe. I just got back from a two week train trip. We left Warsaw and headed to Vienna, Venice, Milan, Naples, Florence and then back up to Warsaw through Venice and Vienna. We had two small suitcases and regular backpacks. In addition, we were also traveling with our dog and all of her stuff: two bags and food.
We actually managed pretty well. We had just enough clothing to make it through the two weeks and we had the right outfit for every occasion. Note that we were traveling in the summer, so our clothing took up less space than it would in winter.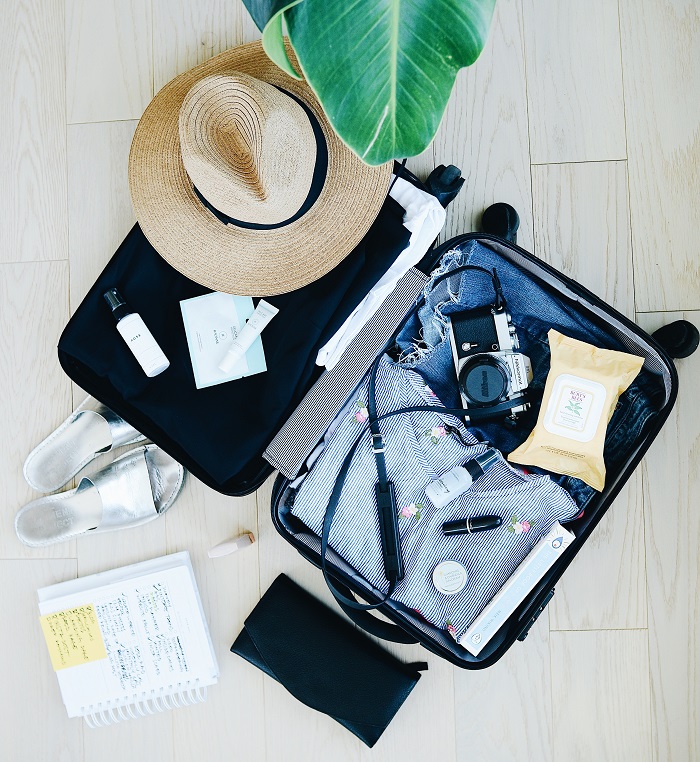 PACKING FOR TWO WEEKS IN EUROPE
UNDERWEAR. Bring enough. It's small and easy to pack and you don't ever want to run out.
TOPS. Unless you are going somewhere fancy, simple tees and tanks in bright colours (and a few in black) will get you through most occasions. I found that as we went south I wanted to reach for lighter colours and I was happy I had some brights I could wear. Before leaving, I stocked up on tank tops and wound up wearing all of them.
SWEATER/LONG SLEEVES. While it was summer and I had no use for my sweater 95% of the time there were a few moments when I was happy to have it. There were a few cooler evenings that called for a longer sleeve, but even more importantly most religious institutions still ask that you cover your shoulders (a tee will do, but a light gauzy sweater is easy to carry if you happen to be wearing a tank). Some provide a makeshift paper kimono for free, but other require that you pay a couple of euro which is just wasted money.
BOTTOMS. I don't care how hot it is, there will be a moment when you want to put on a pair of longer pants. I brought a pair of jeans since we were on and off trains a lot, but a pair of slacks or loose palazzo pants will do just as well.
While it's not strictly necessary to bring a skirt or a dress, remember that those same religious institutions that require you to cover your shoulders aren't that fond of your knees either. Pants for women are no longer an issue (I remember when they used to be), but you still need something a little longer than your average mid-thigh shorts.
Of course, shorts are a must. They are perfect for wandering around during the day when it's hot and are more comfortable to travel in when you are boarding train after train.
SHOES. Now this can be tough because if you are anything like me, you probably want to bring  your most amazing heels. My advice would be to leave them at home unless you know for sure that you will be attending a fancy event. On this trip, I brought a pair of fun sneakers (rose gold Adidas) that were perfect for day and the huge amounts of walking we did. Remember that many European cities still have cobblestones and at the very least, very uneven sidewalks. Think hard, are your expensive shoes worth it? Or put on a pair of un-supportive flat sandals and let me know how your ankles are feeling after 6 or so hours. In addition to my sneakers, I also brought along a pair of low wedge espadrilles. Ideal for the Mediterranean climate, I could walk in them for longer periods of time and they were perfect for all the moments when I didn't want to wear my sneakers.
OTHER.
Since I had my backpack out during our travel days, I brought along a cross body purse with lots of pockets for day/night. You'll get a lot of warnings about pick pockets, but as long as you practice common sense (like maybe don't flash too many name brands around) you'll be fine.
Beauty products probably take up too much of my suitcase, but I swear I use everything I bring. Read: BEAUTY TRAVEL SURVIVAL GUIDE. One thing I realized this time is that for not a lot of money I can get a quick wash and blow dry pretty much anywhere I go. Those 30 minutes are super relaxing and I leave feeling very refreshed even though I might be exhausted.  Each of mine lasted about 6-7 days.
A thin silky scarf is also a great piece to have along. It can easily dress up an outfit, be used to pull your hair back or throw over your shoulders if you get cold.
Sunglasses, great big sunglasses, don't forget them at any cost.
IF YOU ENJOYED THIS ARTICLE PLEASE SHARE IT AND SIGN UP FOR REGULAR UPDATES


Caroline has worked with international designers in fashion retail and completed professional makeup courses when working in the beauty industry. Her love of writing, photography and film inspired her to work at the Canadian Film Center and then to earn a BFA in Screenwriting. In addition to her blog, Style On The Side, you can see her work in Huffington Post Canada and other international websites.