Best pants for your body type. It's still really hot. Like, don't-step-outside-midday kind of hot, but most storefronts are already displaying cozy fall fashions and I have to admit, I'm starting to think about what I need to tweak to update my fall wardrobe. With the way our weather patterns seem to work, one day will be crazy hot and then suddenly, we'll all wake up to the fresh air of fall and then winter will be upon us before we even know it. Even though all we want to really do is just lie by the pool all day, it's probably not a bad a idea to do a mental checklist of what you already have in your wardrobe. So, I thought a recap of how to find the best pants for your body type was in order.
If you need a reminder of how to figure out what your body type really is, read: How To Determine Your Body Shape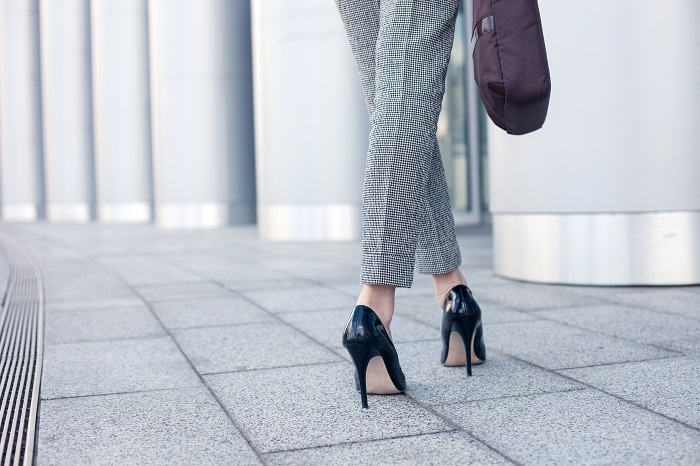 BEST PANTS FOR YOUR BODY TYPE
RULER. If you don't have a lot of definition between your shoulders, waist and hips then it's likely you are a ruler shape.
To create some curves, highlight your waist by adding a belt and tucking in your top.
Boot cut pants which have a small flare below the knee will add to the illusion of length.
To either show off  your length or to increase it, opt for high waisted pants. In contrast, a wider low waist band will help to minimize your height.
Also read: How To Dress A Ruler Shape
INVERTED TRIANGLE. If you are wider in the shoulders and have narrow hips then you are probably an inverted triangle. Your goal is to create some curves and balance out your shape and that's done very effectively by reaching for cargo pants or pants with large pockets.
Look for low waisted pants with a wide waist band to further define your waist and add some curves.
For a longer look, choose a wide leg with a higher waisted trouser.
Large back pockets or a cargo pant will balance the lower half of your body with the wider upper half.
Also read: How To Dress An Inverted Triangle
PEAR. If you are wider in your hips than your waist then you are probably a pear shape. The goal here is to create a long line without enhancing the lower half of your body.
Look for long, slightly wider leg pants that will minimize your width without breaking your line.
To maximize your shape, show off your waist with a nice belt.
Straight leg pants will minimize the size of your hips and a flare will draw the eye down giving you a longer look.
Also read: How To Dress A Pear Shape
APPLE. Apple shapes will find that they carry most of their weight in their midsection with thinner extremities.
Look for flat front pants to streamline your middle for a longer, leaner look.
If you have a flatter back side, look for back pocket details.
A cargo pant will add some width to thinner extremities and minimize the size of your midsection.
Also read: How To Dress An Apple Shape
HOURGLASS. If you are an hourglass shape with a defined waist and hips and shoulders that are roughly the same width, you already have shape, so now it's all about showing it off.
A boot cut will not overwhelm your shape, but will add some length to your frame.
You'll look great in a skinny pant which will enhance your curves.
Pants that nip in at the waist will enhance your curves while pants that hit your hip bone will streamline it.
Also read: How To Dress An Hourglass shape
PETITE. No matter their actual shape, women who tend to be on the petite side have a whole different set of factors to consider when looking for the perfect pants. If you are petite, you'll want to create length, so a good choice it to opt for fitted skinnies that won't overwhelm you.
You can also look for bold colours to show off your legs. When buying slacks look for a long straight leg or even a pressed-pleat that will give you a visually longer line.
If you love a cropped pant then hem it just above your calves for the illusion of longer legs.
Whichever style you choose, look for slimmer cuts, as they will give you more length and won't overwhelm your frame.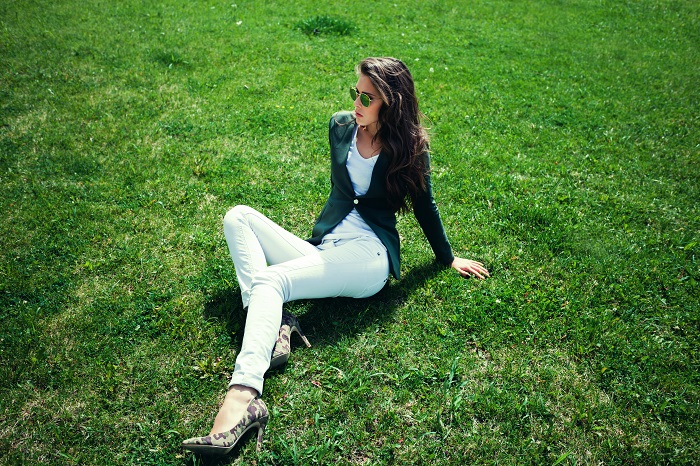 Remember that these are just guidelines for the shape of your pants and you might have to play with the actual length. A woman who is plus sized or a woman who is very slim, can be any of theses shapes. Keep that in mind first and then consider your size because you'll be able to look beautiful in so many different styles and you don't want to dismiss a pair of pants that you love just because you think that you can't pull them off. No matter your size or shape, pants can be super frustrating to find, so just go with an open mind and don't get discouraged too quickly.
What is your favourite style of pants?
IF YOU ENJOYED THIS ARTICLE PLEASE SHARE IT AND SIGN UP FOR REGULAR UPDATES

images courtesy of DollarPhotoClub


Caroline has worked with international designers in fashion retail and completed professional makeup courses when working in the beauty industry. Her love of writing, photography and film inspired her to work at the Canadian Film Center and then to earn a BFA in Screenwriting. In addition to her blog, Style On The Side, you can see her work in Huffington Post Canada and other international websites.