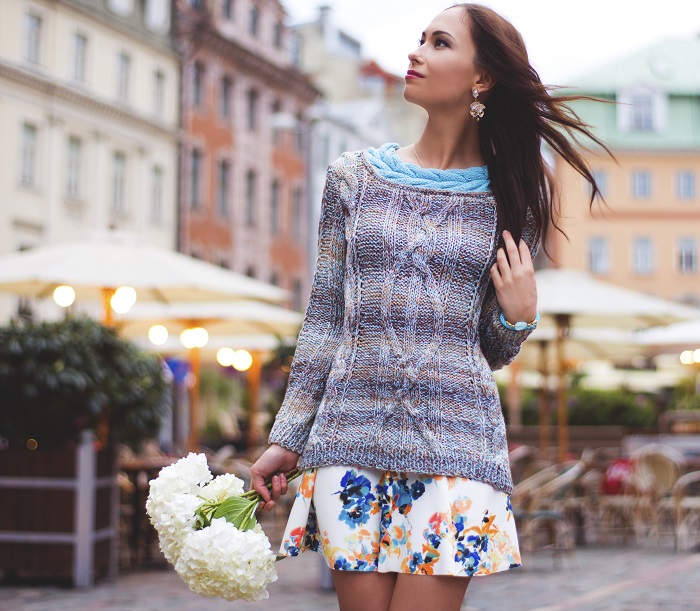 Best sweater for your body type.  Who doesn't love a cozy, over-sized sweater in the fall and winter? Simply thinking about sweaters conjures up images of crackling fire places, warm tea (or hot chocolate, or a glass of wine), evenings spent with loved ones and the magic of a first snowfall.  The only snag in all of this is that we also want to look great and how can you do that if your sweater doesn't fit and isn't flattering to your body shape? So before you make a blanket statement like, "I can't wear sweaters" (yup I've heard that one before), why not try to find one that makes you look and feel fabulous?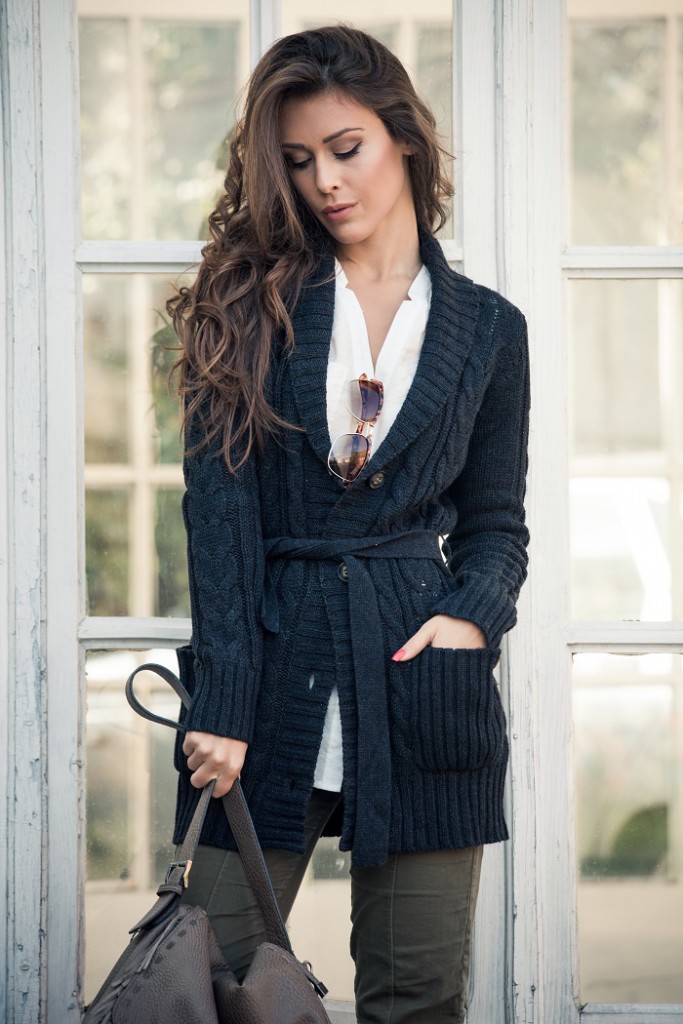 BEST SWEATER FOR YOUR BODY TYPE
The first thing you need to do is to determine your body shape. If you are unsure of your body shape, start with: How To Determine Your Body Shape.
Petite. The most common complaint from petite ladies is that they can't really wear sweaters because they get swallowed up. Okay, so while you probably should stay away from oversized knits, a chunky sweater that hits right at the hips (aka making your legs look longer) will be perfect for you. Try a crew neck with a choker to bring the focus up to your face.
Tall. While there probably isn't a sweater that you can't pull off, show off your height by looking for a drapy cowl neck that shows off your figure. Wear it with a long pendant necklace for an effortless look.
Apple. If you carry more weight in your midsection, you have a couple of great options. The classic choice is to accentuate your waist and create an hourglass shape by belting your knit. Another direction is to do the the opposite by layering a longer cardigan over a button down. Pair this with some layered necklaces for a sleek look that visually lengthens your shape.
Pear. A lovely pear is likely looking to balance their upper half with their lower body. Look for cute, eye-catching prints that you can pair with a fabulous statement necklace. This season's high waisted denim or midi skirts (especially the ultra feminine ruffled ones) will make this outfit a standout.
Broad shoulders. Opposite to a pear shape, you are looking to minimize your shoulders instead of emphasizing them. Opt for looser cuts that will drape comfortably
Large chest. While many women with larger chests shy away from turtlenecks, they will look fantastic in an open scoop neck. Try layering a thin sweater over a crisp button down for a more professional look and the very essence of minimalist chic. Tucked into an a-line skirt, this will be fantastic way to show your beautiful waist.
Small chest. Much like a petite woman, you are looking to elongate your neckline. So reach for a deep v-neck sweater. Tie a silk scarf around your neck for a chic French girl style.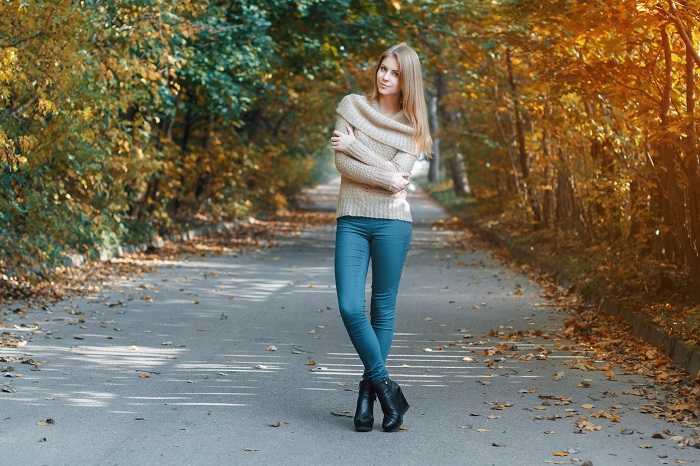 So you see, just like us, sweaters come in every imaginable size and style. It's not like I don't get enamored in the ads I see, or the store window displays, only to see (in complete shock each time) that I look nothing like the mannequin or models. So the key is to take the style that you are so in love with and tweak it slightly to fit you. When you do that, you will always look chic and fabulous!
What sweater style is your favourite?
For more don't forget to follow me on INSTAGRAM and PINTEREST
IF YOU ENJOYED THIS ARTICLE PLEASE SHARE IT AND SIGN UP FOR REGULAR UPDATES


images courtesy of DollarPhotoClub


Caroline has worked with international designers in fashion retail and completed professional makeup courses when working in the beauty industry. Her love of writing, photography and film inspired her to work at the Canadian Film Center and then to earn a BFA in Screenwriting. In addition to her blog, Style On The Side, you can see her work in Huffington Post Canada and other international websites.