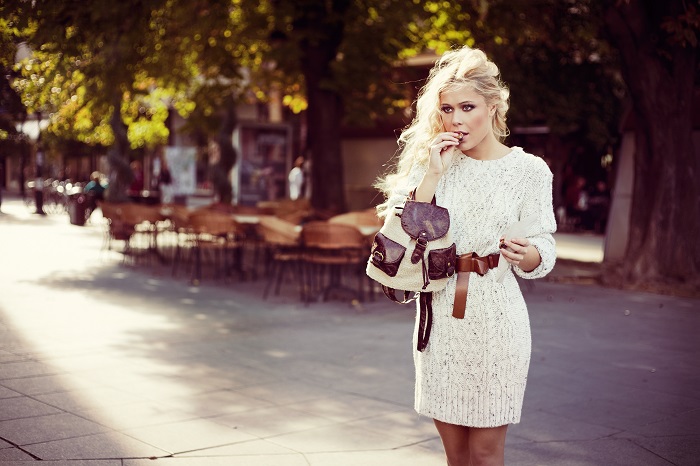 Best ways to wear sweaters this fall. I love fall. Hold it, full stop. Okay I should clarify, as I write this, it's 28 degrees, the sun is shinning, the sky is a clear blue and I'm actually debating wearing shorts when I take the dog for an afternoon walk. What I really love this time of year is when the mornings are cool and crisp, the days get a little warmer and then the evenings are meant for snuggling under a blanket or lighting your fireplace for the first time this season (oh, now I miss my fireplace). What all of this means is that sweater season is just a few weeks away! While I'm always tempted to throw on my biggest, most comfortable sweater and just hide away, there are so many great ways to incorporate sweaters into your everyday look.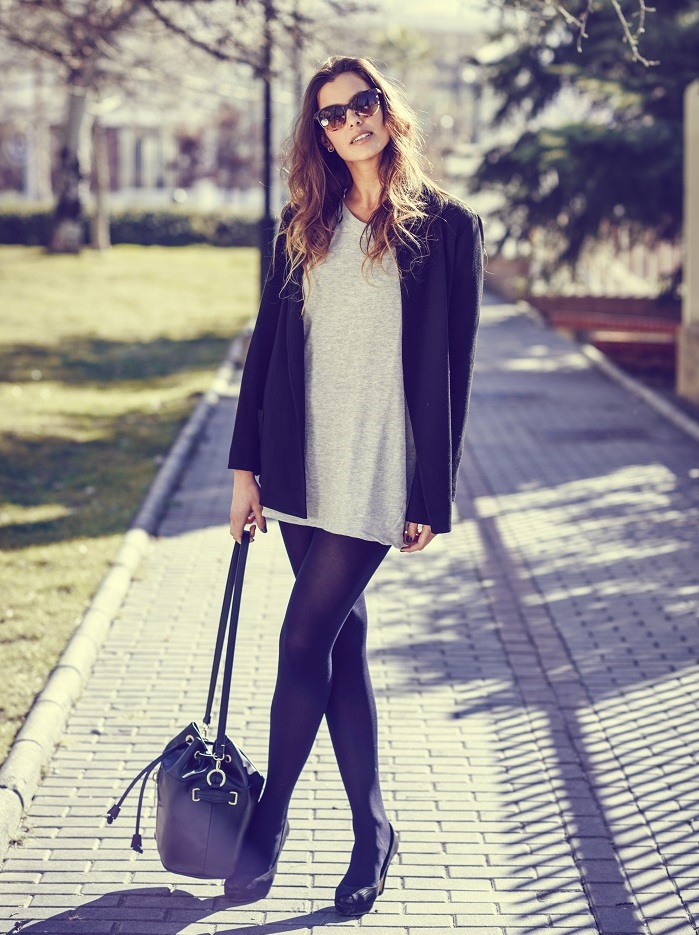 BEST WAY TO WEAR SWEATERS THIS FALL
Show some shoulder. An over-sized sweater looks great when we can see some shoulder peeking out. To give it a little something extra, wear a lacey tank underneath.
Belt it. Well, we are all familiar with this tip, but the trick to making a belted, over-sized sweater look fresh is to play around with your belt. A braided leather belt will give you a more casual look, while a patent leather one will be more dressy. Choosing a nice wide belt is a great option to show off your waist. Another idea is tucking your sweater into just the front of your pants or skirt.
Leggings. Of course, you can wear leggings and especially with an oversized sweater… who doesn't love that for fall? The trick is to consider the shape of your outfit. Big, boxy and long will only look good on someone who is very tall and very lean. Opt for a cropped sweater or one that's made of a finer knit, so it hugs your body rather than hiding it, or even throw on an open cardigan over a tee or a tank. Another option would be to wear a cropped skinny pant with a bold print sweater and a pair of pumps. Or, flip the look by wearing a pair of printed leggings with a solid print sweater. With so many fun patterns and textures, you can easily create a unique look.
With a skirt. Whether you opt for a cute mini or a sleek pencil skirt, remember that it's all about the silhouette you are creating. With a mini, try an asymmetrical line and match your tights to your skirt for a long lean look. When wearing a pencil skirt, balance the look with a shorter boxier sweater and stilettos for a sleek line.
Sweater dress. This is kind of a no brainer as sweater dresses are very cozy and stylish. Look for one that hits at, or just above, the knee and pair it with tights and ankle boots for day. Showing off your legs will give you a lean look. For winter, look for a fitted knee high boot. For night, add a touch of elegance and sophistication by wearing patterned tights.
With a collar for work. Okay, so a cozy, over-sized sweater may not always be work appropriate, but layering a less bulky one over a collared shirt should be just fine.  To give it more of an edge, look for collars with prints, studs or even creative shapes (like a scallop).
With accessories. As the weather cools, but is not quite frosty enough for a coat, layer your favourite scarf over a cozy sweater to frame your beautiful face. There is an infinite amount of looks you can achieve here, from bold print combinations to solids to tone on tone, to florals. Really, anything goes. Another option is to add some fabulous jewelry, like a pair of statement earrings or an eye-catching necklace.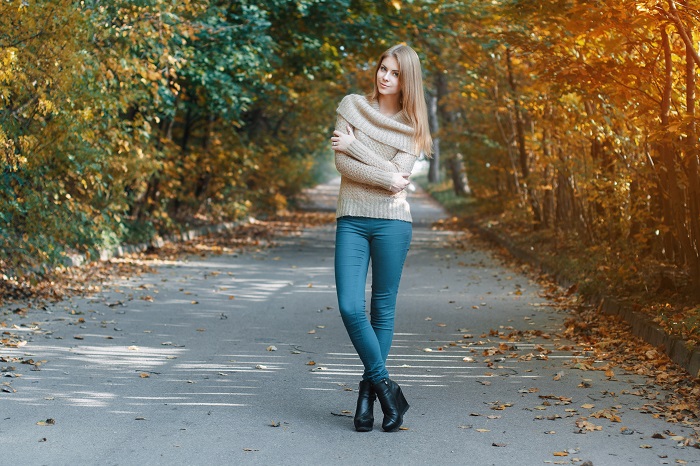 There really are so many ways to wear an over-sized sweater, be comfortable and not look like a slob. This is sweater season after all, so go be cozy, warm and look fabulous!
What are your favourite ways to wear an over-sized sweater?
Some of my favourite sweaters:
For more don't forget to follow me on INSTAGRAM and PINTEREST
IF YOU ENJOYED THIS ARTICLE PLEASE SHARE IT AND SIGN UP FOR REGULAR UPDATES
images courtesy of DollarPhotoClub

Caroline has worked with international designers in fashion retail and completed professional makeup courses when working in the beauty industry. Her love of writing, photography and film inspired her to work at the Canadian Film Center and then to earn a BFA in Screenwriting. In addition to her blog, Style On The Side, you can see her work in Huffington Post Canada and other international websites.