How to dress in your 30s. I'm always fascinated by topics like this because I kind of think that you should be able to wear whatever you want if it makes you feel good. That being said, however, I think there is a clear distinction between wearing whatever you want and actually looking sophisticated and age appropriate. So while that ultra cute, embroidered dress may have been great in your early 20s, now it most likely looks too childish.  On the flip side, the conservative outfit that will look fabulous when you are in your 50s makes you look a little stuffy right now. The 30s are a tough transition point because you are going from a certain youthful freedom to a more mature stage in your life and this is when you want to start refining your style.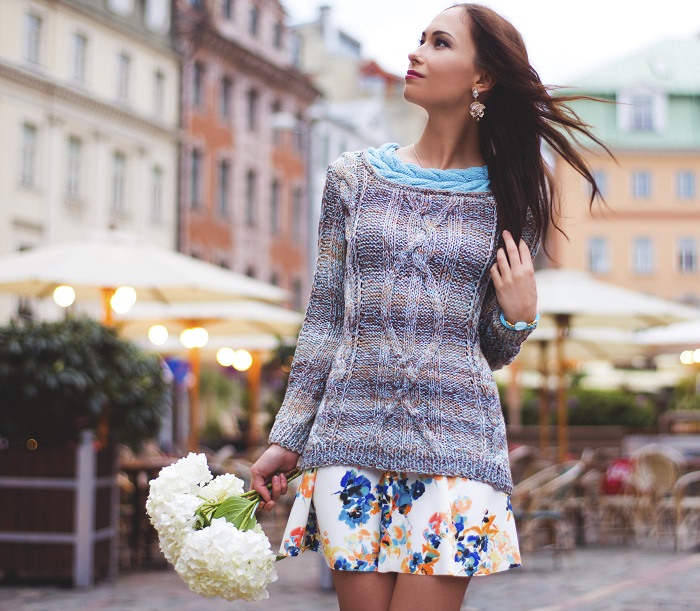 HOW TO DRESS IN YOUR 30S
Fast fashion. I was in the mall the other day looking for some tees and as I looked around, I observed a wide range of ages shopping in the same stores. This got me thinking that past a certain point, you really shouldn't be buying a lot of cheap clothing. For one, it never really fits well and that should be reason enough, but if you need another one then do you really still want to be dressing like the 20 year old in the changing room next to you? For items like tees and some very trendy pieces that you might wear only a few times it's fine, but for everything else, check out the nicer shops.
Animal tee. There are some exceptions to this, but if the t-shirt has a big kitten or puppy or horse (or any other kind of animal on it) just keep walking. You are not 5. Okay fine, you can wear it around the house or to bed, but it should never see real daylight. Instead of the animal on your shirt, choose an edgy animal print and wear it on your shoes, on a bag, on a scarf or even on a structured blazer. I'm not against a printed tee, but I would say to look for a really great graphic print that you are happy to show off.
Super low cut jeans. I don't know if these ever looked good on anyone. They were kind of trashy right from the beginning and honestly, I've probably seen more bikini/g-string underwear on more random women then I'd ever want to see. Nobody is saying that you need to opt for just high waisted pants (although they do look pretty fabulous and polished), but look for the most flattering cut because they've got to give you a great shape that you are proud to show off.  Yes, you can definitely wear a skinny jean as long as you are still proportional, or why not take out the leg lengthening boot cut jeans you have way in the back of your closet for a spin? Better yet, pair them with a pretty blouse for a polished, age appropriate look.
Super short shorts. I write this as I'm cutting up a pair of jeans, but to be fair, I'm very conscious of the length. Look, short is fine if you are physically fit, have great legs and want to show them off. For everyone else, a couple of inches longer will be a better choice. Let me be perfectly clear that when I say fit, I don't necessarily mean skinny because that's not always great either. It's not about weight, but rather about muscle tone and that can be at any size. Rather than opting for really short shorts, take them down an inch or two and look for a super cool pair in leather or suede or another interesting fabric.
Super short minis. Where are you going that you have to wear a skirt that leaves nothing to the imagination? A fun, flirty skirt that covers a little more (an inch or two longer will do), but suggests a lot is so much better and when paired with a really fabulous pair of heels that you would never buy in your 20s, makes it that much better. To be honest, I'm all for a mini if you love one, but there is a fine line between slutty and chic and this is the time in your life when you definitely want to opt for the latter.
Tulle skirts. Being a huge ballet fan and having a secret love for all things girlie, I love the idea of a tulle skirt and while a little bit might be okay in very specific circumstances, as much as it pains me to say it, tulle in your 30s… Pass. If you absolutely can't live without it,  then put it on (maybe pair it with your animal t-shirt), dance around in the privacy of your own home to get it out of your system. Instead, wear a circle skirt in a pretty pink or a soft grey.
Anything too skimpy or too tight. I might be taking this point out the next time a heat wave hits, but for real, there comes a time (unless you are a celebrity or a model) to say goodbye to the extremes. Choose your best asset and flaunt it instead. Have a beautiful back that you've spent hours sculpting at the gym? Show it off with a backless dress. Have gorgeous shapely legs? There's nothing better than a sexy slit. Beautiful arms and shoulders? Then by all means, go strapless. There are so many great choices and instead of looking trashy, you can look uber chic.
Platform and ultra chunky heels. Thigh high, lace up boots and super chunky heels. Yup, that describes my style about (or what feels like) 100 years ago. Then I realised the power of stiletto and just how fabulous my legs look in a stylish heel. The problem with very chunky heels is that they look juvenile and the problem with shoes that have a really big platform is that they just aren't pretty. The keyword here is going to be timeless, whether that's a sandal, a pump or even a flat, look for shoes that will last.
Cheap jewelry. I'm not saying that you need to buy only high end pieces, or even that they need to be real silver or gold because some costume jewelry can be absolutely stunning. There is, however, a difference between pieces that your little niece is wearing and the pieces that you should be reaching for.
All of this being said, don't go too far into the I-have-to-cover-everything-up-and-can't-show-off-my-body territory. This is a time for new discoveries, a great time to reinvent yourself and cement your style (for this decade at least). You should always have fun with your clothes and test out new styles because you never know what will look amazing on you.
Your focus should be on getting noticed for your beauty, for your class and style and not because everyone is secretly thinking that you need a major wardrobe overhaul. Read: How To Determine Your Body Shape
Do you have any pieces that you secretly love but don't wear anymore?
IF YOU ENJOYED THIS ARTICLE PLEASE SHARE IT AND SIGN UP FOR REGULAR UPDATES
images courtesy of PhotoDollarClub

Caroline has worked with international designers in fashion retail and completed professional makeup courses when working in the beauty industry. Her love of writing, photography and film inspired her to work at the Canadian Film Center and then to earn a BFA in Screenwriting. In addition to her blog, Style On The Side, you can see her work in Huffington Post Canada and other international websites.