How to wear sneakers with a skirt.Like many of you, I have a lot of shoes. As much as I try to pare down my closet and keep my stuff to a minimum, I can't get rid of any of my shoes (and bags but that's for a different post). While I relish the times when I have the perfect excuse to pull out my heels with my current lifestyle, it's just not every day.
I've contemplated wearing my Louboutin's to walk my dog, but I really can't justify the expense. That being said, the fact that I'm surrounded by heel hating cobblestones is not a bonus either. So it has occurred to me that sneakers might just be the way to go (not to mention most designers have now jumped on the bandwagon and produced some fabulous looking sneakers). Sure, flats work and I like 'em. I actually have a bunch of really pretty flats, but there are those days when nothing feels as good on your feet as a pair of sneakers. Not only that, but I love to combine styles and sneakers with a skirt is a great example of sporty-chic tomboy meets feminine cool.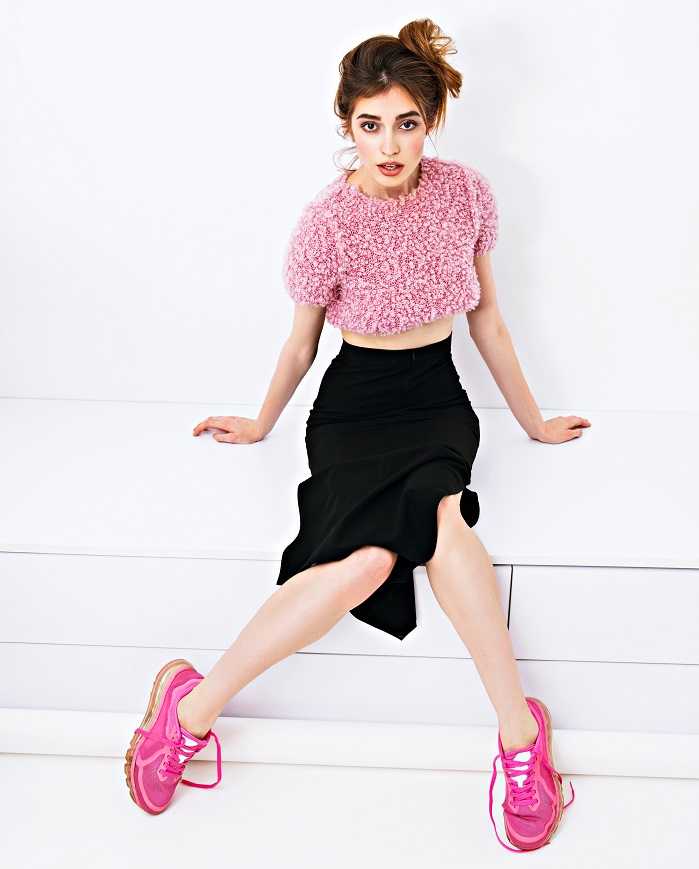 HOW TO WEAR SNEAKERS WITH A SKIRT
Make them the stars of the show. Have you walked into a sneaker store lately? I can think of 4 dedicated ones within a 5 minute walk from my place and let me tell you that the range of colours and patterns and designs is insane. From girly mints and pinks to edgy gold details and everything in between, there's absolutely something for everyone. Find a pair that you secretly love and wear them with a monochromatic outfit. My theory is that if you are going to wear sneakers instead of what's expected (heels or flats) then you should make them the centerpiece of your outfit.
Let them dress down your outfit. Okay, so you might not be ready to design your outfit around your sneakers, but you can let them work with your outfit. Just like you don't want your heels to match your bag, you don't want your sneakers to be too matchy-matchy either. They can, however, be the perfect accent piece. White goes with everything, but so do any eye-catching details like studs or a great animal print.
Go metallic. You already wear jewelry, so why not let your sneakers become the crowning piece of your outfit? From gold to silver to a huge array of metallic shades, find the standout pair and match them to your jewelry.
Go for the classics. There are some sneakers like converse or vans that are so widely accepted that you can pretty much wear them with anything. Since they are relatively streamlined and sleek, you can pretty much wear them with everything. Simply put, they have the cool factor and are easy to wear.
Choose vintage. Pretty much every company I can think of is coming out with a version of their vintage shoes, from New Balance to Nike to Reebok to Adidas, they're all doing it. The truth is that these shoes kind of work because they evoke nostalgia, take us back to our childhoods and look pretty cool with a pencil skirt (try it in leather) or a midi skirt.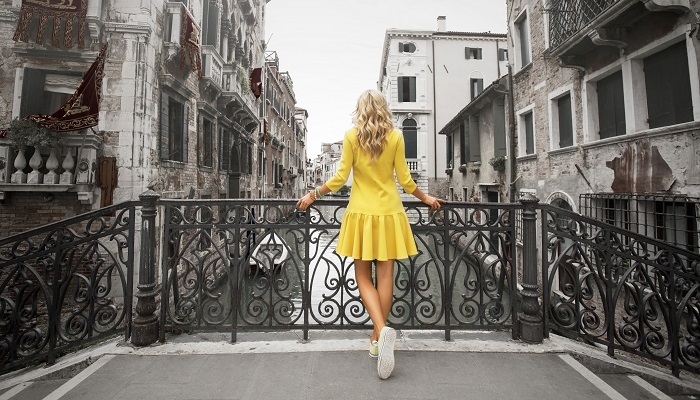 TIPS
Opt for a wedge sneaker or a pastel shade or even a fun print to keep you looking feminine.
Throw on a menswear inspired vest on to balance out the casual factor of your sneakers.
If you want a more streamlined look then aim for slip-ons rather than lace up shoes.
Basic fashion rules like proportions and contrasts still matter. Pair a chunky knit dress with a pair of simple white sneakers.
A sleek pencil skirt with matching sneakers will look more formal than a flirty skirt worn with Chuck Taylors.
A minimalist pair of sneakers paired with floaty, airy fabrics will give you a more feminine look.
Most of all, don't be afraid to try out this trend. Ease yourself in by matching your sneaker to your skirt, you'll have a more refined look and they won't be as eye catching. Remember, opposites attract and with this trend you'll be super comfortable and just maybe it will push you a little outside of your comfort zone.
Read: How To Style Sneakers for more tips.
Do you wear sneakers with your skirts?
IF YOU ENJOYED THIS ARTICLE PLEASE SHARE IT AND SIGN UP FOR REGULAR UPDATES

images courtesy of DollarPhotoClub


Caroline has worked with international designers in fashion retail and completed professional makeup courses when working in the beauty industry. Her love of writing, photography and film inspired her to work at the Canadian Film Center and then to earn a BFA in Screenwriting. In addition to her blog, Style On The Side, you can see her work in Huffington Post Canada and other international websites.