How to be modern gothic and rocker chic. There are some people who are so steeped in their style that they can't imagine wearing anything else and that's okay. I actually really respect and love that and in a certain way it makes life easier, because you can go into a store and know that whatever you pick out will just work with your other pieces. For me, I've gone through many incarnations and while there have been certain constants throughout, I find the variables make life so much more fun for me.
Last week we talked about how to infuse a dose of bohemian flair into your style in: How To Be Modern Boho. What do you do on those days when boho doesn't quite cover it and you are feeling tough and know that no matter what, that red lipstick is going on. This post is based on another friend of mine, except she is on the opposite side of Canada and living in Toronto. She too has maintained her style throughout our friendship, except on the very opposite end of the spectrum. I don't think I've ever seen her wear anything but black and if it has lace or velvet then so much the better.
I'm going to cheat just a little bit because I'm talking about a gothic style as well as a rocker chic style in the same post. Remembering back to my university days, no matter how many gothic elements my look took on, I could never stay away from a great moto jacket. It was simply not possible. Also, there is some overlap in the two styles since they are both on the edges of mainstream culture, colour black features prominently in both and they both have an intimate connection to music.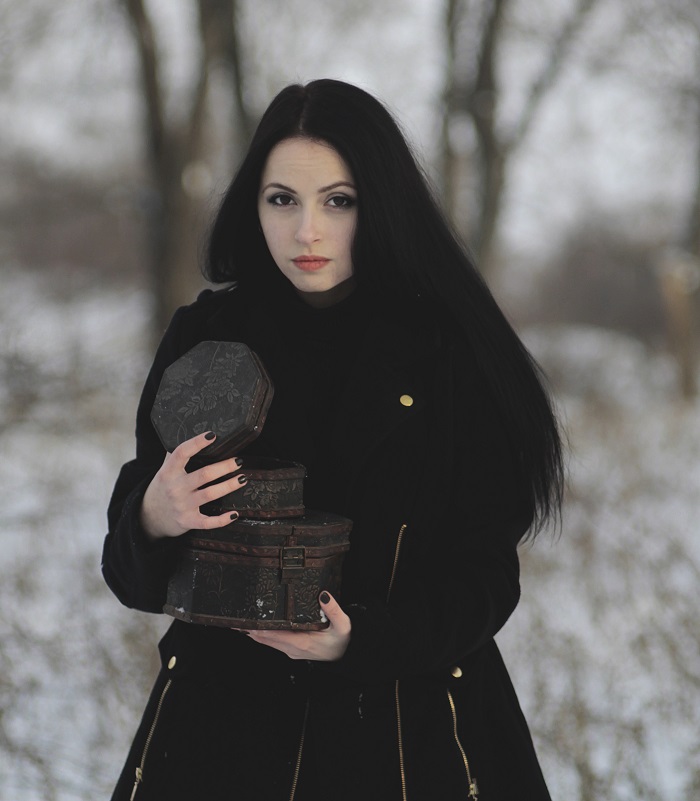 HOW TO BE MODERN GOTHIC AND ROCKER CHIC
Glamorous. Both these style do a glamorous look really well. The keywords are velvet and lace. A modern black velvet (or navy) suit, paired with a lace button down (or nothing underneath if you are feeling particularly daring) will be a great choice. A smokey eye, long loose locks and a nude lip will round off the look to perfection.
For Night. Gothic: While you might be tempted to wear all black, why not throw on an intricate oriental print kimono over a black dress. Add a deep plum lipstick and a lighter smokey eye. Rocker: You can take that same kimono but pair it with a pair of black leather leggings/pants and a studded heel. While the outfits are similar, the gothic one has a softer, more romantic flair and the rocker one has a harder edge.
Casual Weekend. Gothic. While denim probably won't be your fabric of choice, a long skirt paired with a slouchy tee and a velvet chocker will look great for day. Rocker: Denim, whether shorts or jeans and black biker ankle boots, a slouchy tee and a black fringe bag can easily be your go to outfit.
Everyday work. Here's where you can have some unexpected fun. Velvet slacks or a velvet blazer paired with a lace bow blouse in a romantic cream will give a subtle touch of modern gothic style and will keep you looking professional without going overboard and looking costume-y.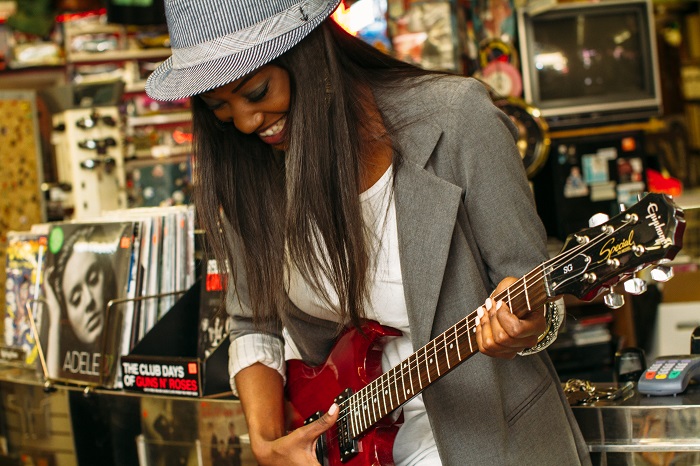 Modern Gothic is all about contrasts like a pale complexion with standout makeup. Look for luxurious and exotic fabrics and don't be afraid of a striking lipstick. While a rocker style can be harsh, the modern version doesn't have to be. Spiked heels or a spiked bag will add the necessary edge, but you can always soften up your look by adding a touch of glam to your hair and makeup. Remember, it's all about taking elements from each style and fusing them with what you already own.
Do you have a style you like to mix and match with?
IF YOU ENJOYED THIS ARTICLE PLEASE SHARE IT AND SIGN UP FOR REGULAR UPDATES

Caroline has worked with international designers in fashion retail and completed professional makeup courses when working in the beauty industry. Her love of writing, photography and film inspired her to work at the Canadian Film Center and then to earn a BFA in Screenwriting. In addition to her blog, Style On The Side, you can see her work in Huffington Post Canada and other international websites.