STYLE STORIES LOUBOUTIN HEELS
This is the story of how I got my nude slingback Louboutin's (it's a good one, keep reading)
Many years ago, my husband and I were in NYC around September 15th. He was taking a course for work, I was tagging along and coincidentally it was our 9th wedding anniversary.
I had the whole day to walk around by myself to re-discover the city I love so much. It was hot, sticky and muggy that day. After about four hours of wandering the streets, I finally made my way, through the park, to Madison Ave. and 75th-ish as I stood in front of Carolina Herrera (another favourite), a man walked up to me and mumbled something. I turned, "excuse me?". "It's been a long time since I've kissed you, but all that is going to change now", he said in a delighted and forceful voice.  "Ummm, yeah no it's not" ran through my head, as I quickly made a bee-line across the street. Over my shoulder I could see him following me. Almost all the stores were empty, except of course, the Louboutin shop and as a bonus they had several sales guys working. "Great", I thought, as I rushed in.
Within seconds, I had explained my situation just as my 'stalker' walked in to the store. My sales guy (can't remember his name) pulled me in a littler further. He told me to pretend that I was looking at the shoes. Who was he kidding? At this point, I wasn't scared any more and the shoes were pretty fabulous.
Before we realized what was happening, my 'stalker' picked up a shoe and threw it, narrowly missing us and hitting the cash register. Suddenly, everyone sprung into action and I was rushed to the back room. The manager arrived shortly thereafter laughing that he had just run out for a coffee and mayhem and ensued. He brought me a glass of Perrier and explained that they had to call the NY Detectives (yes, he has them on speed dial, in addition to the private Madison Ave security detail) because the heel had been damaged and came at a cost of $2,500. Gulp! The back room has seemingly height-less ceilings and every wall is packed, from the floor up, with boxes of shoes. There must be thousands of them.  Now I happen to love Law & Order (NYC detectives are the coolest), I am in no immediate danger and best of all, I am sitting in every girl's dream closet….life is good, this is becoming hugely enjoyable.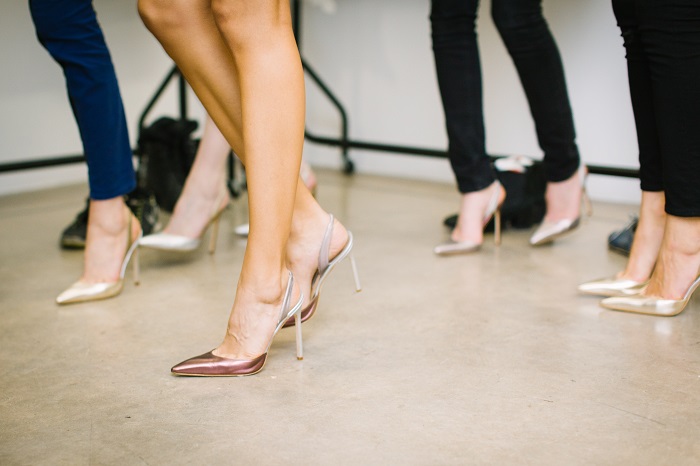 After a while, the Manager suggests that I try some shoes on. Crap. This is what I was trying to avoid. I love these shoes and I'm just not so sure that I'll be able to restrain myself, but at this point I really can't afford them. What is a girl to do? Of course, I want to try them on. I laugh nervously, "but please don't bring me any for $2500, they are a little above my budget at the moment". He replies, "Oh don't worry, it's easy to stay on budget here". Fair enough, the cheapest shoes in the store came at a price tag of about $500. I guess that's a budget buy for some people.
He looks me over and says, "bring her the nude slingbacks with the open toe", then "there's a two month wait list on them". The shoes are brought out, I swoon, I slip my feet into them, I fall in love. I think the detectives save me at this point by arriving to take my statement. So with great regret, I decide that I will put them on hold until the next day.
The following afternoon my husband and I arrive at the store and are greeted with a bottle of Veuve Clicquot. So here we are, sitting on a bright red couch, sipping champagne at two in the afteroon while I try on shoes…life is good. There are a number of wealthy New York women trying on shoes. They look like they've stepped out of the Housewives series and it's cemented by a little dog with a red bow happily hanging out on a couch.  It's obvious by now that I went home with the heels and as a bonus, I get compliments every time I leave the house in them!
I miss NYC where anything can happen!
CAN'T LIVE WITHOUT A PAIR OF HEELS? THEN THESE ARTICLES ARE FOR YOU:
HOW TO CHOOSE THE PERFECT HEELS
IF YOU ENJOYED THIS ARTICLE PLEASE SHARE IT AND SIGN UP FOR REGULAR UPDATES


Caroline has worked with international designers in fashion retail and completed professional makeup courses when working in the beauty industry. Her love of writing, photography and film inspired her to work at the Canadian Film Center and then to earn a BFA in Screenwriting. In addition to her blog, Style On The Side, you can see her work in Huffington Post Canada and other international websites.