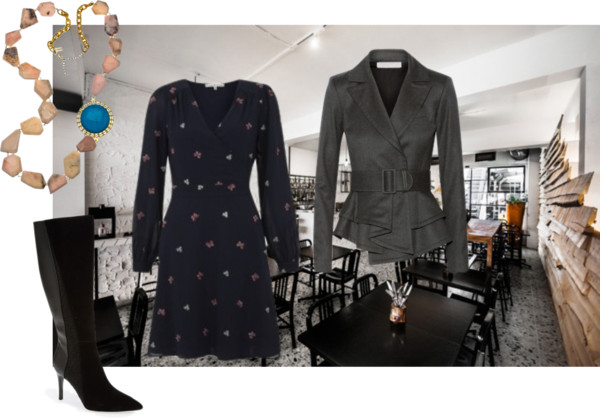 How to dress a pear shape. Last week we did a quiz to see what body shape you are and because I had so many comments from people saying that they are pear shaped, I thought we should start this series by taking a closer look at how to dress this body type. Now, although we all fall into one body type or another, for the sake of choosing the shapes that look best on us, it's important to remember that there's a scale of extremes. While one might have a  very exaggerated pear shape, someone else might simply have a hint of the shape.
The woman with a pear shape is characterized by having beautifully curved hips and wider thighs. She'll often have a smaller bust, a tiny waist and her shoulders will be on the narrow side.
HOW TO DRESS A PEAR SHAPE
Focus on the upper body. The idea is to choose pieces that highlight your upper body. Look for fun prints and patterns, as well as wide boat necks or puffed sleeves to create width in your shoulder area. Another trick is to add some embellishments around your neck. A beautiful statement necklace or a fancy bow on a blouse would be the perfect accent. Love a boho chic loose sleeve? This would look fantastic on you. Not a fan of a billowy sleeve? No problem, just roll up your shirt sleeves for a similar effect.
Choose layers. We all love layering right? Well, here's your chance to layer to your heart's content. After all, this is all about creating illusions and balancing out proportions. Take your favourite chunky sweater and layer it over a button down shirt for a stylish look. Better yet, cinch the sweater with a thin belt to really show off your waist.
Watch the length. When you have wider hips, it's best to wear tops which skim your hip bone. Any longer and they will draw your eye to your widest part.  A blouse paired with a loose wide leg trouser, (look for a wider waist band) will be fantastic, as will a tee tucked into an a-line skirt because this creates the appearance of an hourglass. Structured jackets look great on everyone, but the shape matters. You want to look for jackets that nip gently at the waist and flare gently over your hips.
Pointy footwear. Heels are always a great choice and in this case, look for a pointy toe as it will help elongate your legs making you appear taller.
Remember that these are just guidelines that you can keep in mind when trying on new clothes. I cannot stress enough that it doesn't matter what shape you are, it's all about accentuating your beautiful parts and feeling fabulous, every time you leave the house!
What are your tips on dressing a pear shaped body?
*For more on how to dress a pear shape follow me on instagram and pinterest*