The rules of dressing for yourself. For a long time now, I've been somewhat obsessed with this idea of personal style vs. fashion and how what we wear represents our personalities. I've been guilty of clicking on posts with headings like: Dress like a Parisian or How to have effortless style, even when I know that I wont get much out of the article and that there wont be a magic pill, I still can't help but search.
Let's say that I was to put on a fabulous taffeta skirt in the evening with heels and a sparkly top. I would probably shine. Then let's say that I would turn around, pair it with with a pair of sneakers and throw a chunky knit over top, would it still be fabulous and Instagram worthy or would I just look ridiculous? When it comes to style, these are issues that I struggle with.
While I had jobs that required me to go into an office every day (and for a few I needed to be dressed more conservatively), at the moment, my days are filled with writing. So naturally, I'm wearing my sweats all day (just being honest). When I need to run out or take my dog for a walk then it's t-shirts and denim time. So when exactly am I supposed to hone in on my style? How am I supposed to curate it and look fabulous every day, even when I don't feel like it?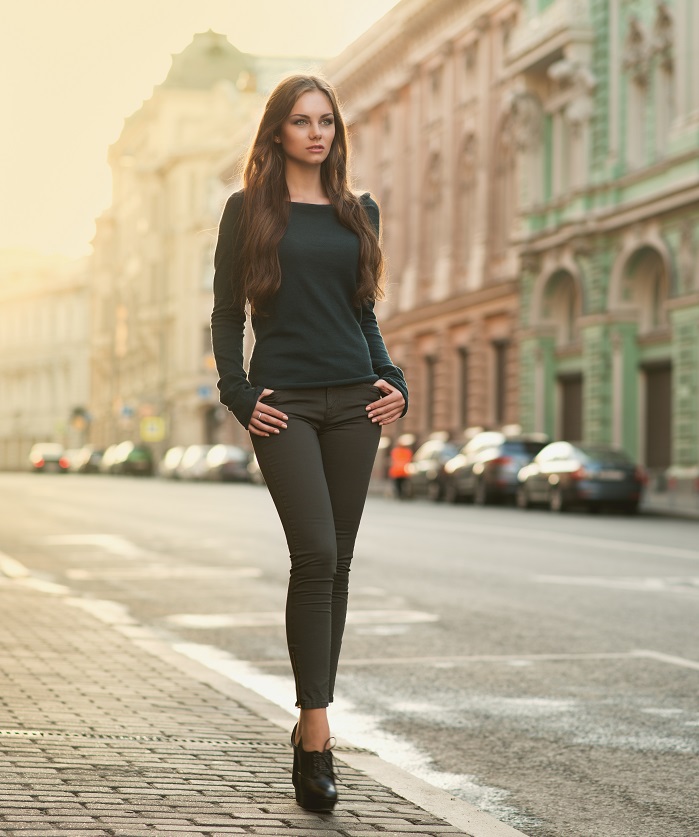 HOW TO DRESS JUST FOR YOU
The uniform. Wearing a self-imposed uniform of sorts has been a popular headline lately and I admit that I'm intrigued. Gone are the days when I used to wear lace-up, knee-high boots and mini skirts that left nothing to the imagination. Now, it's usually more basic pieces that require a lot less effort. Boring, right? Not so fast. I remember when I was still in high school, I had a number of friends who went to a catholic school which required a very strict uniform. Somehow, even thought they all wore blue plaid skirts and white button down shirts, each one looked totally unique. You could tell who had more of a punk vibe, who was more interested in fashion and who was a jock. So this leaves me to conclude that it's all about how we choose to wear our clothes (shirt tucked in, half tucked, hanging out or long skirt, midi length or mini) and also, what accessories we choose. A pair of sneakers will give your outfit one style, flats another style. The jewelry or bag you choose will give it a completely different look, but this also extends to how we do our makeup and hair. So essentially, two friends can show up wearing pretty much the exact same thing, yet look totally different and even unique.
Does it make you smile? They say that you should only wear items that make you smile. That sounds like a fantastic idea, as I don't want to wear pieces that I don't like, but then again when I know that I'm going to be spending my day writing, I don't want to ruin my good clothes. Frankly, I can't see myself sitting around in said taffeta skirt when I'm in the house. What I can do, however, is look for better fabrics, prints or even textures. I have a t-shirt that's fairly plain, it's a dark grey boat-neck, but it's made from bamboo and I seriously feel like I'm slipping a cloud onto my body when I put it on. Right away, I notice that I'm more confident and inspired to maybe put on a pretty necklace when I leave the house and suddenly, with zero effort and not much thought on my part, that basic tee is completely transformed.
Be yourself. I think this is a hard one to follow because it seems that we are constantly being told who we have to be. So let's forget all of that because to some degree, who cares? If you want to wear a sparkly, sequined top with your jeans today then why shouldn't you? It's all within reason, of course, but why not relax the parameters of our boxes? I have a fabulously huge cocktail ring that I just love. I've put it on during the day (of course, I had a comment or two from "well meaning" family members), and I don't wear it too often because I'm self conscious. The crazy thing is that I bought the ring because I saw it on a random salesgirl and knew right then and there that I had to have it.
Love the imperfect. I find that the most beautiful and memorable people are the ones who embrace their imperfections and that extends to what they wear. The person who shows up always looking flawless without a hair out of place is kind of boring. Instead of being so uptight about everything being exactly how it "should be," maybe it's worthwhile to relax a little, to show some spirit and be more carefree about what we are wearing, while still paying attention to the details like cut and fit.
Accept the change. This one makes me a little bit sad because there are outfits that I had and loved that I can no longer wear. The truth is that now I look kind of ridiculous in them, almost like I'm trying too hard. I think if we were all given a very specific timeline of what to wear at what age then it would be so much easier. The fact is that it's different for everyone and largely dependent on your lifestyle and where you live. The "is this appropriate" question totally blind-sided me. It was as if one day I woke up and realized that I needed to start implementing changes to my wardrobe. Diving in head first, I realized that there is a new world opening up right in front of me. In fact, much of what I now want to buy is better quality and has a better fit than what I was choosing before.
Don't follow the rules. I honestly can't believe that I still see articles about how it's okay to wear white after Labor Day. Is that really still a thing? So why do we create rules around everything? I remember someone being totally shocked that a friend of mine wanted her bridesmaids to wear black. You know what, we set her and her dress off beautifully. Of course, there are occasions where it's more appropriate to wear something more or less formal, but there are is so much room to move rather than being bound to arbitrary, externally-imposed constraints.
While I want everyone to feel free to express themselves in whatever way they want, there are a few hard and fast rules that do need to be followed, like the fit and quality of what you are wearing. On the flip side of this though, following this one fit and quality rule will make what you do choose to wear that much better!
What are your thoughts on dressing for yourself?
IF YOU ENJOYED THIS ARTICLE PLEASE SHARE IT AND SIGN UP FOR REGULAR UPDATES

images courtesy of DollarPhotoClub


Caroline has worked with international designers in fashion retail and completed professional makeup courses when working in the beauty industry. Her love of writing, photography and film inspired her to work at the Canadian Film Center and then to earn a BFA in Screenwriting. In addition to her blog, Style On The Side, you can see her work in Huffington Post Canada and other international websites.