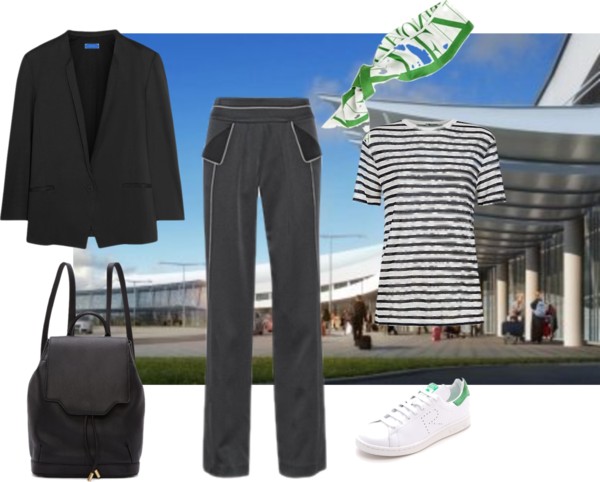 How to travel in style. We've all seen the celebrity pics of some super famous person getting off a plane, looking like they belong in the pages of a magazine. Somehow the dry air and 8 plus hours of sitting in a cramped seat has no effect on them. I was recently in Paris, which is a 2.5 hour flight from Poland. After getting up at 4am to catch my flight, landing 80 km north of Paris and having to bus it into town, I'm pretty sure that no one was lining up to take my photograph.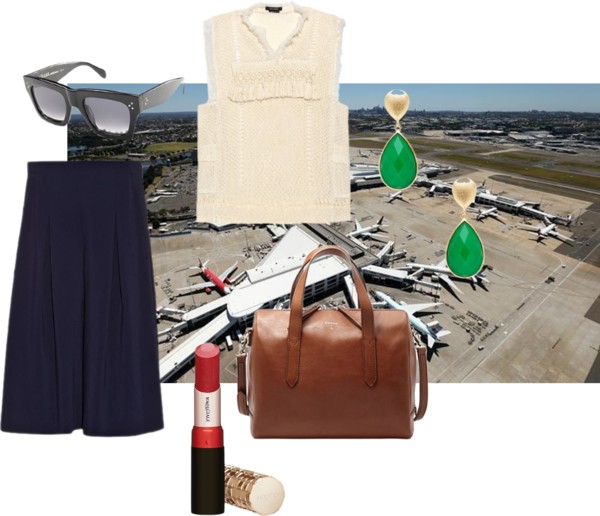 HOW TO TRAVEL IN STYLE
Bottoms. For longer flights, I prefer wearing slightly flared denim over skintight skinnies since they are a touch more sophisticated. Unless you are travelling by private jet, leave the short skirts for your arrival. Instead, opt for a longer sundress (if you are going somewhere warm) or shirt dress for a more classic look. I'm not sure if it's a good idea to travel in a dress (unless you are wearing leggings) on a plane, there's always that nagging in case of… but they are great for buses and trains.
Tops. Nothing too revealing or anything that will easily wrinkle is probably your best bet. I'm partial to knitted tees, but a great button down will also work. You'll also never see me without a structured blazer, a motto jacket or a chic sweater and a thin colourful scarf. In general, I look for more luxurious fabrics (although not my most expensive pieces) as they will look the best after a flight.
Shoes. As we know, every airport is different and you never know what to expect when passing through security. For this reason, I'm not a fan of being barefoot during long haul flights, although a great pair of pointy toe ballerina flats might be perfect if you are jetting somewhere glamorous for a short weekend getaway. While stilettos might be a little bit overdone, a chunky pair of heels is a good option if they are comfortable. My feet sometimes swell on long flights, very unglamorous, I know. So, therefore, I stick with simple neutral oxfords or my sneakers, they are easy to slide on and off and I've yet to have to remove them for security. In addition, they've come in very handy when I've had about 10 minutes to sprint (what felt like) 50km across huge international airport terminals.
Accessories. These are the pieces that will set you apart from the crowd. You don't want anything too dramatic, but just enough. Dramatic sunnies are always a great option and the perfect coverup for tired eyes, but what if you are arriving at night? In this case, I may travel with a cute beret (I guarantee that there won't be many people wearing hats and those that are will be wearing baseball caps). You will never see me without my favourite sparkly earrings. Currently I'm wearing bright blue topaz drops that add some shine to my complexion. Instead of necklaces, which can get uncomfortable, I'll usually also wear a simple cuff.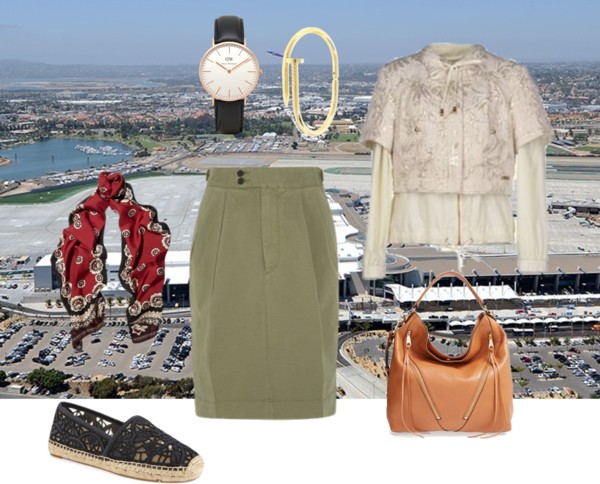 Remember, comfort is key but style is also important. There is absolutely no reason to look like a mess when you are on the go. Stick with classic cuts and natural fabrics and keep your accessories sleek and to a minimum. I like to stick to colour when traveling since I tend to get extremely pale when I'm tired, but for a chic look, wearing monochrome in black is always a great choice. Oh and most importantly, if all else fails and you need that extra pick me up, you can always swipe on your favourite lipstick.
What are your tips for traveling in style?
Shop my favourite accessories now:


For more don't forget to follow me on INSTAGRAM and PINTEREST
If you like this article sign up for regular updates a FREE gift!