Why is style so important. I've had this conversation with friends over and over again. Does how we dress, how we present ourselves to the world, really matter? What's the point of wearing clothes that actually fit? What's the point of styling your hair and putting on some makeup? Who really cares?
Fashions fade, style is eternal.
—Yves Saint Laurent

WHY IS STYLE SO IMPORTANT
So let's get one thing out of the way. There's a big difference between fashion and style.  Fashion is a fleeting moment in time. It is art, it is about pushing the boundaries and exploring new ideas. Whereas style is a timeless form of expression. While one cannot exist without the other, they are not necessarily locked in step with one another. True style is not dependent on what is fashionable at any one given moment, but rather about what makes you feel really great, what gives you confidence and what shows you off in the best possible way.
Style isn't just about what you wear, it's about how you live.
—Lilly Pulitzer

HOW SHOULD YOU SHOP?
I recognize the fact that sometimes you need to buy staple pieces, but (and I'm sure that I'm not the only one who goes through this) it can be a really tiring and painful process. I quite literally have jeans with holes in them because I'm dreading going shopping for a new pair. Never mind the fact that I need a couple of new t-shirts. The fun really begins when you stumble upon that one piece you absolutely love. Maybe it's a sweater that is so soft it feels like a cloud, or maybe it's that skirt that normally you would never look twice at, but yet it thrills you every time you pull it out.
Now this only really works when you know your style, when you have taken the time to figure out what represents you and your personality.
If you can't get past the shopping part then read: YOUR 8 RULES TO SHOPPING
HOW TO FIGURE OUT YOUR STYLE
It should be a representation of who you really are.
While your outside may change, your style is eternal
Be true to yourself and your personality because that is the constant.
Confused? Here's a simple example. My life has changed over the years. I've lived in different cities and even on different continents. I've had a variety of jobs, I've matured and my physical body has changed. I've found myself and lost myself  and yet the essence of me is still the same. This is what you need to tap in to. Make sure to celebrate your quirks and imperfections because they make you who you are.
Consider your day job
Consider your lifestyle
Consider where you live
Consider your body type
Read the full article here: HOW TO FIND YOUR STYLE
What now? So once you've started to zero in on your style, how do you actually feel good about it? It's important to never be ashamed of who you are. I think that's where we sometimes get lost because we don't always realize how much our self confidence is tied to the way we look. We get obsessed with what we see in the pages of glossy magazines or read on the internet and spend all of our time comparing ourselves to photoshopped achievable ideals.
Fashion is about dressing according to what's fashionable. Style is more about being yourself.
—Oscar de la Renta

STYLE AND SELF CONFIDENCE
You Decide How You Want The World To See You. As a whole, we are a fairly critical people (yes, I'm talking about the world as a whole). We make snap decisions and we judge others. It's not perfect, it's not the way most of us want to be, but it is what it is. So why give away that power to someone else? Why not always try to look your best?
People Will Treat You Differently. This point is a little sad, but it's a fact that when you are well dressed, people treat you with more respect. Now this may not matter every single minute of the day, but it will make your life a lot more pleasant when you aren't constantly fighting an uphill battle. Sure, a lot of this has to do with how you approach people, but if you take the extra care to look amazing then you are half way there.
An Outfit Can Make You Feel Awesome. I don't think I know anyone who isn't constantly striving to change their body, whether that be losing weight or trying to gain muscle. Think about how easily a well chosen outfit that actually fits can hide a multitude of flaws (yes, even the ones that are in your head). A well placed belt, a properly styled pair of jeans or even the perfect length skirt can give the illusion of a whole different body shape or they can highlight your best assets.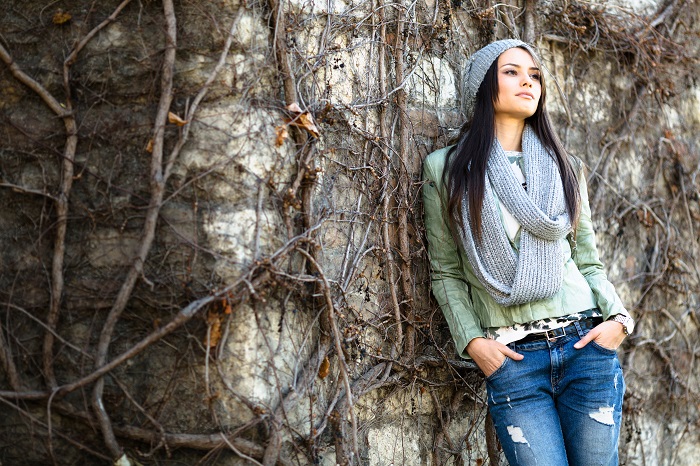 I have definitely have friends who have given up or who have never taken the time to figure out their style and you know what, it shows. You can always tell when someone cares about their appearance and makes that small effort vs those who don't. To be honest, it makes me sad because how we dress, how we present ourselves to the world, plays such a huge role in our self-confidence and ultimately in our successes.
How important is style to you?
Continue the conversation on BLOGLOVIN AND INSTAGRAM
IF YOU ENJOYED THIS ARTICLE PLEASE SHARE IT AND SIGN UP FOR REGULAR UPDATES

image of woman with guitar courtesy of Unsplash.com all other images courtesy of Dollarphotoclub

Caroline has worked with international designers in fashion retail and completed professional makeup courses when working in the beauty industry. Her love of writing, photography and film inspired her to work at the Canadian Film Center and then to earn a BFA in Screenwriting. In addition to her blog, Style On The Side, you can see her work in Huffington Post Canada and other international websites.