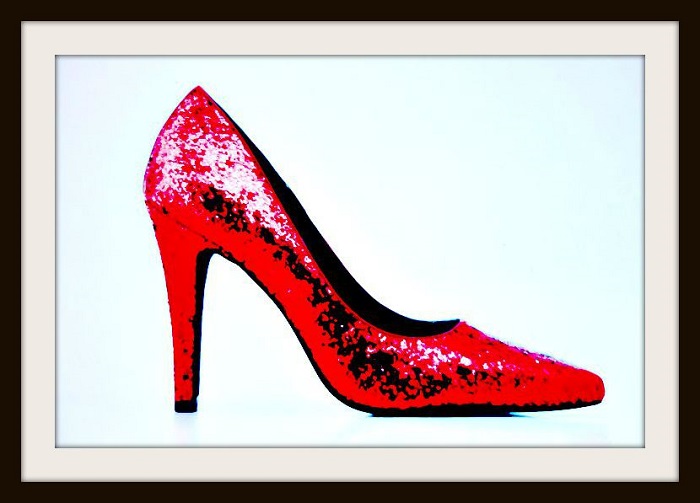 Designer spotlight Talk To My Shoes.  Recently, a great blogger friend Jennifer of Talk To My Shoes, did a guest post about the Best Shoes For Travel. Well, now she's back as a featured designer! Of course, her passion is shoes. I've been following Jennifer for several years now and what always strikes me about her posts is her sense of humour. Living in small town Canada, where people stare awkwardly at anyone not wearing sneakers or boots, she has retained her love of eye catching fashion. I had a whole post planned around her shoes, but after seeing them and reading her responses to my very basic questions, I realized that I don't need tell you a story about the brand because it all speaks for itself!
We have all heard that shoes can make the perfect statement in an outfit, which is true, but for me it is so much more. The shoes we wear each day are the shoes that literally carry us on our journey through life. Why not wear the perfect pair to stroll down that path? -Jennifer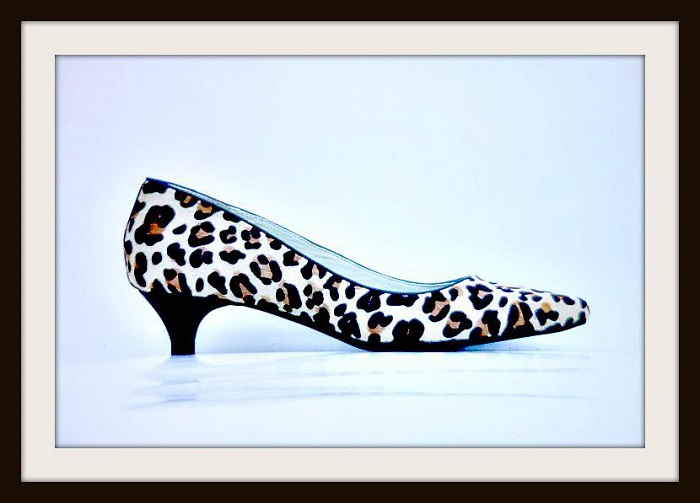 DESIGNER SPOTLIGHT TALK TO MY SHOES
Tell us a little bit about your background, where you studied etc…
I grew up in Alberta and I guess I kind of loved fashion as far back as I can remember. This being said, I never really thought to dabble in the fashion world until I was in university when I created my blog. I studied music (with a focus on musicology and piano performance) and English at the University of Ottawa as well as completing a second degree in Education from the same school after finishing my undergrad. Sure the areas aren't really related to fashion but fashion is art and so is music so perhaps they go hand in hand that way. That, and I've always loved writing, so running my blog is my way of putting my English degree to good use. I came into shoe designing through working on my blog, I loved writing about fashion but had too many design ideas that just needed to be put down on paper. A couple years later I would find myself coming home from work (I'm an elementary school teacher) in the afternoons and spending my evening writing and designing shoes. I think of fashion writing and shoe design as part of my secret identity. Pretty cool. When I step back to look at what I've achieved I'm always completely amazed at how writing an article on shoes one night, as a creative outlet has turned into pairs of footwear I actually get to wear on my feet.
What inspires you? What do you think about when designing?
My inspiration usually comes from what I'm surrounded by and how I'm feeling. I love music and colour so I often find myself capturing the two into a design. I also often get ideas for certain patterns and shapes that I haven't seen used in other designers work and just kind of jot it down, for curiosity's sake and hope to fill the gap. When I am designing shoes I am always aware of the comfort level of the shoe I'm creating, as well as aesthetics. For me, my shoes really have to look perfect. I am beyond particular about how and where a strap might lay across the foot on a pair of sandals, or the shape of the toe box and cut.

Who are your favourite designers and why?
My favourite designer at the moment is definitely Tom Ford. That man completely amazes me again and again with his work. I'm interested in the architectural element of design and love what he has to offer in that aspect. I also completely admire Christopher Bailey and Tamara Mellon, and of course Manolo Blahnik as they are totally inspirational.
If you could have dinner with a shoe designer (alive or dead) who would it be and why?
I'd love to have dinner with Sarah Jessica Parker and pick her brain about her new shoe line. Sure, she is fairly new to the shoe game but I think that her work is awesome and that we would have a lot to talk about.
Who would you love to design a pair of shoes for?
Funny thing, I would actually love to design a pair of shoes for my dad. I love men's fashion and footwear and have always wanted to dabble in that area. I have tons of ideas for men's shoes that I would like to eventually try out. His shoe game is pretty strong and he has been a good sport about my shoe ventures so I think it would be pretty great to be able to do that.
Flats or heels?
Tough question, I love flats and a good pair of smoking slippers but heels are so much more fun to wear, design and turn heads with. Plus the clicking noise they make is music to my ears.
When you are designing do you think about comfort vs style? How do you balance that?
I think that being comfortable in any shoe is the main goal because I want them to be enjoyable to wear. That being said, I achieve this just by making sure that the shoe fits perfectly regardless of the design- taking precise measurements, making sure the cut of the shoe offers support where it needs to, straps being the right length and cut.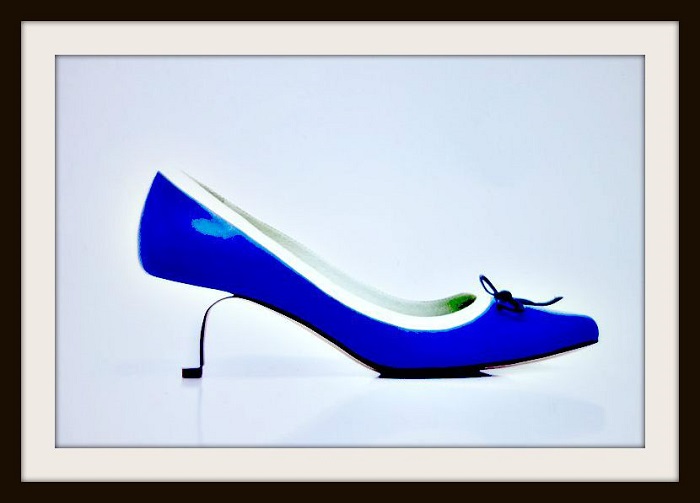 Jennifer is a Canadian fashion writer and the author of the blog Talk to My Shoes. In 2011 she launched her blog as a means to share her thoughts and shoespiration; three years later in 2014, she saw some of her own shoe designs spring to life. When Jennifer is not getting carried away with her duties as a shoe-a-holic, she can be found teaching her elementary students and acting as an advocate for the arts in the Canadian prairies.
For more of Jennifer's amazing designs and musings please visit her blog Talk To My Shoes.
The question is, flats or heels? Which do you prefer?
For more don't forget to follow me on INSTAGRAM and PINTEREST
IF YOU ENJOYED THIS ARTICLE PLEASE SHARE IT AND SIGN UP FOR REGULAR UPDATES


Caroline has worked with international designers in fashion retail and completed professional makeup courses when working in the beauty industry. Her love of writing, photography and film inspired her to work at the Canadian Film Center and then to earn a BFA in Screenwriting. In addition to her blog, Style On The Side, you can see her work in Huffington Post Canada and other international websites.