How to dress when you work from home. Last week we talked about the rules of dressing for yourself and not getting lost in the latest trends, but what happens when you work from home and day in and day out you pretty much stare at your computer for most of the day? Prior to working from home, I owned a Pilates studio, so although my clothing was very casual, I had a daily uniform. Then I worked in a casual office and had to be somewhat presentable every day. Once I started working from home (writing about fitness, style and beauty, mind you) my daily uniform became sweats and t-shirts. Although I spent my days looking at gorgeous accessories and beautiful clothing, I quickly lost my style way. I wasn't happy with how I looked, I avoided mirrors and I knew that my style left a lot to be desired. I always knew that I could get it back, but it definitely took a while because all of a sudden I found that there were new things that I wanted to try and some of my clothing wasn't appropriate any more. On a really positive note, however, it gave me a chance to rediscover and even reinvent myself.
For more read: How To Dress For Just You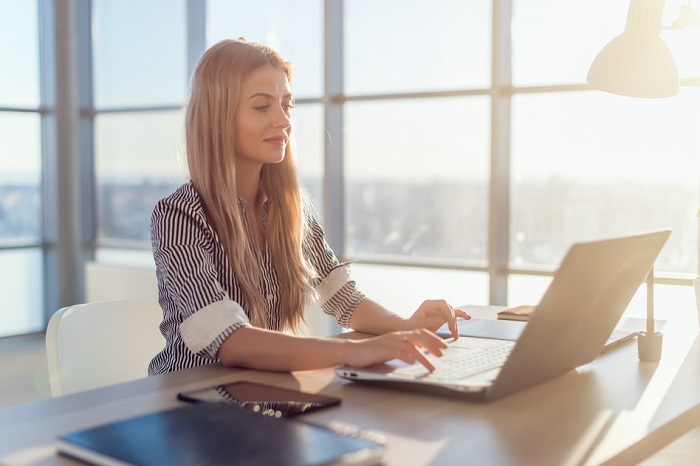 HOW TO DRESS WHEN YOU WORK FROM HOME
Get dressed. The first thing you need to do is change out of your pj's. I know, I know, but really it's necessary. Otherwise you'll get too comfortable and the key is to retain a professional state of mind. I admit that I do sit in my sweats, but during the day I always have a  normal top on so that if I have to jump out at a moment's notice, I can. In addition, although I don't wear my best clothes on a daily basis, I do keep some fun accessories on hand. They are easy to throw on and will dress up any outfit if I suddenly find myself rushing out the door. Note, you don't need to wear your best clothes or even anything expensive. Just put on real clothing and not your cozy pj's.
Wear a bra. I can't even begin to tell you how tempting it is to take off my bra, pull on a old t-shirt and lounge about on my couch. Do yourself a favour and keep your "working head" on. Regardless of your location, you still have a job to do.
Take outdoor breaks. Just like you can't realistically sit chained to your desk all day, you should be taking small breaks every couple of hours when working from home. Weather permitting, take a break, go outside and grab a coffee or a magazine, or just take a walk around the park. Doing this will prevent you from becoming a total slob. There will be people on the street and while you don't need to be wearing professional attire, you should, at the very least, look presentable. Better yet, schedule a work-away-from-home day once or twice a week. Most coffee shops have free wifi, so take advantage of it and get out of your comfort zone and meet someone new.
Wear makeup. You don't need a lot. After all, you aren't attending a formal ball, but you do need a bit, just so that you look presentable. I can't tell you how many times I've been lounging around writing and suddenly the doorbell rings and there's my postman coming up the stairs. At the very least, always keep a lipstick by the door so you can swipe on a little colour in case of emergency.
Get your hair done. I admit that I can be lazy about getting my hair done. My reasoning is that no one really sees me (except, of course, all the people on the street whenever I venture out, but they don't count, right?) and that it doesn't really affect my look. Recently, however, I realized that my feelings stemmed from the fact that I had a very uninspired, uninteresting cut. So, of course, I wasn't excited to go get it done because it always felt a little blah. That's such a bad way of looking at it. Everyone needs a good hair style because our hair is an extension of our personalities and one of the first things that makes us look put together. So, if you are at home much of the time, you'll find that something so simple as a haircut can make a world of difference in how you feel about yourself. The second you feel better about yourself you'll be more motivated to work that little bit harder.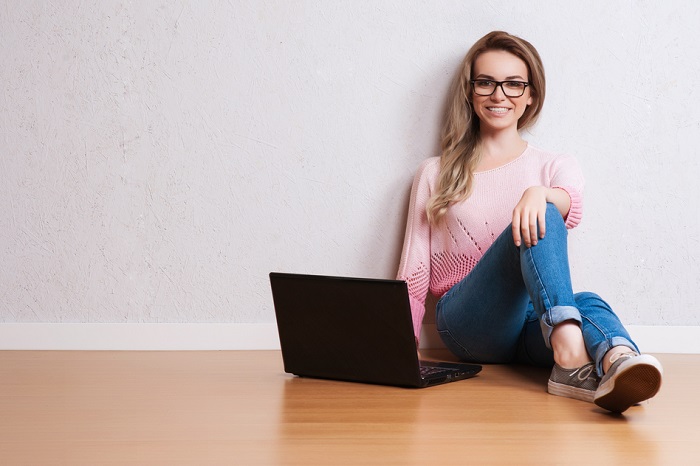 I'm one of those people who is most productive first thing in the morning and then later in the evening. When I get out of bed, I rush straight to my computer and am often able to write several blog posts or articles without thinking twice. I have, however, noticed how important a morning routine is. It sets the tone for the day and keeps me feeling organized, thus making it a more productive day. So no matter what, after I've gotten my ideas down on paper so to speak, I always make sure to get ready, make coffee and have a real breakfast. It's the difference between being on vacation and actually working.
If you work from home what do you wear? Have any questions? Feel free to ask them in the comments!
For more don't forget to follow along on INSTAGRAM and BLOGLOVIN
IF YOU ENJOYED THIS ARTICLE PLEASE SHARE IT AND SIGN UP FOR REGULAR UPDATES

Caroline has worked with international designers in fashion retail and completed professional makeup courses when working in the beauty industry. Her love of writing, photography and film inspired her to work at the Canadian Film Center and then to earn a BFA in Screenwriting. In addition to her blog, Style On The Side, you can see her work in Huffington Post Canada and other international websites.