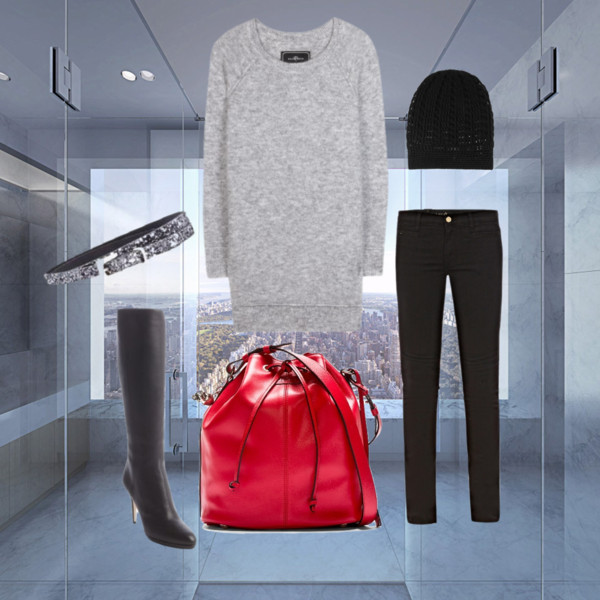 How to style chunky sweaters.  It never fails, when the weather turns cold and the skies are gray, I start reaching madly for every chunky knit I can find on store shelves. I love the very idea of a warm and cozy sweater which I can throw on, just before heading out the door. I picture myself looking super cute and sophisticated and turning heads, as I run down the street to catch my bus. Then I take a quick glance in the mirror and my romantic notions come to a grinding halt. My proportions are all wrong and I look  lumpy. Meekly the sweater is returned to my closet and will only see the light of day if I'm having a night in. So, how is it that we see all these fabulous looking people all over the internet wearing chunky over-sized  sweaters?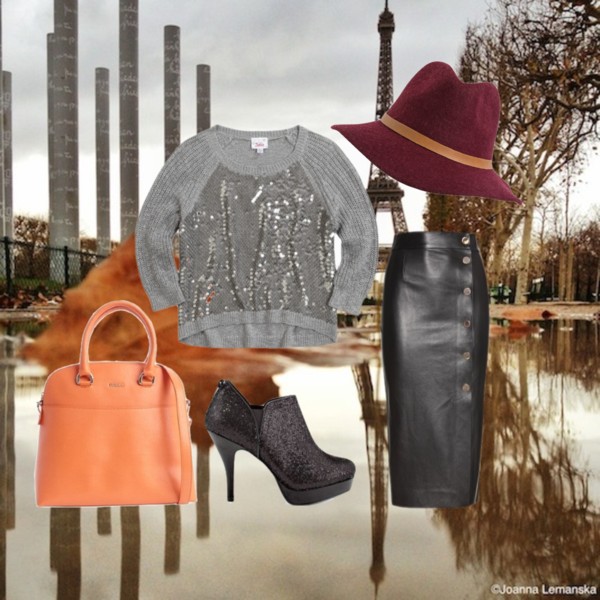 HOW TO STYLE CHUNKY SWEATERS
Chunky or over-sized.  It has to be one or the other. It's very difficult to style a sweater that is both chunky and over-sized, as tempting as it might be to throw it on. If I'm opting for an over-sized, long sweater, then I reach for a thinner knit that sits close to my body. A thicker stitch looks fabulous on a shorter and boxier cut.
Proportions. I can't stress the importance of this tip  enough. Picture an over-sized sweater over a loose pair of pants. Yes, it's probably super comfortable, but I can assure you that this is not a flattering look on anyone.  In this case, rather than going over-sized, opt for a shorter sweater and slim fit pants or a pencil skirt. This will make your legs look longer and leaner, thus giving you an overall sleeker contemporary look.  For a cute and flirty feel, a similar outfit can also be created by pairing a great mini and a cozy sweater.
Shape. I do love over-sized sweaters and sometimes, I just have to satisfy my craving for them.  In this case I do one of several things. I might choose a long open sweater which can be thrown casually over a tee. Or I might belt my sweater and pair it with a sophisticated pair of knee high boots.
Fabrics and Layers. One chunky knit over another is never a good idea. A long knit sweater over a slip dress, however, can look fabulous, especially when it's paired with some ankle booties.  Another great idea is to layer a chunky sweater over a thin t-shirt, tank or preppy button down shirt, as this will create balance and movement giving your look that added visual interest. Or, perhaps, you can add a great statement necklace, bringing the attention to your face and offsetting the boxiness of the sweater.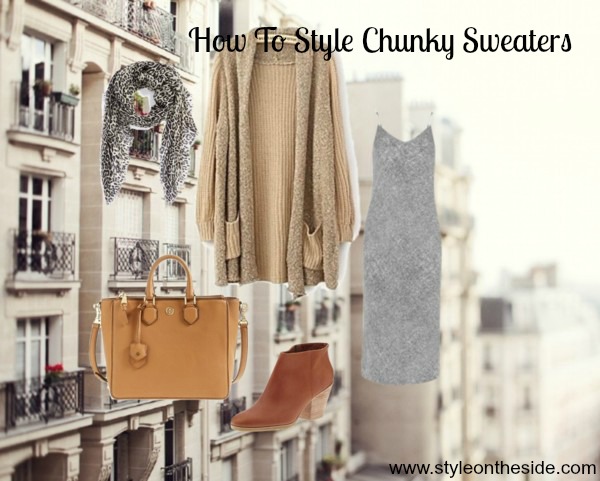 Every fall we are flooded with gorgeous images of women wearing chunky sweaters and I believe that this is a trend we can all get on board with. It's just about finding what works best for you and working with your shape, rather than against it. So, this fall, get out there and be fabulous!

How do you like to style chunky sweaters?

Find your next sweater here:


*For more on how to style chunky sweaters follow me on instagram and pinterest*