2016 Spring Shoe Trends We Loved on the Runways
Today I'm very pleased to introduce you to Angela Mackay who is guest posting for me!
Angela is a fashion-obsessed freelance writer who spends most of her time devouring the latest edition of Vogue or surfing the web for the latest trends. Fashion aside, Angela is a self-proclaimed coffee junkie with a great love for dogs and a figure-unfriendly passion for pancakes. Connect with Angela via her Twitter @angelamackay84.
Ladies love shoes. That's probably an understatement, though, given how much time, energy, money and passion we invest in one of the things that brings us great joy every day. Countless shapes and designs have been created just for us, so that we can satisfy our passion for foot fashion. Therefore, get acquainted with the shoe trends that will take the streets by storm this spring and adapt them to your own style.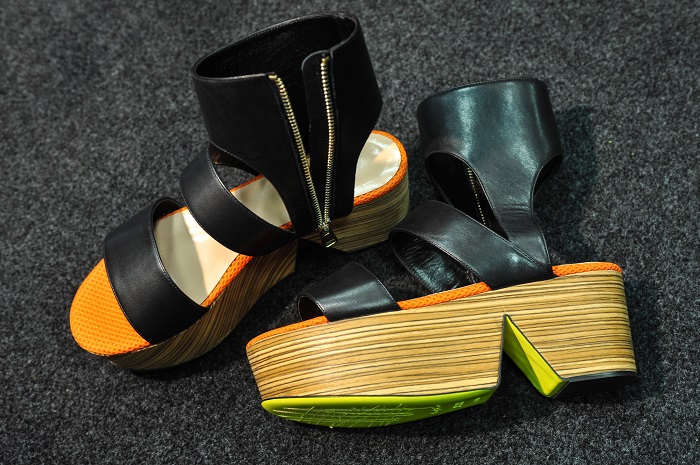 1.    Chunky platforms with an edge
Chunky platforms never really went out of style. A big hit in the 90s, they continued to adorn women's feet long after that. Designers brought them back into the mainstream for this season, but they gave them a dark side, never before seen. Alexander Wang drops a few black pairs with very heavy metal chains on the straps and big metallic fasteners on the sides.
In case you were wondering how to wear chunky platforms, take a cue from Michael Kors and pair them off with midi skirts or dresses. Go for a feminine vibe regarding your outfit, because the platforms themselves are a bit shapeless and strong looking. The idea you're going for in this case is equilibrium.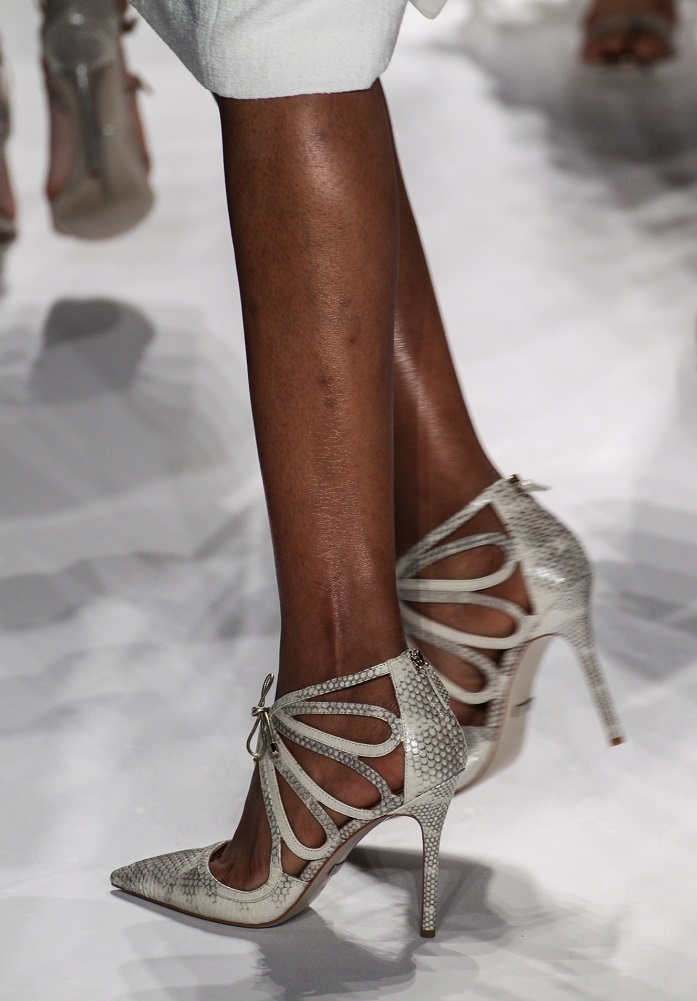 2.    Flashes of silver
Another shoe trend noticeable on the runways this season is the silver streaks one. This basically means shoes in all shapes and designs that have at least a little bit of shiny silver incorporated in them. Rodarte used a beautiful pair of spool heeled black and silver ones that looked a bit like they belonged to a circus performer. Gucci went sky-high with a killer set of heels, completely silver with just a few black stripes on the front platforms. Should you wish to sport the silver flash trend this season, be careful how you incorporate it into your outfits. They are best paired with demure clothes.
3.    Sneakers all around
Comfort lovers rejoice, because the great designers have reintroduced the all mighty sneaker for the spring 2016 season. However, if you take a look at what has been presented on the runways, you'll notice we're not talking about the normal, classical sneakers. The great minds in fashion have reinvented this day-to-day wear and given it edges never before seen.
Marc Jacobs paired his flowery maxi dresses with red sneakers with pointy toes, while Tommy Hilfiger came up with this joyful and colorful pair of cutouts. They have stitches all around on a white background and a tan leather strap in the back.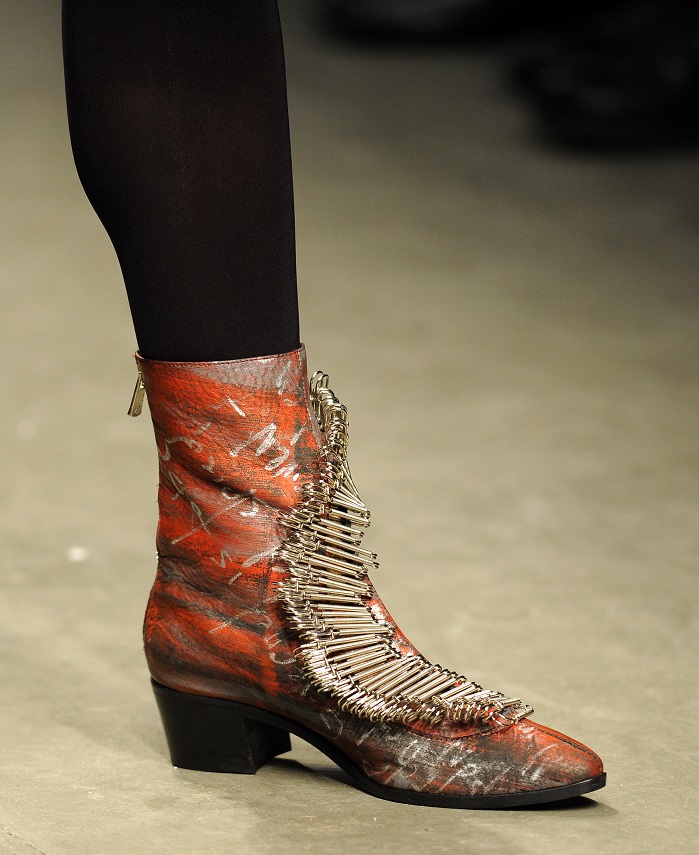 4.    Cowboy pointy toes
As far as ankle boots go, designers have opted for cowboy elements this season, combining them with amazingly artistic patterns and elements. Marc Jacobs was once again king when it came to imagination and creativity. His cowboy boots included these superb examples. A pair of medium heeled black ones with an intricate fireworks design. The bright orange and the sea blues, as well as the way the design is put together reminds you of the Orient. The other pair reminisced of fashion trends a few centuries ago. The leather boots look like they are made from alabaster and hand painted with rococo twirls.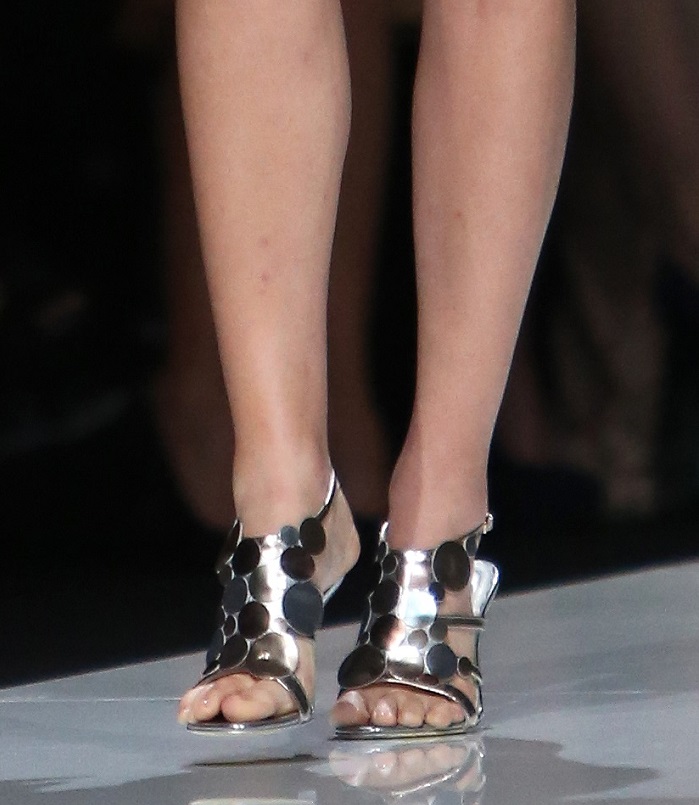 5.    Visionary
One of the reasons all these wonderful people are our favorite designers is that they have such great vision and insight into the future. They push the boundaries of style and create one of a kind pieces bound to takes us into another dimension fashion wise. This is exactly what they did for the spring 2016 season. Pucci definitely put their best foot forward with absolutely stunning pair of sandals. The entire backside is covered in large, white pearls which give the shoes edge as well as richness and a full body, thanks to the pearls' spherical shapes. Prada went for orbs as well, with this futuristic combination of silver and white kitten heels, topped with a large metal ball. Maison Margiela really pushed the envelope with another pair of kitten heels, this time adorned with a demi-egg projection in the back.
This season's trends range from comfy to edgy to visions of life in space. A simple look down the runways will show you just how much shoe fashioning has really turned into an art. And this art is ready to be taken into the streets. Find the trend that's perfect for you and rock it all spring long.
What are your favourite 2016 shoe trends?
If YOU ENJOYED THIS ARTICLE PLEASE SHARE IT AND SIGN UP FOR REGULAR UPDATES

images provided by Angela Mackay, courtesy of DepositPhotos.


Caroline has worked with international designers in fashion retail and completed professional makeup courses when working in the beauty industry. Her love of writing, photography and film inspired her to work at the Canadian Film Center and then to earn a BFA in Screenwriting. In addition to her blog, Style On The Side, you can see her work in Huffington Post Canada and other international websites.