As some of you may know, I'm away traveling this week so I've invited some special guests to drop by Style On The Side and talk about their favourite things. Today I am thrilled to introduce you to a blogger I've been following for several years now.
Jennifer is a Canadian fashion writer and the author of the blog Talk to My Shoes. In 2011 she launched her blog as a means to share her thoughts and shoespiration; three years later in 2014, she saw some of her own shoe designs spring to life. When Jennifer is not getting carried away with her duties as a shoe-a-holic, she can be found teaching her elementary students and acting as an advocate for the arts in the Canadian prairies.
BEST SHOES FOR TRAVEL
The weather has warmed up, Spring is certainly here and Summer is just around the corner. Maybe you're jet set to your favourite destination, or perhaps you were suckered into a business trip of some sort. Whatever the reason is, you're traveling somewhere and hoping to do it in style. You've figured out how to minimize your toiletries and cracked the code of how to pack an assortment of cute outfits without going overboard (or perhaps you are me and over packing is second nature). After all that hard work, you're good to go, there is just one last- and the most exciting- thing to do, pack your shoes.
Naturally, our destination is going to somewhat determine the type of shoe we wear while traveling. You probably aren't going to wear your Uggs as you make your way to the beach in Florida or wear sandals to go hiking in the Rockies. But for the rest of us who are headed to a destination where a variety of fun footwear is necessary (Hello Europe! What's up NYC?) I feel that it is my duty as a seasoned traveler and shoe-a-holic to offer to you a little, err, shoespiration.
I'm going to say straight off the bat that I only really follow two rules while traveling:
1) Don't wear your stacked heels that look like they belong in Beyonce's "Single Ladies" video to the airport. The airport isn't exactly the best place to wear a leotard and heels, so why challenge those moving sidewalks? Unless your superhero power is gracefully moving in heels in any situation, this probably isn't a great idea.
2) If you love the shoes, bring them along for the adventure.
Today I have chosen five examples of what I feel are no-fail options to rock on your feet while being jet set. Lets take a look: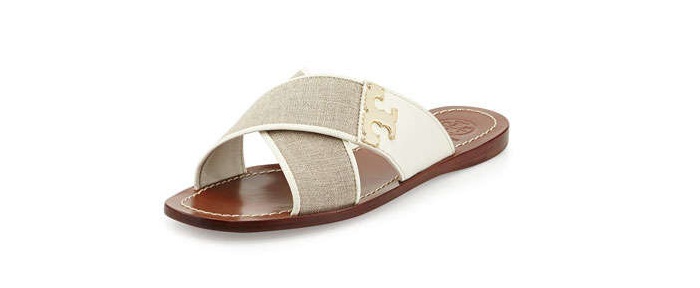 Sandals. Because the weather is warm and everyone loves jetting off to their favourite warm weather climates, let's start off with some sandals. I picked this pair of sliders as it is safe to say that they are definitely the sandal style of the season, as well as the fact that they are very airport security friendly. Nobody wants to be stuck in line behind the girl struggling with her strappy gladiators. This pair here, by Tory Burch, can offer a bit of extra glamour to any outfit with its soft golden feature. Worried about looking too blinged out? You need not worry- metallic shoes can be styled as a neutral in any outfit. Tory Burch Culver Canvas Crisscross sandals are available now.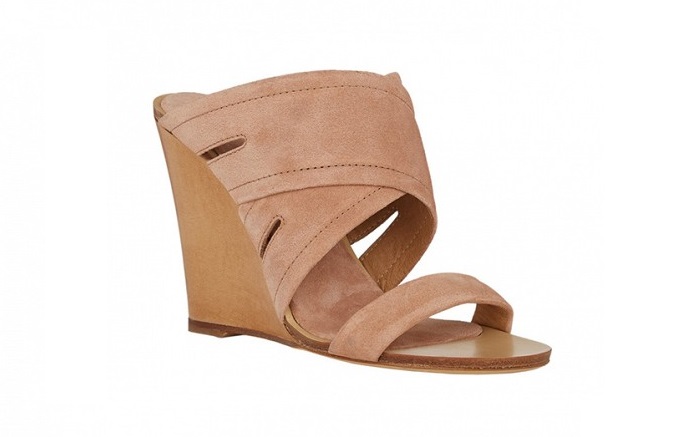 Wedges. When I'm jet set, I'm all about efficiency. It drives me absolutely crazy to wait in line and be held up by people who are unprepared. I try my best to not be impatient but I do admit that sometimes I find myself as a wide-eyed onlooker. I picked this pair of wedges by Rag and Bone because they are effortless to slide in and out of. Also, wedges are an awesome option to travel in; you get the benefits of a nice polished look, comfort, and a little added height without being that crazy girl in heels. Rag and Bone Shaw wedges are available now.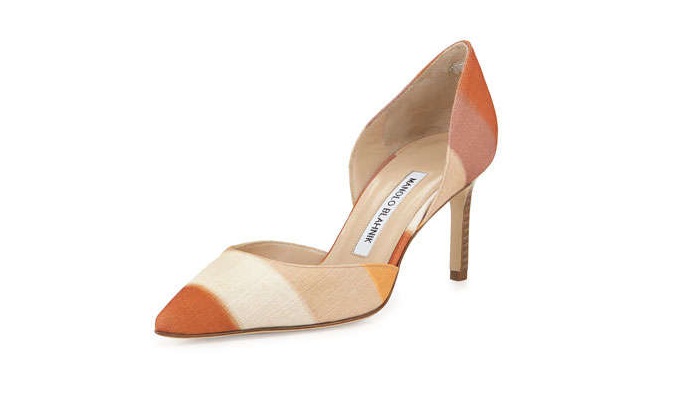 Heels. But if you are that crazy girl in heels… That's cool with me, let's just be courteous of that first little rule I mentioned above. Sometimes we just can't avoid traveling in heels. Maybe you have a business meeting, or maybe you're me and packed too many pairs of shoes so you have to wear those Manolos on the plane. It is alright, it happens. In this situation, I'd say go for a single sole pump that isn't going to rub or pinch your feet. Make sure they are as comfortable as possible; find something that Carrie Bradshaw would choose to go mountain climbing in. To fit this criteria I picked out these d'Orsay pumps by Manolo Blahnik. I also like the neutral stripes in the shoe, as it is important to pack footwear that is going to match a few of your outfits. Manolo Blahnik Tayler Striped Linen d'Orsay pumps in beige are available now.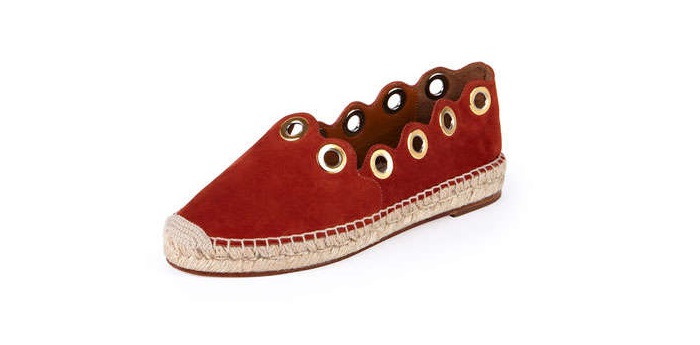 Flats. Flats are always an obvious and fool-proof choice for traveling. They are easy to pack, comfortable, chic, and hassle-free when it comes to those pesky security lineups. I also know a lot of people who love to travel in Converse or more sporty/casual shoes. For our next example, I have selected a bit of a halfway point between the two. Consider a good espadrille; comfortable, versatile, easy to slide on and off, they are a definite win. I particularly love this pair by Chloe for all of its added details. Scalloped edges and bits of hardware in the soft suede definitely create a rather "look at me!" type of shoe. But really, there are so many types of espadrilles out there anything is possible. Chloe Suede Wavy Rivet espadrilles in Sienna Rust are available now.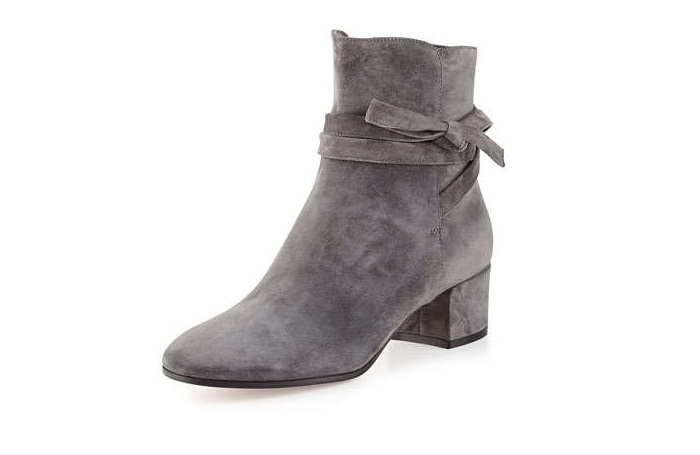 Booties. Finally, we need to touch upon boots. I know that most of us don't want to think about heavy footwear right now but let's not forget how great a pair of ankle boots can look with a sundress. As far as traveling in boots goes, I personally opt for something that is comfortable and very sleek. I admit it, I've boarded a plane in Uggs before (my excuse is it was -40C outside) but I really try to grab something that will leave me looking more put together. Choose something that once again, is easy to take on and off, incase you decide to kick off your shoes on the plane. I don't know anybody who wants to stick a shoehorn in their carry-on. That would be ridiculous. Between its smooth lines, small block heel and soft colour, the boots above by Gianvito Rossi are an awesome example of something to look for. If you are packing a pair of heavier footwear it is probably best to grab something that you can style in a couple of different ways- you want to be sure that packing them is totally worth it. Gianvito Rossi suede ankle-tie boots in Dark Grey are available for pre-order now.
With all this being said, remember that it is just as important to be comfortable while traveling. We all know that the key to looking good is feeling good, and not many things can turn our day around as quickly as the fit of our shoes.
So, what shoes do you like to wear when traveling? Let me know in the comment section below!