How to look good in tights. So I have this love-hate relationship with tights.
On the one hand I love them:
They come in all sorts of gorgeous prints and patterns.
You can wear skirts in fall and winter.
They look fantastic with ankle boots.
They can make your legs look longer and leaner.
You can use them to dress an outfit up or down.
On the other hand:
Some styles are kind of awful.
They can look juvenile (this counts as point 2,3,4 & 5)
They run.
They can look kind of childish.
I have some really beautiful tights that I've invested a lot of money in. They've lasted for years and still look brand new. I also have a few great pairs of opaque black tights that look fantastic with my black ankle booties.
There are lots of moments (weather not withstanding) when tights are a good option, but there are also times when maybe, just maybe, pants are a better option. You also need to factor in the style of tights you choose and of course, your footwear.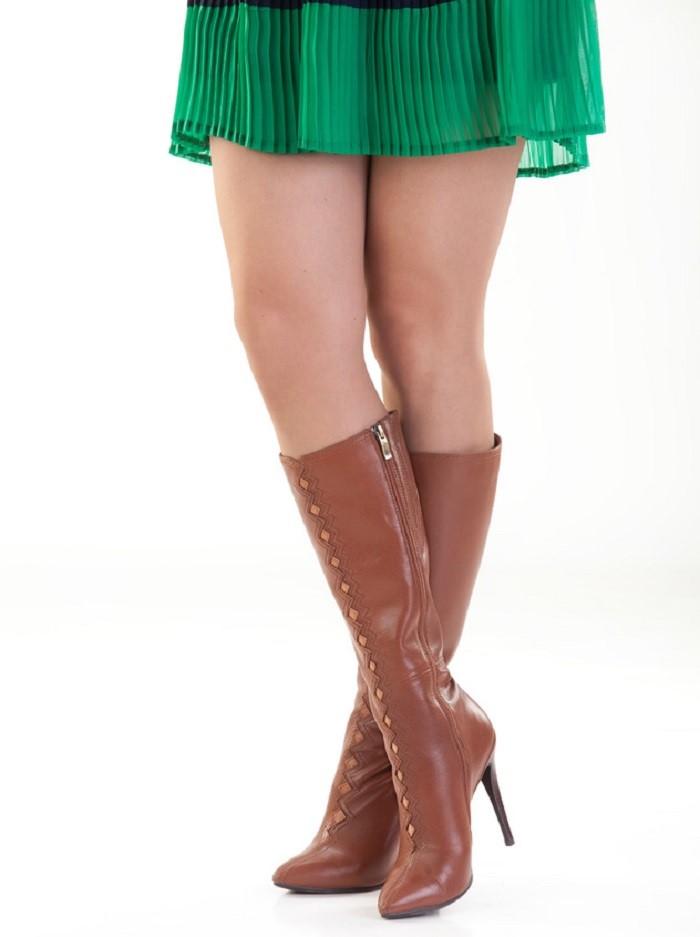 HOW TO LOOK GOOD IN TIGHTS
They need to look new. Runs, pulls, holes and dirt are not an option. If you take good care of your tights they might last for a while, but as soon as you see a pull it's time to let them go.
They need to fit. There's nothing worse than seeing saggy knees or wrinkles around your ankles. Seeing those baggy ankles makes me think of a two year old.
Show off your legs without exposing everything. I think I might be one of those ladies who still wears mini skirts when she's like 70 (and proudly). The key to pulling off a shorter skirt is to wear it with opaque tights. Don't be afraid of wearing a heavier fabric to show off your gorgeous legs.
Know when to wear a sheer. Sheer tights look better when less of your leg is showing; give everyone a little peek without showing everything off. Besides, you are wearing your tights because it's cold out, so stay warm and a little seductive.
Know when to wear a nude. Alright, for the record, I'm against a nude 99% of the time. I get it if you work at a bank or in a corporate office where it's a part of your uniform, but for all other times in your life, I just can't get behind them. There are some lines that have come out with ultra sheer, barely there nude tights that actually do work, but unless you are splurging on them it's probably wise to choose something else. Read: IS IT OKAY TO WEAR NUDE TIGHTS
Never wear white. Unless you are 5 or wearing a costume, you should never own white tights. Honestly, I can't even think of a single outfit where they would be okay.
Know how to wear a pattern. I quite like patterned tight, but only when there's a hint of leg showing. Too much of a good thing, right? If you want to wear a pattern, remember that a smaller one will make your legs look slimmer, while a larger one will make them look bigger. Whichever way you go, keep the rest of your outfit simple, elegant and streamlined (think pencil skirt) so that the focus will be on your legs. Although pattern mixing is absolutely okay, I would stick to solids and neutral so that my tights can speak for themselves. Also, your tights should integrate themselves into your outfit, so if you are unsure about them and want to wear a shorter skirt then why not opt for knee or over the knee boots.
Know how to wear a texture. Similar to a patterned tights, there is a time and a place for fishnets or seamed (or other texture) tights. Again, it's important to remember that these tights draw attention and even highlight your legs and therefore they should be the focus of your outfit. I personally love a seamed tight because it adds a vintage feel and a whole lot of sex appeal to your outfit. They key is to make it the focus of your look. Also, note that when you are wearing any kind of texture and especially a seam, it absolutely has to be straight or your legs will look crooked. The same goes for fishnets. Keep the rest of your outfit sophisticated and classy and you'll always look fabulous. Anything that's too short or too tight will make you look cheap.
Know when to wear black or a colour. Know that black tights will always work, but not every colour will work. That aside, a colour can liven up a dreary, boring outfit and set you apart from the crowd. A complementary colour (think mustard tights with a navy dress) will be bold, whereas analogous colours (three colours on the colour wheel that are next to each other) will be more subtle but still very noticeable. The key is to have them be a seamless part of your outfit without overpowering it or making it look like you are wearing a costume.
Pick your shoes wisely. I'm going to say that a heel or a boot always looks best with tights. Sure, sometimes you can get away with a ballerina flat, but they tend to make you look more childish. If in doubt, a more substantial shoe (and preferably one with a heel) will always be better. The idea is to elongate those legs.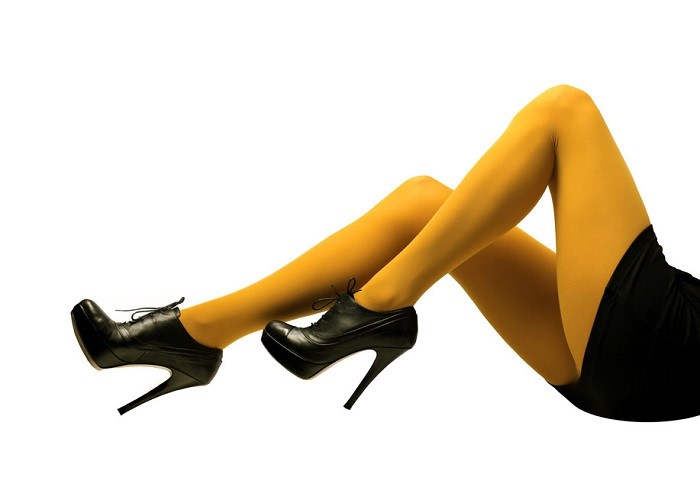 Tights are an excellent and necessary part of your transitional and winter wardrobe, so choose wisely and don't be afraid of experimenting a little. Treat tights like an accessory and splurge a little. The quality will show and in the end, you'll be saving money. If in doubt, however, choose basics and go with black and you'll always look fabulous!
Do you wear patterned tights?
Continue the conversation on INSTAGRAM and BLOGLOVIN
IF YOU ENJOYED THIS ARTICLE PLEASE SHARE IT AND SIGN UP FOR REGULAR UPDATES